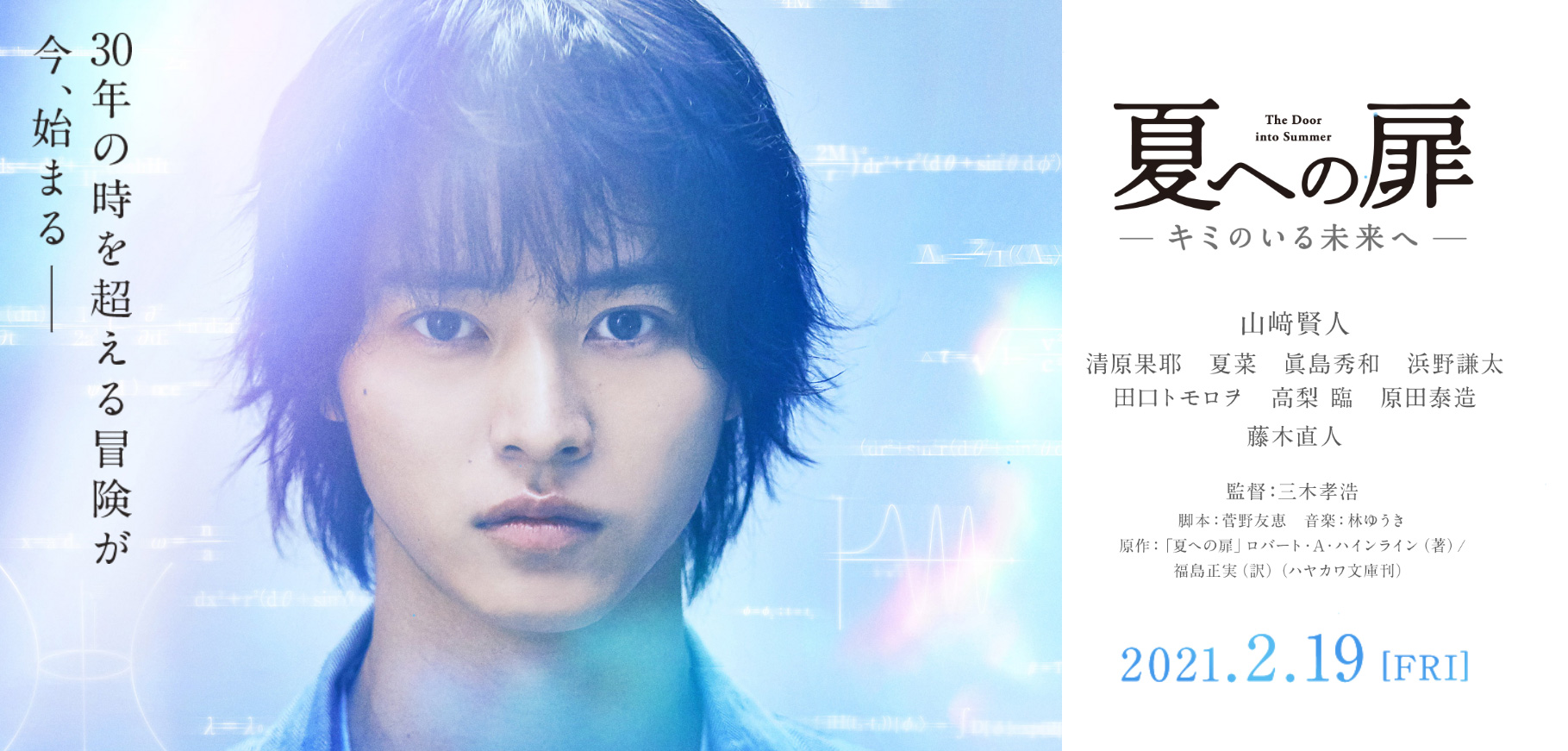 Release Date: 2021
Director: Miki Takahiro
Screenwriter: Kanno Tomoe
Producer: Ogawa Shinji
Distributors: Toho, Aniplex
Based on the novel "The Door into Summer" by Robert A. Heinlein
Official website: natsu-eno-tobira.com
Poster/Leaflet:
Synopsis:
"Natsu e no Tobira" is set in Tokyo in the year 1995, and Yamazaki Kento plays a scientist called Takakura Soichiro who's involved in robot development. He is on the verge of completing a plasma storage battery which his late father's best friend Matsushita left to him. He leads a peaceful life with his cat Pete and Matsushita's daughter Riko. However, he is soon betrayed by his fiancée and business partner that he trusted. His company, the battery and robot(s) that are in the process of being invented are all taken away from him. Furthermore, he is put into a cold sleep device that freezes the human body. When he wakes up, it was the year 2025. When Soichiro learns of Pete's and Riko's deaths, he realizes he has lost everything and seeks to take revenge.
Cast:
Yamazaki Kento as Takakura Soichiro
Kiyohara Kaya as Riko
Fujiki Naohito as PETE
Natsuna as Shiraishi Rei
Mashima Hidekazu as Matsushita Kazuto
Harada Taizo as Sato Taro
Takanashi Rin as Midori
Hamano Kenta as Tsuboi Kyota
Tomorowo Taguchi as Professor Tooi
30s Teaser trailer:
Making/Interview (30s) by TOHO Cinemas:
Stills:
Notes:
Kento worked with Director Miki in Control Tower (Kanseito) back in 2011.
Same director/scriptwriter tag as Hidamari no Kanojo (2013).
Filming took place at the beginning of 2020.
⊛ Search posts tagged as: natsu e no tobira