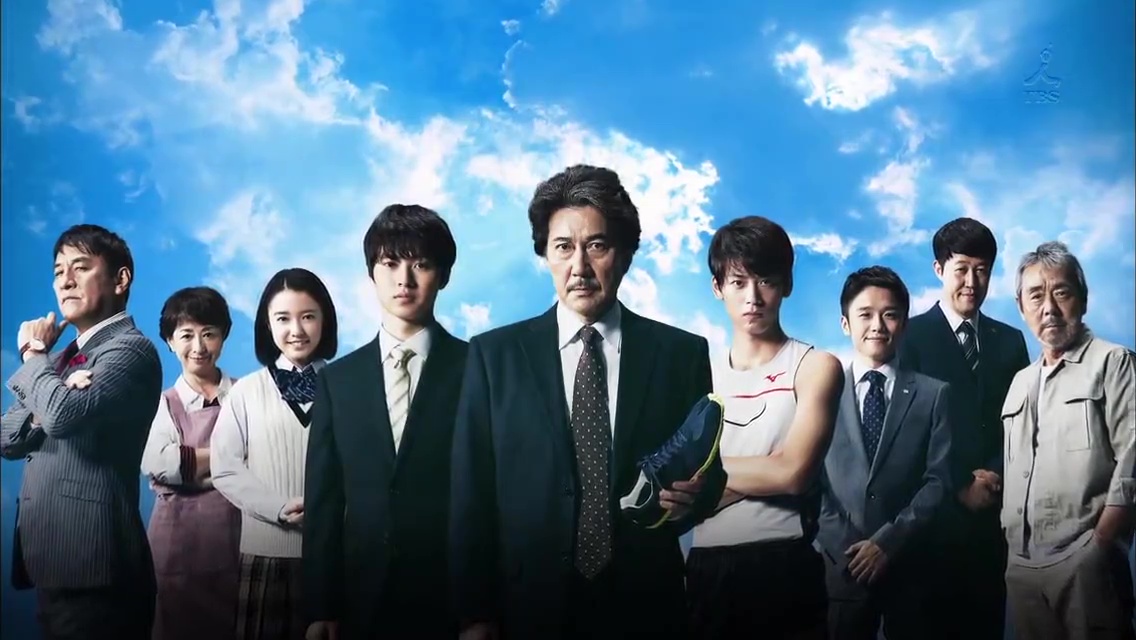 On-Air: 15 Oct to 24 Dec, 2017
Network: TBS
Type: Renzoku
No. of Episodes: 10
Runtime: Sundays, 9pm
Based on Ikeido Jun's novel "Rikuoh"
Scriptwriter: Yatsu Hiroyuki
Producers: Iyoda Hidenori, Iida Kazutaka, Kawashiima Ryutaro
Directors: Fukuzawa Katsuo (Jai-san), Tanaka Kenta
Song used in the show: "Jupiter" and "Ito", both songs covered by Little Glee Monsters
Official site: http://www.tbs.co.jp/rikuou_tbs/
Official SNS: Twitter | IG | FB | LINE
Synopsis:
Miyazawa Koichi (Yakusho Koji) is the fourth generation president of "Kohazeya", a company making tabi, a type of traditional Japanese socks where the big toe is separated from the rest of the toes. With declining sales figures, Miyazawa decides to stake the company's future in a new line of running tabi called "Rikuou". Meanwhile, Miyazawa's eldest son, Daichi (Yamazaki Kento) fails to find employment after graduating from university. He starts helping out at "Kohazeya" and is entrusted with the production of "Silkclay", a material used in the sole portion of "Rikuou".
Cast:
Yakusho Koji as Miyazawa Koichi
Yamazaki Kento as Miyazawa Daichi
Takeuchi Ryoma as Mogi Hiroto
Kamishiraishi Mone as Miyazawa Akane
Kazama Shunsuke as Sakamoto Tarou
Otoo Takuma as Kido Akihiro
Wada Masato as Hirase Takao
Sano Gaku as Kezuka Naoyuki
Baba Toru as Ohashi Hiroshi
Uchimura Haruka as Yasuda Toshimitsu
Amano Yoshihisa as Ebata Kouhei
Yoshitani Ayako as Nakashita Misaki
Haru Yasuko as Mizuhara Yoneko
Yamamoto Ryosuke as Yoshida
Agawa Sawako as Masaoka Akemi
Koyabu Kazutoyo as Sayama Junji
Katsuru Jakujaku as Ienaga Tooru
Shiga Kotaro as Tomishima Genzo
Mitsushi Ken as Arimura Tooru
Dan Fumi as Miyazawa Mieko
Kimura Midorik as Iiyama Motoko
Ishikawa Ukon as Murano Takahiko
Pierre Taki as Obara Kenji
Terao Akira as Iiyama Haruyuki
Episode ratings (Kanto):
15 October, 2017 – Ep 1 @ 14.7%
29 October, 2017 – Ep 2 @ 14.0%
5 November, 2017 – Ep 3 @ 15.0%
12 November, 2017 – Ep 4 @ 14.5%
19 November, 2017 – Ep 5 @ 16.8%
26 November, 2017 – Ep 6 @ 16.4%
3 December, 2017 – Ep 7 @ 14.7%
10 December, 2017 – Ep 8 @ 17.5%
17 December, 2017 – Ep 9 @ 15.7%
24 December, 2017 – Ep10 (Final) @ 20.5%
Crank in & Birthday Celebration (8 September, 2017):
Special Screening (8 October, 2017):
Official Stills:
Selected Offshots:
English subs here
⊛ Search posts tagged as: rikuoh