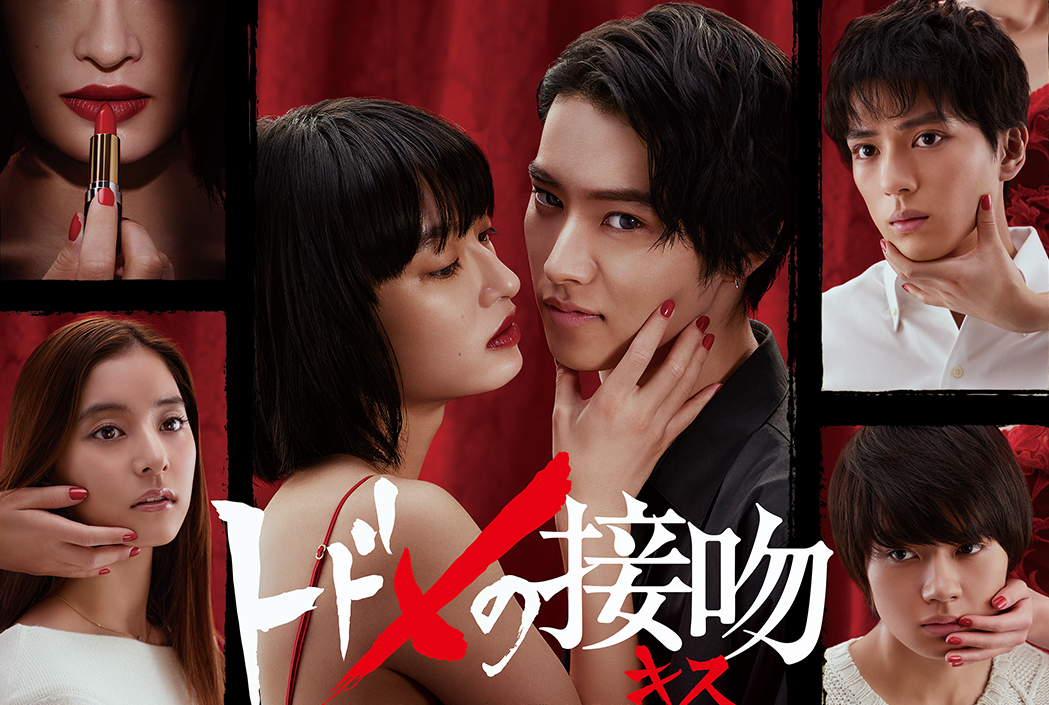 On-Air: 7 January to 11 March 2018
Network: NTV
Type: Renzoku
No. of Episodes: 10
Runtime: Sundays, 10.30pm
Screenwriter: Izumi Yoshihiro
Music by: Arai Ken
Theme song: "Sayonara Elegy" by Suda Masaki
Official site: http://www.ntv.co.jp/todomenokiss/
Official twitter: @todome_kiss_ntv
Official IG: @todomenokiss_ntv
Official blog: todomenokiss@ameblo
DVD/Blu-ray release (8 August 2018):

DVD Box @ Amazon | CDJapan | HMV
Blu-ray Box @ Amazon | CDJapan | HMV
Story:
Doujima Outarou is a top host in a host club "Narcissus". Suave and gentle-looking on the outside, he's in fact a scum who pursues nothing but money and power. Due to an incident 12 years ago, the aloof Doujima doesn't believe in love, and is only interested in raising his social status. He targets the daughter of hotel magnate and Namiki Group's president who reportedly has personal assets worth 10 billion yen. However, a mysterious lady suddenly appears before him and gives him a "kiss of death", which he dies from but wakes up 7 days in the past…
Cast:
Yamazaki Kento as Doujima Outarou
Kadowaki Mugi as the mysterious "kiss woman"
Arata Mackenyu as Namiki Takauji
Araki Yuko as Namiki Mikoto
Sano Hayato as Hasebe Hiroyuki
Shison Jun as Osanai Kazuma
Suda Masaki as Harumi Ittoku
Episode ratings (Kanto):
7 January, 2018 – Ep 1 @ 7.4%
14 January, 2018 – Ep 2 @ 6.5%
21 January, 2018 – Ep 3 @ 7.1%
28 January, 2018 – Ep 4 @ 6.7%
4 February, 2018 – Ep 5 @ 7.3%
11 February, 2018 – Ep 6 @ 5.9%
18 February, 2018 – Ep 7 @ 7.3%
25 February, 2018 – Ep 8 @ 6.5%
4 March, 2018 – Ep 9 @ 7.1%
11 March, 2018 – Ep 10 (Final) @ 7.5%
Trailer (60s):
「Todome no Kiss」60s trailer
10 days more to Episode 1! pic.twitter.com/bJcVJDqeGf

— 山﨑賢人 (@yamazakikentojp) December 28, 2017
Teaser – 2 x 15s CM:
Todome no Kiss 30s PR pic.twitter.com/AfteXhmse7

— 山﨑賢人 (@yamazakikentojp) December 7, 2017
Notes:
This is Kento's first lead role in a drama series.
The producer and scriptwriter worked on Death Note drama in 2015.
A kiss relay was done to reveal the main cast every Thursday, from 9 to 30 November, 2017.
Episode 1 was aired at 10pm instead of 10.30pm, on 7 January, 2018. It was extended by 30 minutes.
The drama is aired at the same time in Cambodia, Hong Kong, Indonesia, Philippines, Singapore and Thailand, on GEM TV Asia channel. Kento attended an event in Hong Kong to promote the drama.
Kento's close friend Suda Masaki sings the theme song for the drama, and also makes a guest appearance as the mysterious street musician.
Todome no Parallel is the spinoff drama aired on Hulu every week after the actual drama.
The drama is known affectionally as "DomeKiss", and the spinoff as "DomePara".
Kiss Relay:
Hong Kong Fan Event (21 January, 2018):
Screencaps:
Selected Offshots:
Selected crank up shots:
English subs here
⊛ Search posts tagged as: todome no kiss