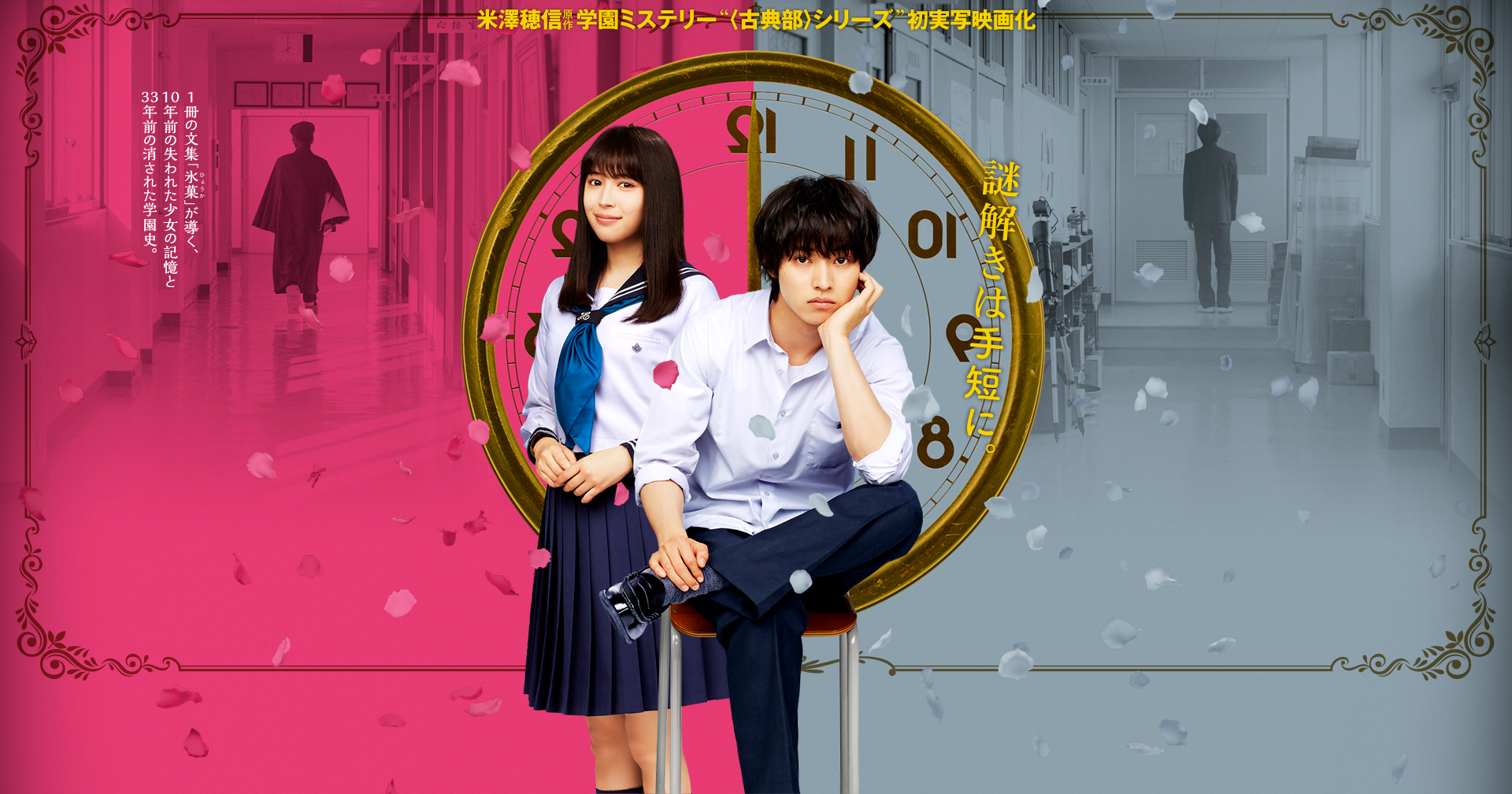 Release date: 3 November, 2017
Directed by: Asato Mari
Runtime:  114 mins
Distributed by: Kadokawa Pictures
Based on the mystery novel "Hyouka" by Yonezawa Honobu
Theme song: "Ionite" by Itowokashi
Official site: hyouka-movie.jp
Official twitter @hyouka_movie
Official IG @hyouka_movie
Synopsis:
Oreki Houtarou is a first year student at Kamiyama High School who lives by the motto "If I don't have to do it, I won't. If I have to do it, I'll make it quick." At the request of his older sister, this 'energy-conserving' boy joins the Classic Literature Club to prevent it from being dissolved. There he meets the ever-curious 'ojousama' Chitanda Eru who can't stop thinking about any mystery that is brought to her attention. Not being able to reject her requests, Houtarou starts solving various mysteries in school with his brilliant deduction skills. Along with fellow members Fukube Satoshi and Ibara Mayaka, they begin investigating a case that occurred 33 years ago.
Cast:
Yamazaki Kento as Oreki Houtarou
Hirose Alice as Chitanda Eru
Okayama Amane as Fukube Satoshi
Kojima Fujiko as Ibara Mayaka
Hongo Kanata as Sekiya Jun
Saito Yuki as Itoigawa Youko
DVD/BD Release (21 March, 2018):

Collectors Ed.
Blu-ray @ Amazon | CDJapan | HMV
DVD @ Amazon | CDJapan | HMV
Standard Ed.
DVD @ Amazon | CDJapan | HMV
Poster:
Teaser (30s):
Trailer (1min 30s):
Notes:
Completion screening (11 Oct, 2017):
Halloween Night (31 October, 2017):
Stills:
Behind the scenes:
⊛ Search posts tagged as: hyouka