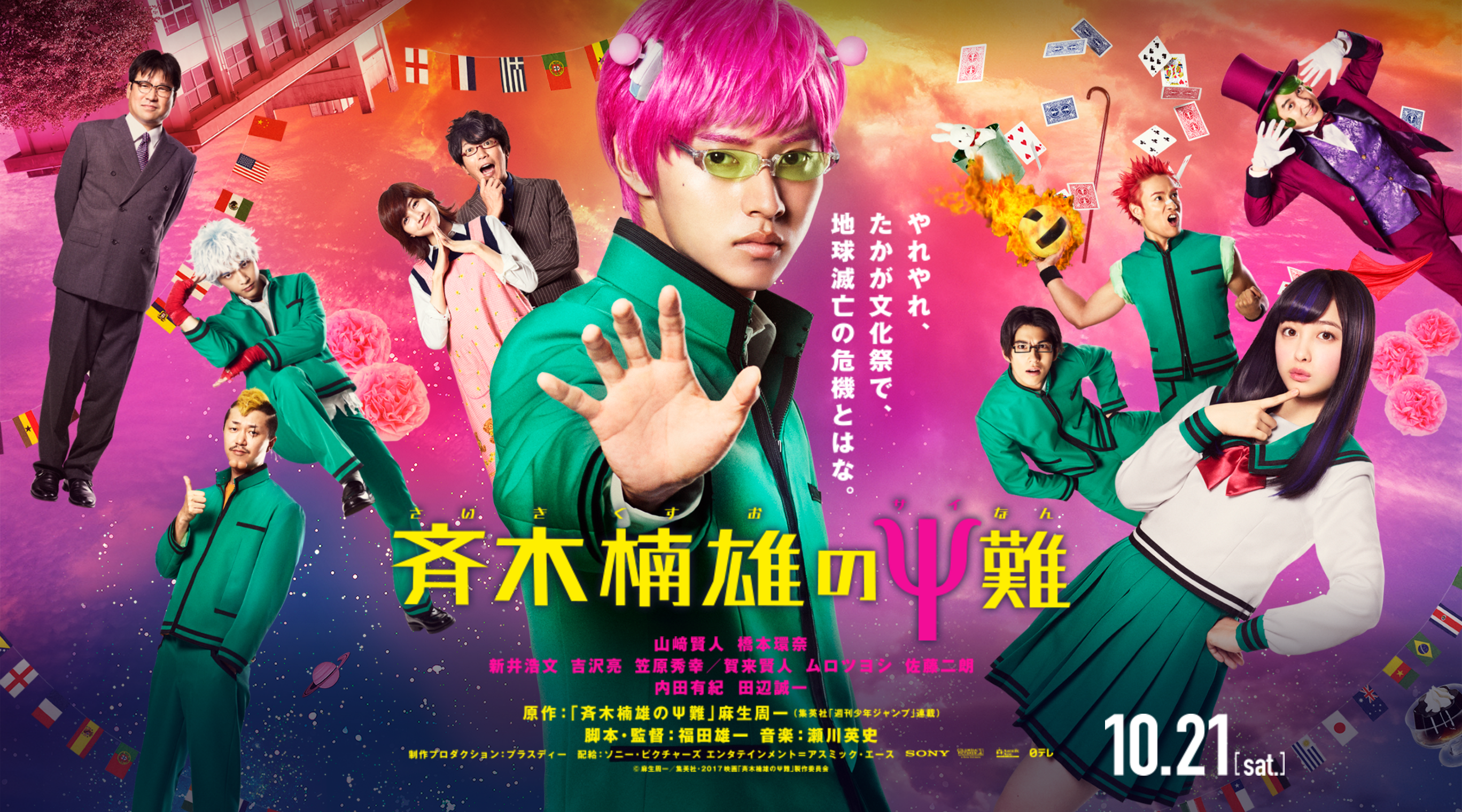 Official English title: Psychic Kusuo
Also known as: The Disastrous Life of Saiki Kusuo
Release date: 21 October, 2017
Directed by: Fukuda Yuichi
Runtime: 97 mins
Distributed by: Sony Pictures & Asmik Ace
Theme song: "Koi, Hajikemashita." by Yuzu
Based on manga series "Saiki Kusuo no Psi Nan" by Aso Shuichi
Official twitter @saikikusuomovie
Official site: saikikusuo-movie.jp
Synopsis:
Saiki Kusuo, an otherwise normal teenager, has various super-powers, telepathy and telekinesis included. This should have been cool, but through experience, Saiki comes to realize that having powers while trying to lead an ordinary life is a bad mix.
Cast:
Yamazaki Kento as Saiki Kusuo
Hashimoto Kanna as Teruhashi Kokomi
Arai Hirofumi as Nendo Riki
Yoshizawa Ryo as Kaitou Shun
Kasahara Hideyuki as Hairo Kineshi
Kaku Kento as Kuboyasu Aren
Muro Tsuyoshi as Chouno Uryoku
Sato Jiro as Kanda Pinsuke
DVD/BD release (2 May, 2018):
Deluxe Ed. @ Amazon (w/photocard) | HMV
Standard Ed. @ Amazon (w/photocard | HMV
Poster:
Character visual:
Theme Song PV – Yuzu "Koi, Hajikemashita." (Movie Ver.)
Theatrical Trailer (1m 30s/english subs):
Teaser (30s/english subs):
Notes:
The movie was officially announced on 1 August, 2016 where the official twitter and website was opened. Prior to this, there was an announcement made in Shonen JUMP.
The decision to create this live-action movie was made 1-1/2 years before the official announcement. Mangaka Aso Shuichi was wondering why there hadn't been any updates since, and feared that the movie would be scrapped, even more so after Gintama was announced. Fukuda said that he had actually completed the script for Saiki way before writing Gintama's.
Fukuda insisted that if he were directing this, he wants Yamazaki Kento! On the other hand, Kento has said before in interviews that he wants to act in Fukuda's comedies. Seems like a match made in heaven <3
Kento apparently told Fukuda that he saw a pair of Saiki-like green glasses and bought it. He thinks that he looks good in it. Fukuda also commented that "From the start, (Yamazaki Kento) is not tsundere. He's a super funny guy! And he looks good in green glasses!"
Aso visited the filming set on 30 September, 2016, and had nothing but compliments to the team. This set them at ease. Seems like he also applied to be an extra for the film.
Aso tweeted that that since he shook hands twice with Kento already, "we can be considered friends already right, Kento? Right?"
Kento's filming of Saiki wrapped up on 7 October, 2016. He posted a photo of himself with Fukuda eating yakiniku on his Instagram. And Fukuda was amazed that there were 320,000 likes on that instagram post within 10 minutes 🙂
The release date was announced in Shonen Jump released on 4 March, 2017. Aso-sensei tweeted about it on 6 March.
There was a countdown on the official website to 15 March, 2017 @ 5:00AM JST, and when it reached zero, a new site, cast announcements, character visuals, poster and a 30s teaser trailer was released.
Pink Carpet & SP Event (28 September, 2017):
Stills:
Behind-the-scenes: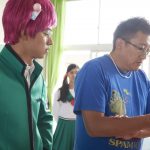 ⊛ Search posts tagged as: saiki kusuo no Ψ nan