On-Air: 30 July to 17 September, 2010
Network: TV Asahi
Type: Renzoku
No. of Episodes: 8
Runtime: Fridays, 11.15pm
Average rating: 7.9%
Directed and written by: Satoshi Miki
Theme song: "Tengoku e Youkoso" by Tokyo Jihen
Official twitter: @ataminosousakan
Synopsis:
In the coastal town of South Atami, a school bus carrying four high school girls mysteriously disappeared. One of the missing girls reappeared a few days later but she has fallen into a coma. Three years has passed, and the case gets revived when the girl suddenly awakens. National investigators Hoshizaki Kenzo and Kitajima Sae are sent into South Atami to investigate the truth behind the incident…
Cast:
Odagiri Joe as Hoshizaki Kenzo
Kuriyama Chiaki as Kitajima Sae
Tanaka Tesshi as Sakazen Masamichi
Matsushige Yutaka as Juusaka Osamu
Fuse Eri as Keitou Mitsuko
Shouji Yuusuke as Inuzuka Hatsumi
Dan Jiro as Amari Masahiko
Muramatsu Kameoka Watari
Miyata Sanae as Akune Yoshiko
Fujitani Ayako as Shikishima Mio
Yamanaka Sou as Shinguuji Aritomo
Miyoshi Ayaka as Shinonome Mai
Yamazaki Kento as Shijima Shinya
Nikaido Fumi as Amari Remii
Sometani Shota as Ajisawa Sorao
Yamada Aya as Sawaragi Miko
Sakura Ema as Tsukuyo Minami
Okano Maya as Moegi Izumi
Iwamatsu Ryo as Sagami Tokusaburou
DVD/BD release (26 January, 2011):
Trailer:
Episode ratings:

30 July, 2010 – Episode 1 @ 9.9%
6 August, 2010 – Episode 2 @ 8.5%
13 August, 2010 – Episode 3 @ 7.7%
20 August, 2010 – Episode 4 @  6.8%
27 August, 2010 – Episode 5 @  6.4%
3 September, 2010 – Episode 6 @  6.6%
10 September, 2010 – Episode 7 @  7.8%
17 September, 2010 – Final Episode @  9.2%
*Episodes 3 & 4 were aired from 11.45pm due to baseball
Notes:
Many firsts for Kento. First acting job, first nude scene, first kiss scene.
Kento & Fumi-chan with PR uchiwas: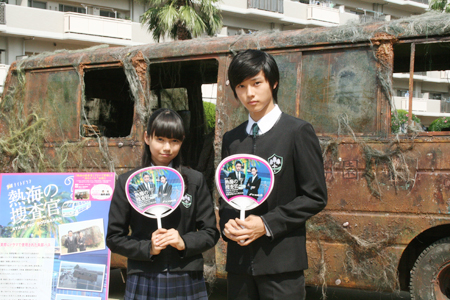 Stills:
⊛ Search posts tagged as: atami no sousakan