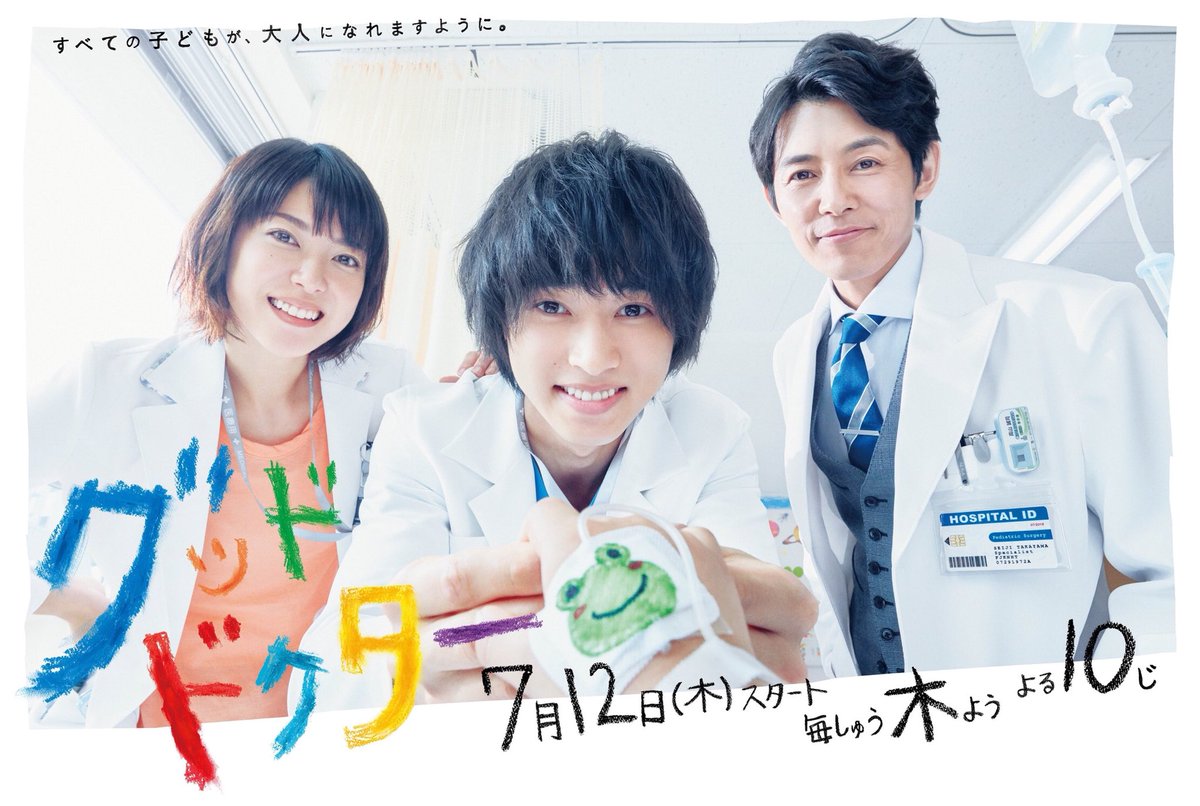 On-Air: Starting 12 July 2018
Network: Fuji TV
Type: Renzoku
No. of Episodes: 10
Runtime: Thursdays, 10pm
Screenwriters: Tokunaga, Yuuichi, Ohkita Haruka
Producers: Fujino Ryota, Kinjo Ayaka
Directors: Kanai Hiro, Aizawa Hideyuki
Theme song: "Hikari" by androp
Official site: http://www.fujitv.co.jp/gooddoctor/
Official twitter: @GoodDoctor2018
Image shots:
Story:
Yamazaki Kento plays Shindo Minato who is autistic but has exceptional memory recall and spatial reasoning abilities. Since young, his dream was to become a pediatric surgeon. As a resident, he enters the world of pediatric surgery and fights to save the lives of children while facing prejudice from the people around. The story is based on a Korean drama series broadcasted in 2013, that has also been remade as a drama series in America last year.
Cast:
Yamazaki Kento as Shindo Minato
Ueno Juri as Seto Natsumi
Fujiki Naohito as Takayama Seiji
Totsugi Shigeyuji as Mamiya Keisuke
Nakamura Yuri as Watanabe Michi
Hamano Kenta as Hashiguchi Taro
Itao Itsuji as Inokuchi Ryunosuke
Emoto Akira as Shiga Akira
Episode ratings (Kanto):
12 July, 2018 – Ep1 @ 11.5%
19 July, 2018 – Ep2 @ 10.6%
26 July, 2018 – Ep3 @ 11.6%
2 August, 2018 – Ep4 @ 10.6%
9 August, 2018 – Ep5 @ 12.2%
16 August, 2018 – Ep6 @ 10.8%
23 August, 2018 – Ep7 @ 13.0%
30 August, 2018 – Ep8 @ 9.4%
6 September, 2018 – Ep9 @ 10.2%
13 September, 2018 – Ep10 (Final) @ 12.4%
Notes:
The official announcement was made on 26 May, 2018
This is Kento's first lead role in a Fuji TV drama, and the first time he plays a doctor.
Producer Fujino Ryota has worked with Kento on Suikyuu Yankees, Sukina Hito ga Iru Koto and the Galaxy CM series prior to this drama.
This is the first time Kento acts opposite Ueno Juri and Fujiki Naohito.
The first episode will be extended by 15mins.
The drama will be aired every Saturday on WakuWaku Japan (in several countries across Asia) starting 21 July, almost simultaneously with the Japanese broadcast.
Ep1's rating was the first time in 4 years for the Moku10 slot to achieve a double-digit rating.
Ep1 was viewed over 800,000 times on Fuji TV's FOD service, a video distribution service targeted at viewers who missed the real time broadcast (and only available for the week, before the next episode airs). This is a record high for drama pilot episodes, ever since the service started in Jan 2015.
Ep7's rating in the other regions of Japan are: Kansai – 15.5%, Shizuoka – 16.2%, Sendai – 16.9%, Hiroshima – 14.0%, Northern Kyushu – 13.6%, Sapporo – 13.4%, Nagoya – 12.3%
The final 2 episodes will be extended by 15mins each.
The average viewership across all 10 episodes is 11.2%. This is the first time in 4 years for a Moku10 drama to achieve a double-digit average rating.
English subbed trailer:
Completion Screening 8 July, 2018:
Stills:
Offshots & behind-the-scenes:
English subs here.
⊛ Search posts tagged as: good doctor