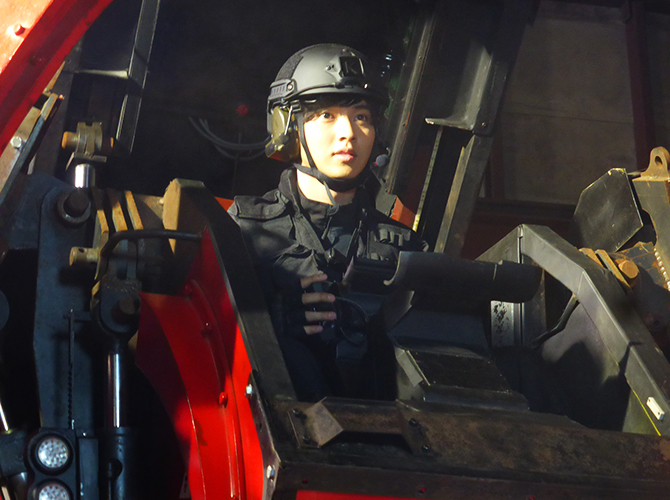 ■ New TVCM Series
Daihatsu New Cast is equipped with the latest Crash Avoidance System 「Smart Assist III」. The theme of this new TVCM series is 「When I have my hands on the Cast, I feel closer to "the me I want to become"」. There are two versions – from a male and from a female point of view – of the hero or heroine they longed to become when they were young. Continuing from the previous series, we have young actor Yamazaki Kento-san appearing in the 「Hero」 version.
■ Filming Location
With a height of 3.8m and gross weight of approx. 5t, the giant robot 「KURATAS」 realizes people's dreams of becoming robot pilots. Its appearance was so impactful that the male staff involuntarily stopped whatever they were doing, their eyes sparkling. Yamazaki-san couldn't contain his excitement and exclaimed "Awesome!!", which was also depicted in the CM. His child-like innocent expression made the hearts of -this time- the female staff go *doki doki*.
The filming took place in the actual studio where 「KURATAS」 was manufactured. Surrounded by a presence that certainly can't be created using a (props) set, Yamazaki-san wore the pilot suit and became the Hero. Upon seeing this, 「KURATAS」 creator Kurata-san himself said, "He's so cool~~~(lol)".
■ Suidobashi Heavy Industry・KURATAS
「KURATAS」 is a huge robot that 『Suidobashi Heavy Industry』 spent two and a half years working on. Negotiations for the shoot started two months before the filming. The cockpit that Yamazaki-san sat in can take only 1 adult. There were some effects added during post-production, but inside the actual cockpit, there is a huge monitor which will show footage from cameras in front and behind, and a bird's eye view footage taken from a drone.