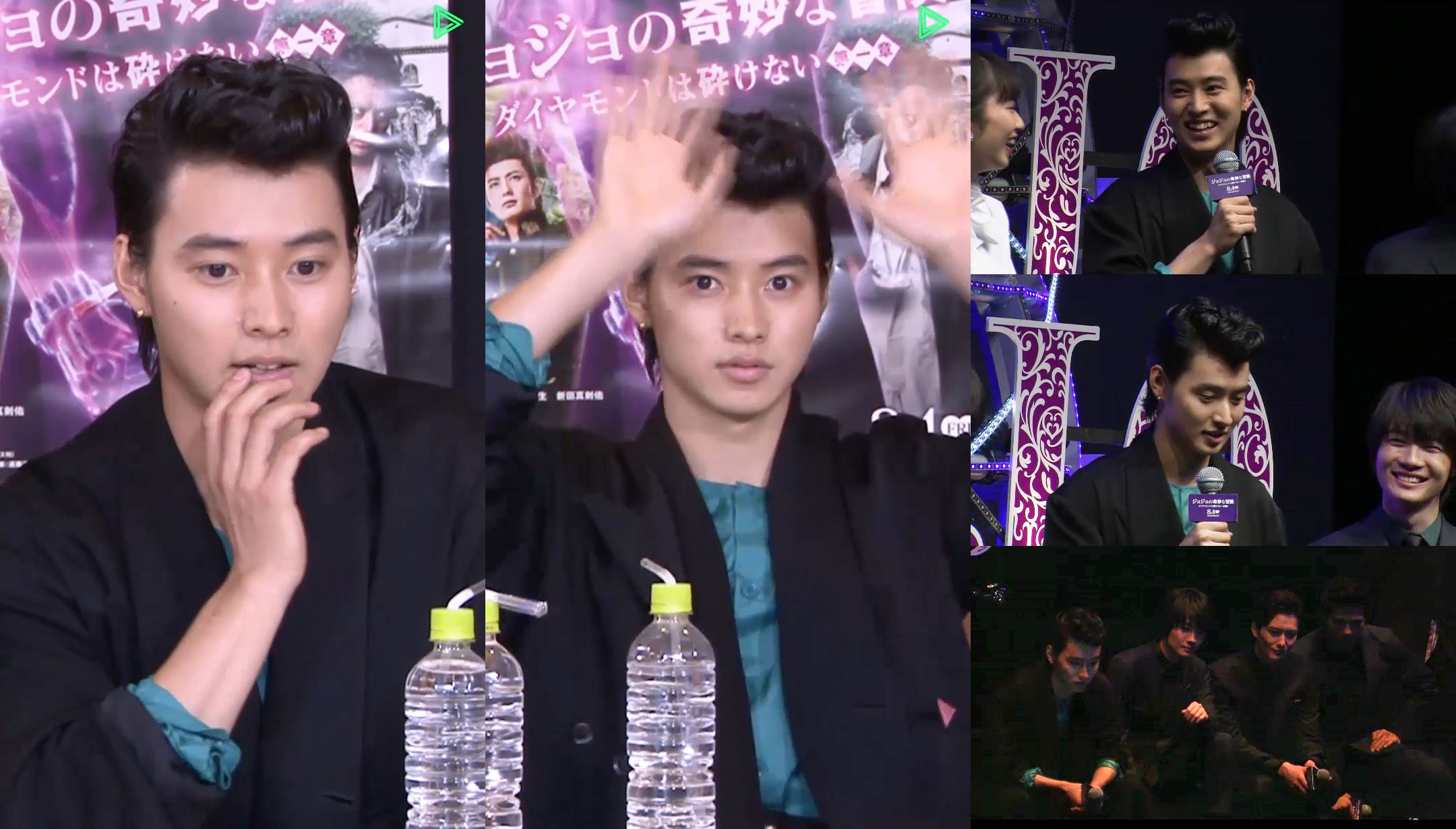 MF (pw hint: site URL/name)
Notes:
The premiere was held at Ebisu Garden Hall..
Kento's greeting: Good evening! I'm Yamazaki Kento who plays Higashikata Josuke. I'm really excited that everyone is finally going to see the movie. When I first saw the completed movie, I was honestly– as I could only imagine the Stands during the filming, I was really touched when I saw them… Please enjoy yourselves today.
Kento went with Takayuki-san, Iseya-san, Masaki-kun to a restaurant for a meal. They sat at a terrace where they could see the sea, and he ate 500g of beef lol. Iseya-san said that he once went drinking beer with the young team. The view was like a Europe version of Atami. And they drank and danced on the streets lol. Kamiki said they went sightseeing and shopping, and went to watch soccer too.
Not everyone was filming in Spain at the same time, some would return first and some would come later. So it was like they were taking turns. It was like a group tour.
Kento's recommended scene is the one where Angelo turns into a rock. Earlier during his greeting, Yamada Takayuki talked about eating small rocks over a period of 4 months to 'prepare for the role' – as Director Miike told him that there won't be CG used for that scene. Now he said he's already gotten rid of the rocks, and Kento was glad that he has "returned to human form."
About his experience in Neuchatel's film festival, Kento wanted to say "It was an amazing place…" but he said "It was an amazing director–" instead LOL. He said it's the first time he's watched a movie with the director beside him.
Director Miike revealed that Okada Masaki slipped in the bath and was knocked out for an hour. When he woke up he was surrounded with blood. Okada was so embarassed he was like "Wait! Don't say–" and he took out his handkerchief to wipe his sweat lol.
Video message from Araki-sensei: I'm the original author, Araki Hirohiko. Thank you for coming to the premiere screening. Towards the movie, I think there are devoted readers who are feeling both anxious and excited, but the level of completion is so high that it exceeds everyone's expectations. The character creations along with a cinematic suspense overwhelmingly dominates the scenes. That's because the cast were really fantastic. Yamazaki Kento's presence as Josuke really led the movie forward. Also, the CG and music are brilliant, which adds to the hype. Everyone of the cast, really thank you so much. The summer this year might be very hot, but I hope you'd be cheerful and please enjoy the "JoJo's Bizarre Adventure" movie. Thank you.
Kento says that Araki-sensei is really a very wonderful person. He has met him twice. Kento really loves JoJo, so to have the creator of JoJo say such nice words makes him really happy. Kento acted for his dear life, so "I'm really happy…. Yeah… I'm happy… Yeah… Yes." (I was LOL here cos this is so typical tennen Kento~)
During the photo session, they brought out a Crazy Diamond ice sculpture and placed it behind Josuke. Iseya-san and Macken were seen taking wefies, while Okada Masaki took a photo of Kento posing beside Crazy D.
Notes from the talk session
Kento didn't know that the Crazy D sculpture actually lit up cos he was too close and probably facing the front.
Kamiki was happy to hear that story about Okada. He also mentioned being shocked by the music in the movie.
Kento said his regent hair today is real, and Macken tried to touch it. Macken told Kento to "say something" and Kento said "Hello~" (in English). His regent hair for the movie took about 2hours to be done. But the one he did for today took only about 30mins.
Kento also started reading names of the commenters on the LINE LIVE, while Kamiki was frantically trying to send as many "hearts" as possible.
The total no. of hearts exceeded 3 million by the time the stream ended.