This is the first of a two-part special on JoJo's Bizarre Adventure. In this part, Yamazaki Kento, Kamiki Ryunosuke and Arata Mackenyu gathered at a Spanish restaurant to talk about the movie and their filming experience in Spain. They also showed some Making footage and new scenes from the movie.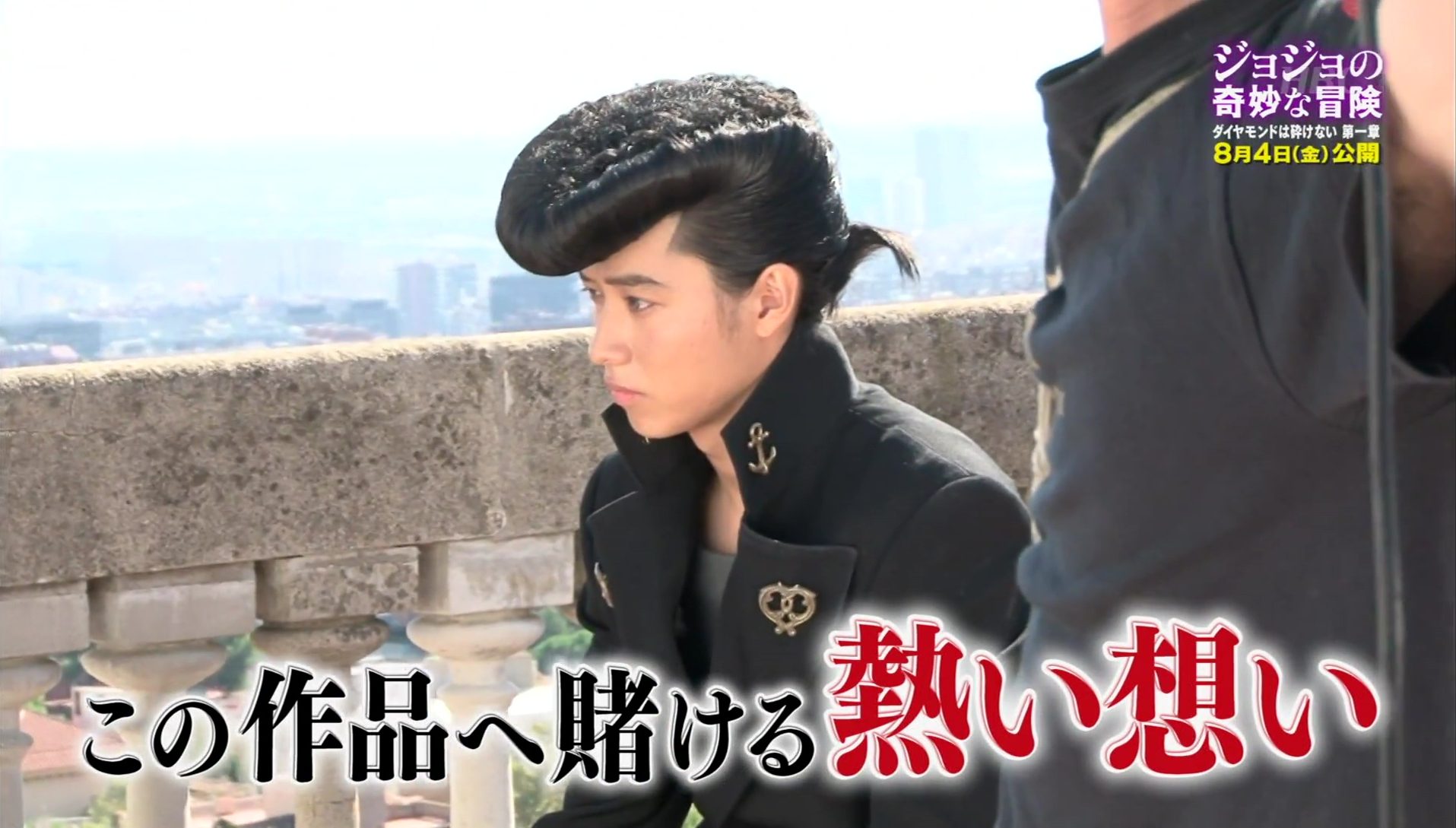 MF (raw, 720p, 24mins)
pw hint: URL/name of this site
I do not have time to sub this so I'll just translate a few parts here.
2 July, 2017 – NIFFF, in Neuchatel, Switzerland.
Fan A: It was really good and cool.
Fan B : I think it captured the spirit of Araki-sensei's JoJo.
Kento: It was a good experience and I was really touched.
About the manga.
JoJo's Bizarre Adventure first began its serialization in 1987 in Weekly Shonen Jump. The first arc was set in England in the 19th century, and is about Jonathan Joestar vs Dio Brando. There are currently 8 arcs to date, and the one adapted to live-action is the 4th called Diamond is Unbreakable. Yamazaki Kento plays the 4th JoJo, Higashikata Josuke. [Background note: Josuke is the illegitimate son of Joseph Joestar (protagonist from the 2nd arc, who's the grandson of the Jonathan Joestar).] Together with his good friend Koichi, he fights the serial-killer Angelo and the Nijimura brothers in Morioh.
A live-action adaptation deemed impossible. 
During the announcement press conference by Toho & Warner Bros last year, comments from the cast were filled with words like 'uncertain/uneasy' and 'nervous/anxious'. This was after all a popular manga series that was deemed impossible to adapt into a live-action. For Kento, this manga has a longer history than himself. It's the 30th anniversary this year. There was a huge amount of pressure on the cast. Even though Kento was the lead, the rest of the cast themselves were of leading-roles class.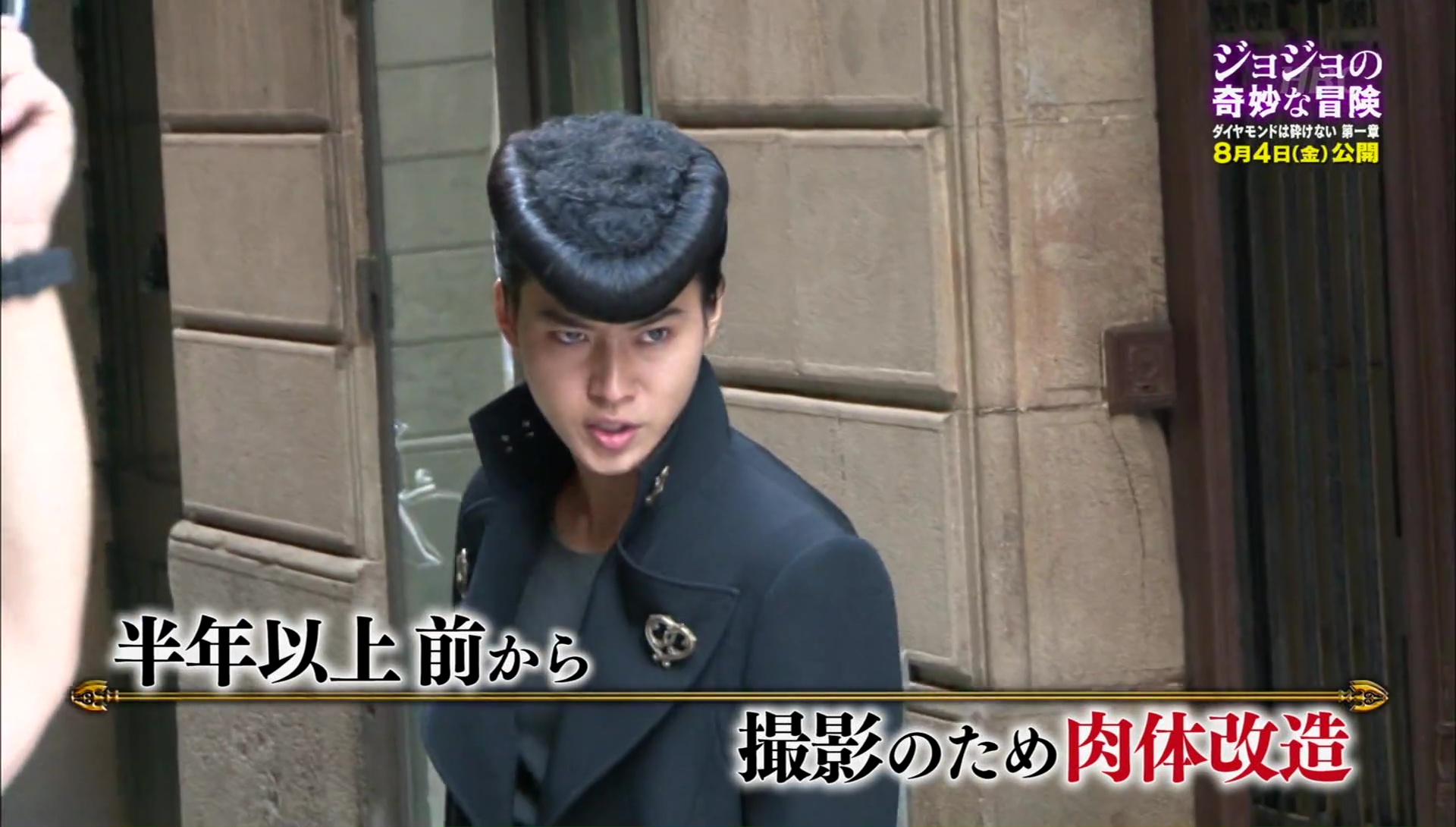 October 2016. Filming in Spain. 
Miike feels that with such a scenery, this town is where you'd find characters like Josuke. Having such an environment was effective in generating the emotions of the actors and the environment. On the first day of filming, Kento said "Finally, it's started. From now on, I'll live as Josuke. I'm able to feel it for real today." Kento started training up his body 6 months before, and has gained about 10kg for this role.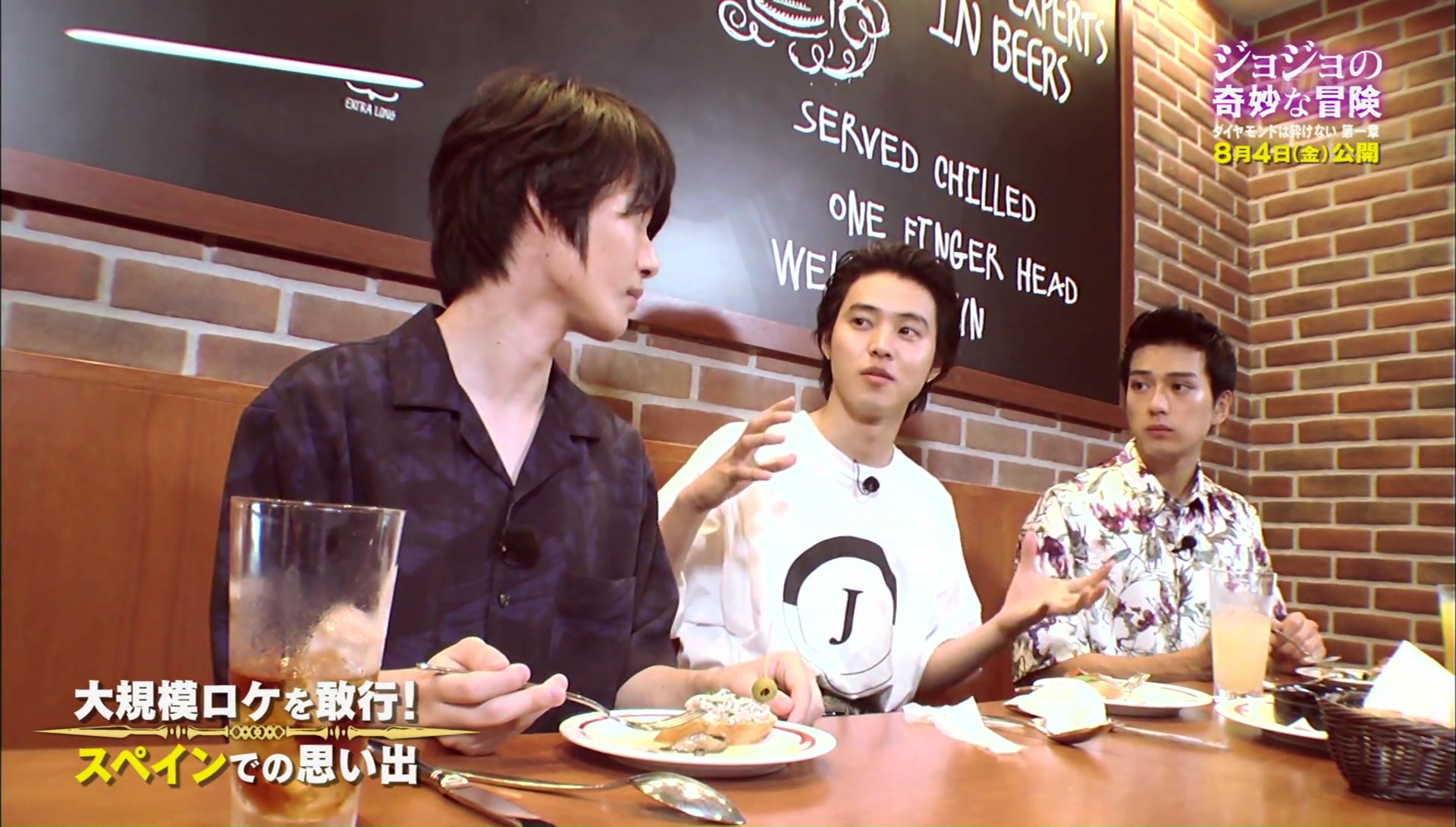 It's the first time the three act together. Kamiki was unsure at first, he thought that he would be alone in his room throughout the filming. He didn't expect to get along so well with Kento. Kento said their rooms were next to each other, so Kamiki even peeked at his regent hair. They played shogi together too.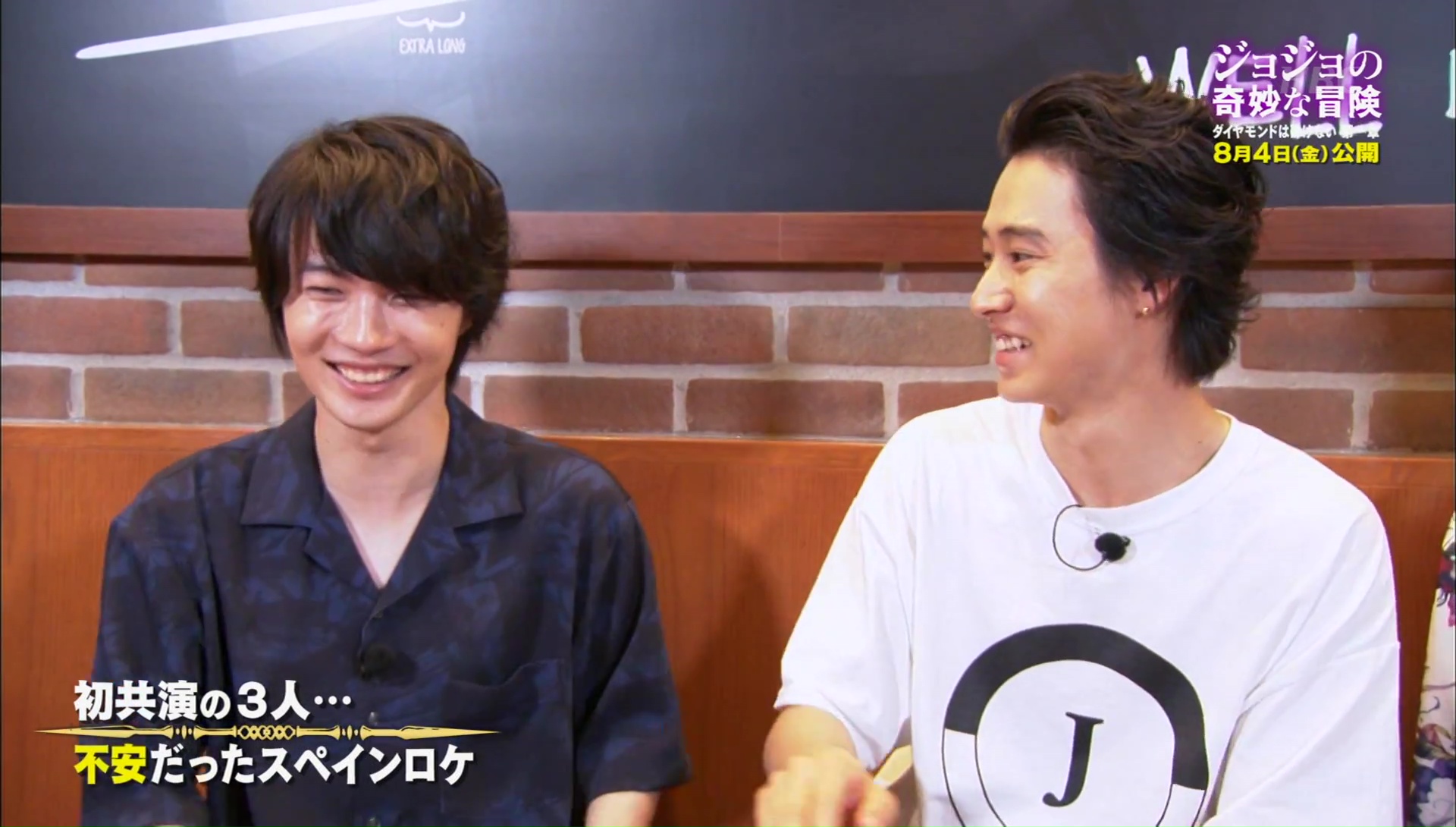 Macken talked about his Aniki and how much he loves him lol.
Message from Okada Masaki. 
"I went with Yamazaki-kun and Kamiki-kun to Sagrada Familia, but they seemed uninterested. I was so touched when I saw it, but when I turned back, the two of them were eating pizza! What on earth was that?" LOL… Kamiki and Kento tried to explain that they were actually in Spain earlier, so they had already visited Sagrada Familia twice. When they went with Masaki-kun, it was their 3rd time, and they already knew where the nice pizzas were lol.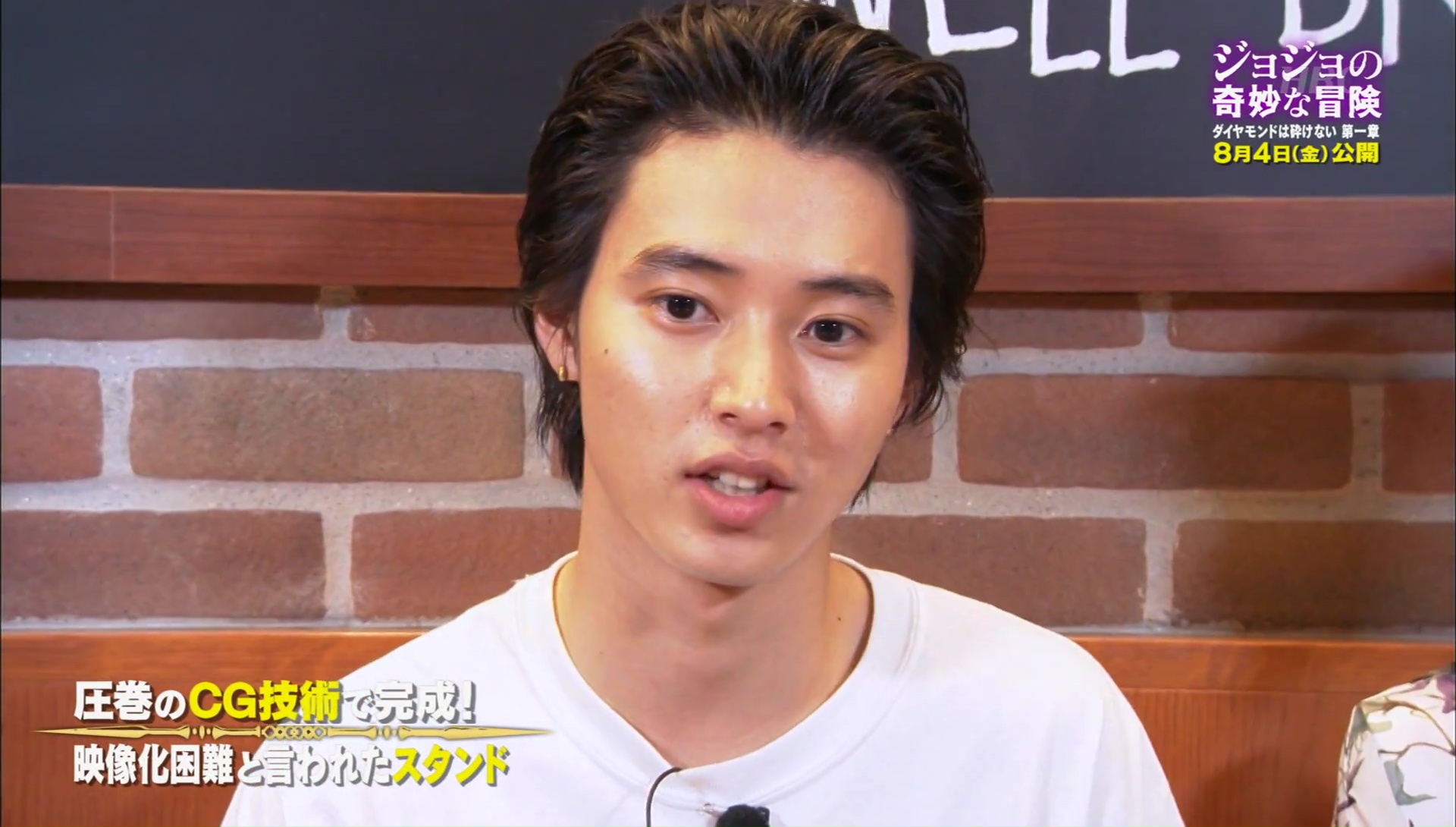 They talked about the CG and Kento reenacted his response when he first saw his Stand attack lol. I think I can understand cos when I first saw that dorarara thing, I was like woaaah~~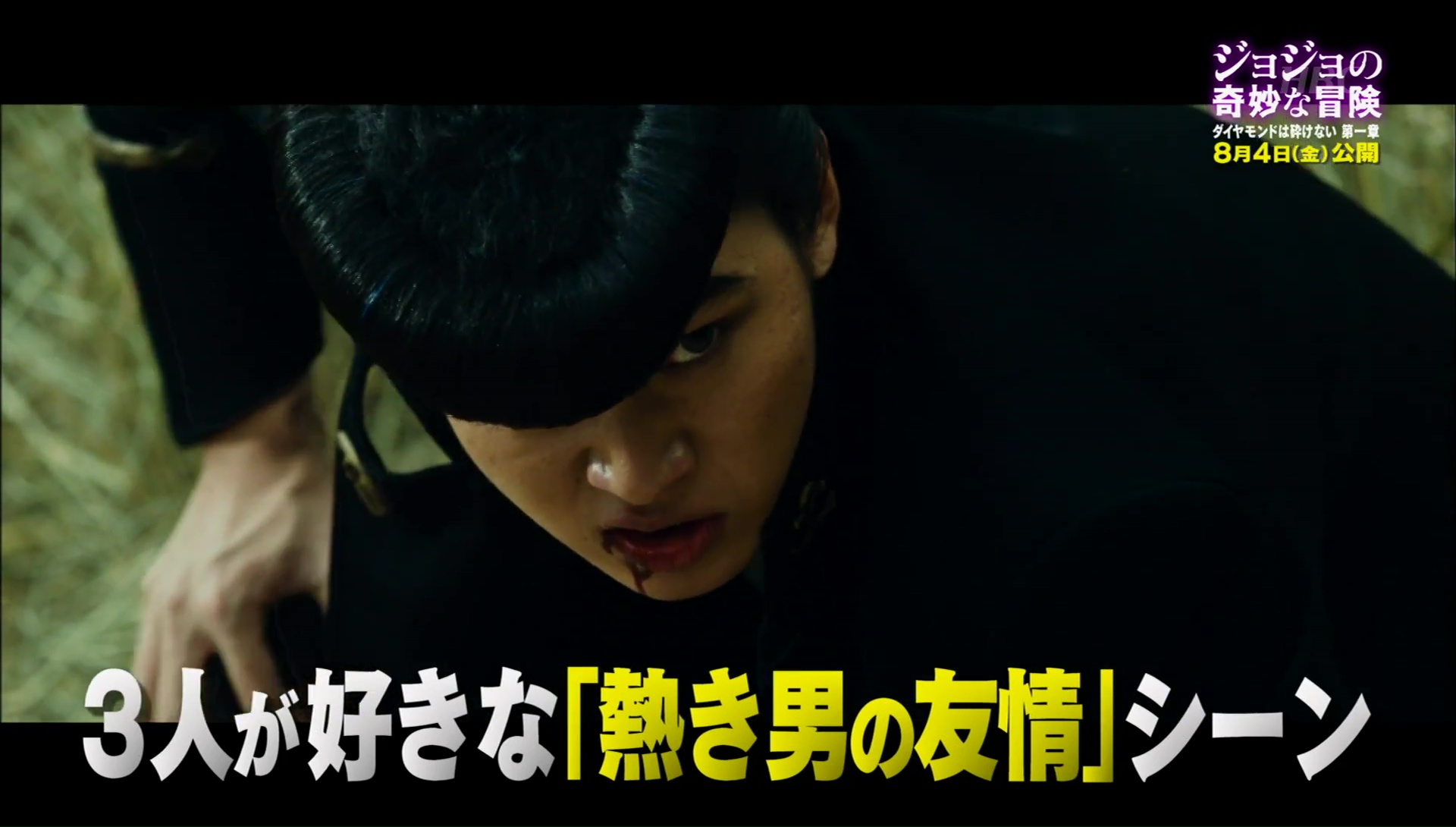 And the scene which the three of them like… was the one where Josuke heals Okuyasu's wound. The start of a passionate friendship between two guys.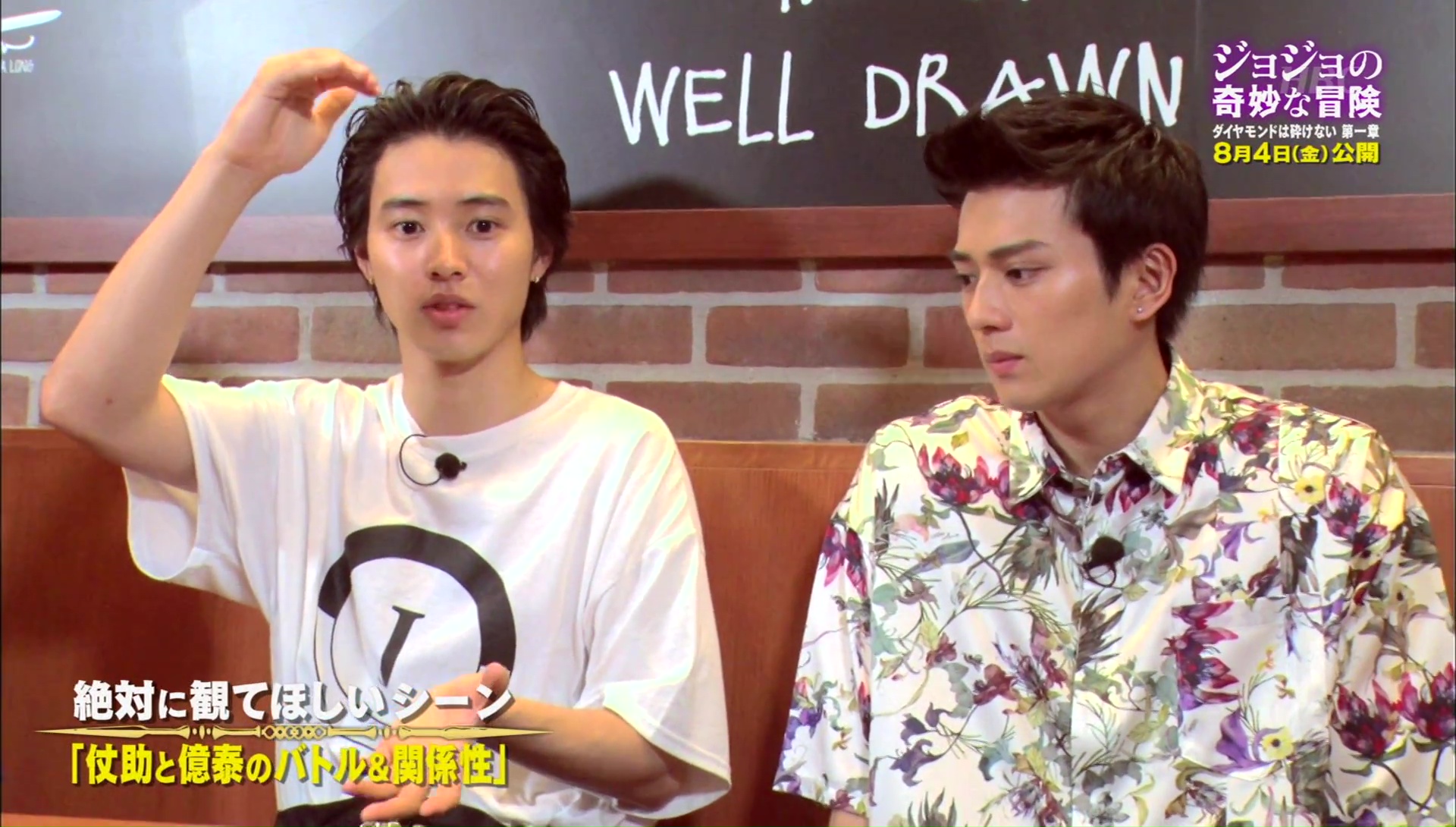 Can't wait to watch! Just 5 more days! *wakuwaku*