And I really thought they forgot… There were no birthday wishes from the Rikuou official twitter on the 7th, unlike Saiki K., Hyouka and JoJo who wished him. We were also guessing if they did a surprise celebration on set after knowing he only cranked in yesterday, but still no mention of his birthday even though they posted so many offshots. Then today, I woke up to this good news. Honto ni yokatta!!! ?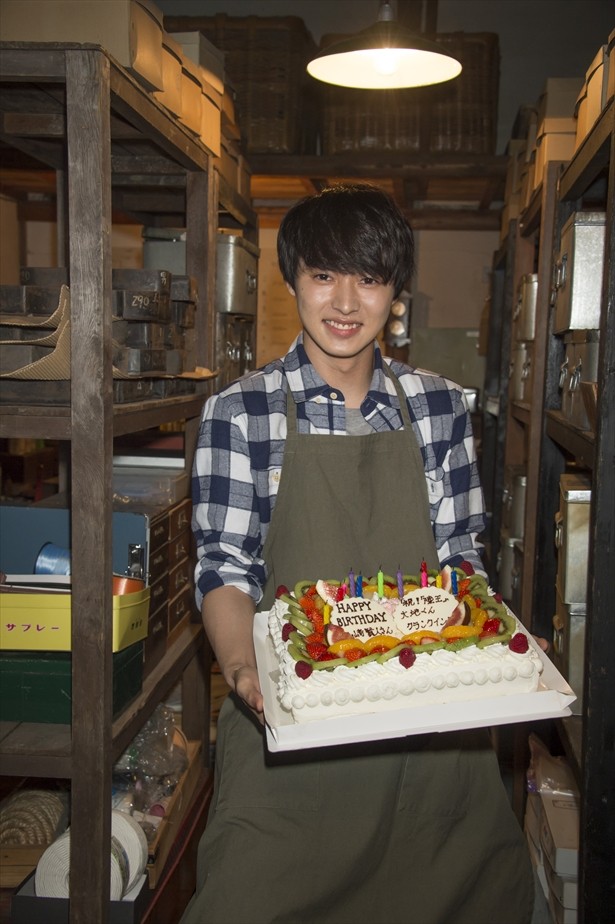 Yamazaki Kento plays Miyazawa Daichi in the drama "Rikuou". Read more about the story and his role here (which reminds me, I'd better do up the info page soon…)
The first scene Kento had to shoot was of Daichi searching for a balancing scale, a component of a broken sewing machine. During the rehearsal, Kento stood there looking rather nervous. At that time, a staff said in a raised voice, "It's Yamazaki Kento-san's 23rd birthday!" and they brought out a huge cake and flowers to commence the celebration. The nervous air on set was switched instantly to one filled with applause and laughter.
All the staff on set sang "Happy Birthday" to him, and Kento who was still looking surprised, blew out all the candles with one breath, with a smile on his face.
"I'm 23 years old. I've become exactly the same age as Daichi. This is a good omen."
He beamed as he held the cake for phototaking. "This is wow, massive!", he said looking surprised at the weight of the cake. "Yesterday, I turned 23. From now on for the next 3 months, I'd like to do my best here. I'll pour in all my strength of being a 23 year old. Please take care of me!", he said with vigor.
More photos:
Source: the television (2017.09.09)