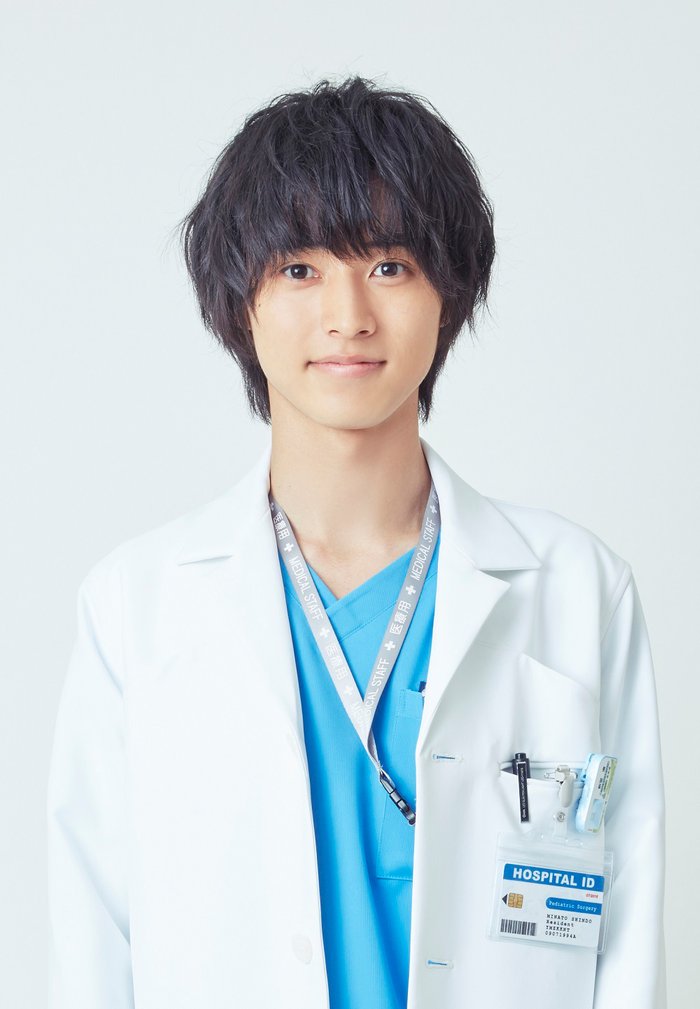 This is the first lead role for Yamazaki Kento in a Fuji TV drama series, and he will play a young pediatric surgeon who has autism and savant syndrome. The story is based on a Korean drama series broadcasted in 2013, that has also been remade as a drama series in America last year.
Yamazaki Kento plays Shindou Minato who is autistic but has exceptional memory recall and spatial reasoning abilities. Since young, his dream was to become a pediatric surgeon. As a resident, he enters the world of pediatric surgery and fights to save the lives of children while facing prejudice from the people around.
Kento's comments:
This is the first time you play a lead role in a Fuji TV drama. What are your thoughts?
「To be able to work once again with Director Kanai and Producer Fujino whom I worked with in 『Suki na hito ga iru koto』, and to be able to participate as a lead actor, I'm really delighted. I'm also looking forward to meeting the new staff and cast.」
It'll be your first medical role. How did you feel to actually wear the white coat?
「The medical field is a very unknown world to me. I feel great pressure, but as only 0.3% of medical doctors are pediatric surgeons, I hope that more people will come to know about pediatric surgery through the drama, and to understand it deeper through the character Shindou Minato. I would feel very much at ease and would be able to trust an empathetic doctor who can see things from a patient's point of view, so I hope to portray such a doctor.」
It will be a difficult role, but what would you like to pay careful attention to when preparing for the role?
「I'd like to play the role naturally, without being especially conscious of anything. This is still very unknown to me, and Shindou Minato holds many hidden and infinite possibilities, but I hope that he will become a character that's loved by everyone.」
Please say a message to the viewers.
「It's a drama that contains many messages. What we are facing seriously every week are precious little lives, so I believe it would warm the hearts of viewers.」
Producer Fujino Ryota's comment:
「This is the third time I'm working with Yamazaki Kento-san in a drama series. And it's Yamazaki-san's first lead role in a Fuji TV drama. During the planning stage, while thinking of "how to draw out new expressions from Yamazaki Kento-san", we arrived at 『Good Doctor』.  This story tells of a young man with autistic spectrum disorder and how he overcomes various biases and difficulties in his journey to become a pediatric surgeon. This role is perfectly suited for a young man like Yamazaki Kento-san who's crossing the bridge towards adulthood. It'll be a challenging role for him. Another lead role in this drama would be "pediatric surgery". The child's body requires an exceptionally high degree of specialisation. While there are cases that can only be treated with pediatric surgery, there is a current personnel shortage in pediatric surgery in Japan. Only 0.3% of all medical doctors are pediatric surgeons, who are the last line of defence fighting to protect the lives of children today. This drama aims to bring to light the problems surrounding pediatric care today, by depicting the story of the frontline fighters, the pediatric surgeons. The pure and lovable lead character will make you laugh and cry. Please look forward to the most touching story this summer, 『Good Doctor』!!」
『Good Doctor』 airs every Thursday at 10pm on Fuji TV. The pilot episode will air on 12 July, 2018, and will be extended by 15 minutes.