Yamazaki Kento x Komatsu Nana.
Cover: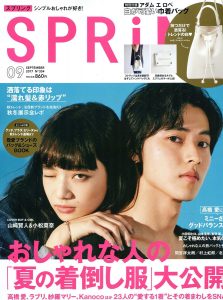 Inner pages:
Translating bits from the article:
The theme of this photoshoot is 90's Fashion. Throughout the photoshoot, Kento was very relaxed. He occasionally made Nana laugh.
Kento: In the movie, Kommachan has the mysterious feel and she's also cute, she is an actress who has presence. I thought she was shy, cool and doesn't talk much, but in fact she talks and is really genki (full of vigor) *laughs*.
Nana: I'm hot (not cool), right? *laughs* Towards Kento-kun, I've the impression from the start that he's very genki, and in fact he is indeed genki *laughs* He's lively, like an innocent young boy, very kind, and although I'm also the type who gets nervous around strangers, I was able to talk to him from the start.
Kento took an interest to the top he wore in this shoot, with the logo "SCARFACE". In fact, he said that he is a fan of Al Pacino's movie of the same name, "Scarface".
They also talked about playing Harry Potter in Spain. Apparently in Sitges, there was a building that looked like Hogwarts.
Kento: Ryuu (Kamiki) was Harry, and somehow I was Malfoy *laughs*. Of course Komacchan was Hermoine.
Nana: We were laughing a lot then. It's a pity I was there only for a few days for filming. I wanted to stay with everyone longer. Sitges is a really wonderful place, I wished I were there longer.