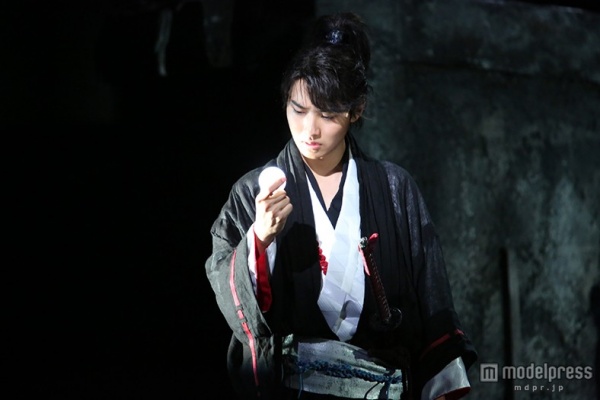 Dates: 31 October to 6 December, 2014
Total no. of shows: 30
Total no. of venues: 5
Official site @ntv.co.jp (redirected to 2017 page)
Dates & Venues:
Tokyo New National Theatre, Playhouse
31 October – 17 November, 2014 (22 shows)

Osaka Theatre BRAVA!
21 November – 23 November, 2014 (5 shows)

Takamatsu Alpha Anabuki Hall, Grand Hall
26 November, 2014 (1 show)

Kitakyushu Soleil Hall
28 November, 2014 (1 show)

Tateyama Chiba Nanso Culture Hall, Main Hall
6 December, 2014 (1 show)
Cast:
Yamazaki Kento as Inuzuka Shino Moritaka
Murai Ryouta as Inukawa Sousuke Yoshitou
Baba Ryoma as Inuyama Dousetsu Tadatomo
Arai atsushi as Inuta Kobungo Yasuyori
Takasugi Mahiro as Inue Shinbee Masashi
Tamaki Yuuki as Inusaka Keno Tanetomo
Maruyama Atsushi as Inumura Daikaku Masanori
Ishigaki Yuuma as Inukai Genpachi Nobumichi
Eda Yuka as Hamaji
Izuka Kenta as Aboshi Samojirou
Matsuda Kenji as Chudai Houshi
Shiraishi Miho as Fuse-hime / Tamazusa (double roles)
Poster: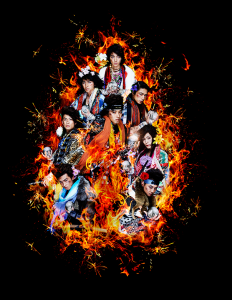 Image shot of Kento as Inuzuka Shino: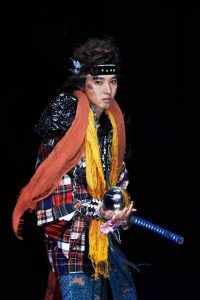 Notes:
Kento's first time doing theatre work, and he's cast as the lead in this story which is based on one of the greatest samurai novels in Japan.
There were a total of 30 shows staged at 5 different venues across Japan.
Unfortunately, there was no DVD release for this butai. But fortunately, this butai will be repeated in 2017 with Kento as the lead once again. Be sure not to miss this chance to watch him act live!
Goods: (picture cr. reporingo@ameblo)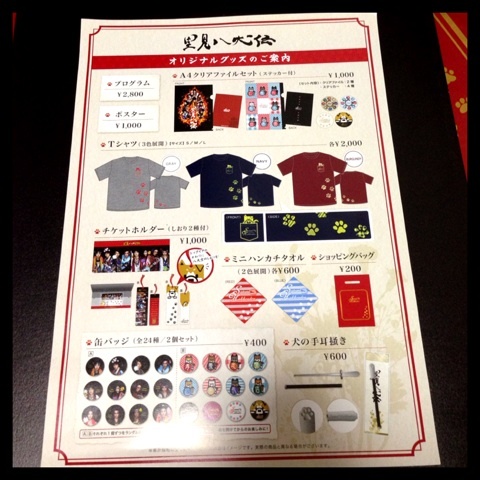 Related translations @ Yamazaki Kento's official blog:
[Message] 20141101 – Stage『Satomi Hakkenden 2014』Thank you
[Message] 20141121 – Tokyo senshuuraku and the Osaka shows
[Message] 20141210 – Grateful

Stills:
Press conference:
Behind the scenes from official blog & etc.:
⊛ Search posts tagged as: satomi hakkenden