Episode 8 "Love Letter"
On-Air date: 4 August, 2012 @ 20:00 ~ 20:30
Re-broadcast: 7 June, 2013 @ 21:00 ~ 21:30
Channel: BS12ch on TwellV
Theme song: A'LIL 「if」~if the two of us~
Synopsis:
It was a hot summer afternoon and Kamoi Hajime was helping his grandfather look after his secondhand book store. A pretty girl Mizushima Satsuko came in to the store and finds Hajime asleep at the counter. She's looking for a book, however she has no idea at all what's the title of the book or its content. What she's actually looking for is a letter that was slotted in between pages of that book….
Cast:
Yamazaki Kento as Kamoi Hajime
Taketomi Seika as Mizushima Satsuko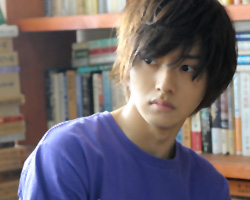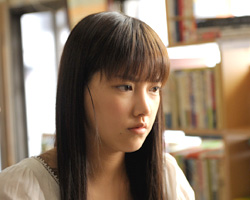 Notes:
A short 30min drama set in a secondhand book store.

Filming was completed in a day.
Stills:
Short video interview about the filming: