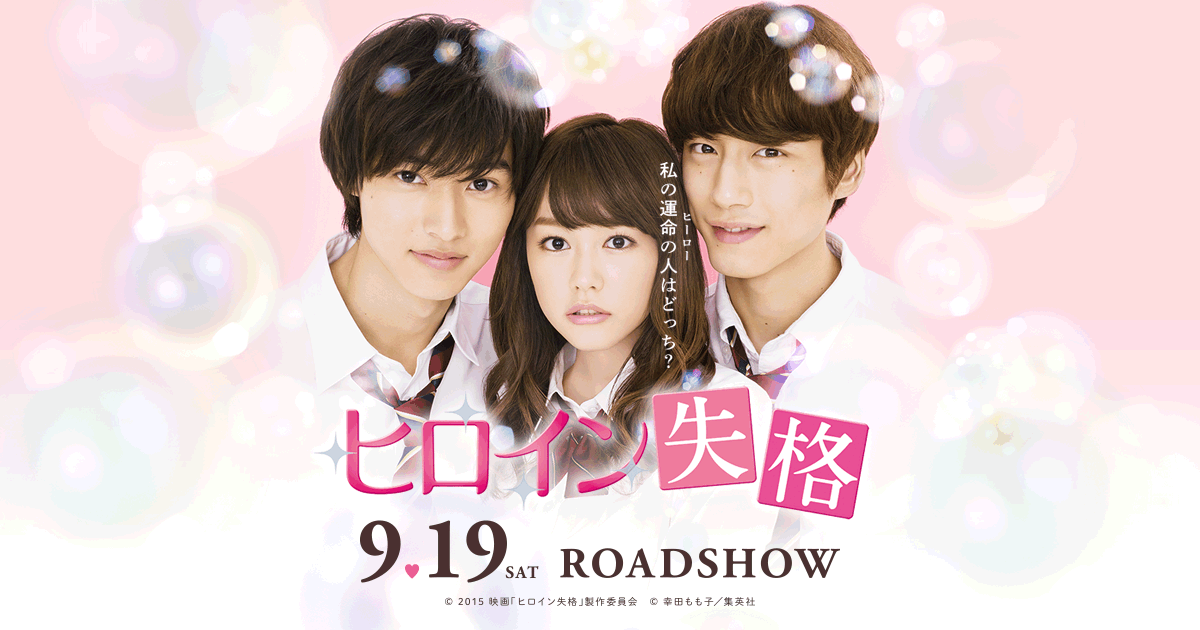 Release date: September, 2016
Distributed by: Warner Bros
Directed by: Hanabusa Tsutomu
Run time: 112 mins
Based on the manga series by Koda Momoko
Theme song: "Torisetsu" by Nishino Kana
Official twitter @heroine_movie
Official IG @heroine_shikkaku
Official site: heroine-shikkaku.jp
Synopsis:
Female high school student Matsuzaki Hattori believes that one day she'll get married to her childhood friend Terasaka Rita whom she crushes on. But her world was turned upside down when Rita tells her one day that he has started dating the awkward, plain, bespectacled and Rokkaku Seiji-like Adachi Miho. On the other hand, the most handsome guy in school Hiromitsu Kousuke takes an interest to Hattori and begins to pursue her. Will she choose the one she loves, or the one who loves her?
Cast:
Kiritani Mirei as Matsuzaka Hattori
Yamazaki Kento as Terasaka Rita
Sakaguchi Kentaro as Hiromitsu Kosuke
Fukuda Ayano as Nakajima Kyoko
Wagatsuma Miwako as Adachi Miho
Takahashi Maryjun as Emi
Nakao Akira as himself (special appearance)
Yanagisawa Shingo as himself (special appearance)
Rokkaku Seiji as himself (special appearance)
Hamada Mari as Rita's mother
Takeuchi Riki as school canteen's Oyaji
DVD/BD release (9 Mar, 2016):
Poster:

Teaser:
Theatrical trailer:
Live Action x Manga Collaboration PV:
Movie Completion Press Conference (21 Jun, 2015):
Japan Premiere (31 Aug, 2015):
Special Talk Event & Media Interviews @ Osaka (28 Aug, 2015):
Opening Day Stage Greeting (19 Sep, 2015):
Stills:
Pretties from IG:
⊛ Search posts tagged as: heroine shikkaku