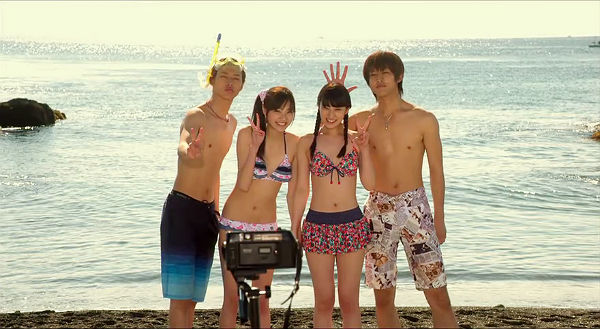 Release date: 8 December, 2012
Directed by: Furusawa Takeshi
Based on manga series "Kyou, Koi wo Hajimemasu" by Kanan Minami
Theme songs: "Happy Collector" by SCANDAL, "Natural ni Koishite" by Perfume, "Éclair" by bómi, "NAGISA" by LGMonkees, "Boku no" by Tamura Pan, "Starlight Parade -CAN'T SLEEP FANTASY NIGHT Version-" by SEKAI NO OWARI, "Diamond" by MAY'S, "Kimi ni, Naritai" by Sayonara Ponytail, "Egao" by back number, "Hatsukoi" by Nakashima Mika, "Nagai Mabataki" by Negoto and "Yowamushi-san" by 7!!
Official site @mixi
Synopsis:
Hibino Tsubaki is talented in hair styling but she isn't comfortable with styling her own hair. She keeps her hair in 2 ponytails and is often teased by her classmates for dressing conservatively. On the other hand, Tsubaki Kyouta is fashionable and adored by everyone. One fine day, he decides to tease the other Tsubaki and ends up having his hair cut without his permission. "The current hairstyle didn't do him justice," so she says, and sparks fly between them. Is this the start of something more?
Cast:
Takei Emi as Hibino Tsubaki
Matsuzaka Tori as Tsubaki Kyouta
Kimura Fumino as Nana
Aoyagi Shou as Hananoi
Yamazaki Kento as Hasegawa Nishiko
Shinkawa Yua as Hibino Sakura
Takanashi Rin as Yamauchi Arisa
Dawkins Erina as Misaki
Fujiwara Reiko as Kana
Trailer:
DVD/BD release (24 May, 2013):
Blu-ray Deluxe Ed. @ Amazon JP | HMV | CDJapan
DVD Deluxe Ed. @ Amazon JP | HMV | CDJapan
Blu-ray Regular Ed. @ Amazon JP | HMV | CDJapan
DVD Regular Ed. @ Amazon JP | CDJapan
Participated in:
16th Shanghai International Film Festival
Related translations @ Yamazaki Kento's official blog:
[Message] 20120220 – Kyun
[Message] 20120322 – Well…
[Message] 20121017 – Recruiting
[Message] 20121218 – Nishiki

Stills:
Opening day stage greeting (8 December, 2012):
⊛ Search posts tagged as: kyoukoi