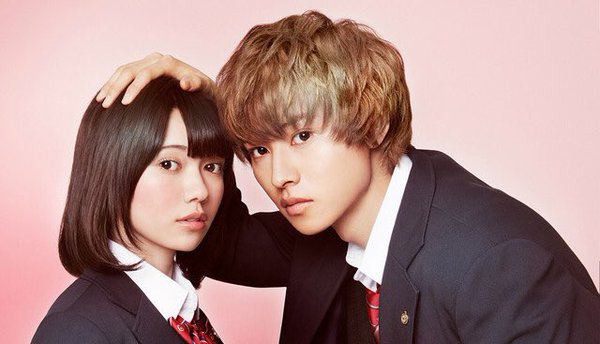 Release date: 28 May, 2016
Distributed by: Warner Bros
Directed by: Hiroki Ryuichi
Run time: 116mins
Based on the manga series by Hatta Ayuko
Theme song: "Boku no Namae wo" by back number
Official twitter @ookamishojo_m
Official site @warnerbros.co.jp
Synopsis:
Shinohara Erika is a high school student who desperately wants to fit in a clique. But her clique consists of girls who have boyfriends, so she resorts to telling lies about having one herself. To convince them, Erika takes a photo of a random guy on the street. Unfortunately, the guy, Sata Kyouya, turns out to be the best looking guy in her school. Erika asks him to act as her boyfriend, which he agrees on one condition – that she becomes his "pet dog".
Cast:
Yamazaki Kento as Sata Kyouya
Nikaido Fumi as Shinohara Erika
Suzuki Nobuyuki as Kamiya Nozomi
Kadowaki Mugi as Sanda Ayumi
Yokohama Ryusei as Hibiya Takeru
Ikeda Elaiza as Tezuka Aki
Tamashiro Tina as Tachibana Marin
Yoshizawa Ryo as Kusakabe Yuu
Nanao as Sata Reika
DVD release (5 October, 2016):

DVD Regular Ed. @ Amazon JP | CDJapan | HMV
DVD Premium Ed. @ Amazon JP | Amazon JP(w/DVD) | CDJapan | HMV
Blu-ray Premium Ed. @ Amazon JP | Amazon JP(w/DVD) | CDJapan | HMV
Poster: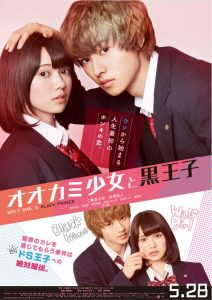 Trailer:
Event at Ikebukuro Parco (22 March, 2016):
Premiere & LINE live event (27 April, 2016):
Osaka stage greeting (14 May, 2016):
Fukuoka T-Joy stage greeting (15 May, 2016):
Surprise visit to high school (17 May, 2016):
Opening day stage greeting (28 May, 2016):
Big Hit stage greeting (9 June, 2016):
BTS @ official twitter:
Screen captures from movie:
PR Stills:
⊛ Search posts tagged as: wolf girl and black prince