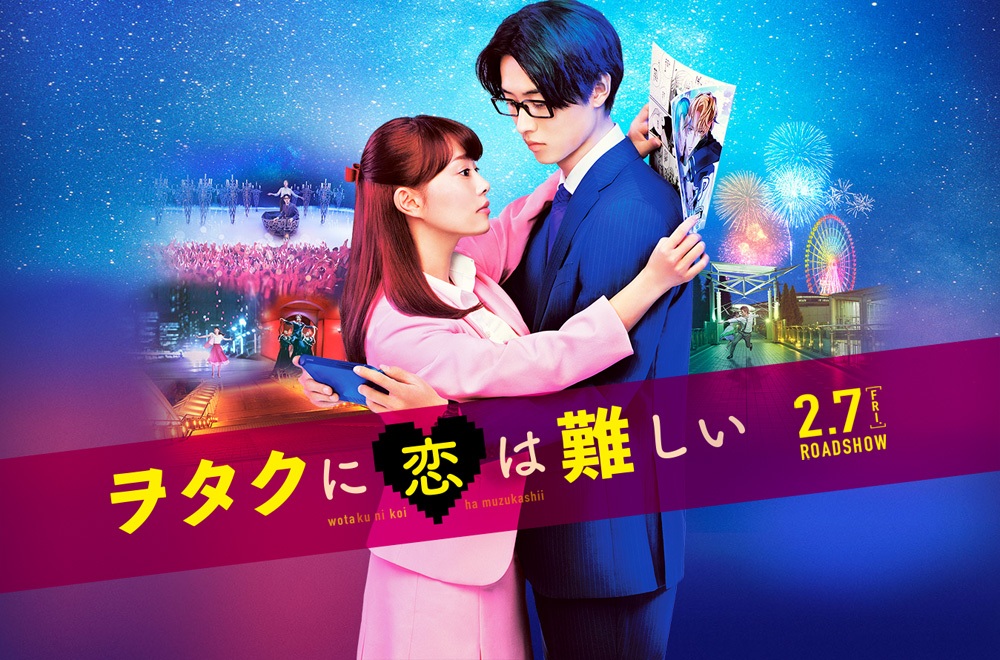 Also known as: Wotakoi
Release date: 7 February 2020
Directed by: Fukuda Yuichi
Screenplay by: Fukuda Yuichi
Based on web manga "Wotaku ni Koi wa Muzukashii" by Fujita
Official site: wotakoi-movie.com
Synopsis:
26-year-old Momose Narumi is an office lady who hides the fact that she's fujoshi to everyone around her. At her new workplace, she reunites with her childhood friend Nifuji Hirotaka, who is a game otaku but unlike Narumi doesn't care if everyone knows he's one. After a few drinking sessions, the two start dating.
Cast:
Yamazaki Kento as Nifuji Hirotaka
Takahata Mizuki as Momose Narumi
Saito Takumi as Kabakura Tarou
Nanao as Koyanagi Hanako
Kaku Kento
Muro Tsuyoshi
Sato Jiro
Wakatsuki Yumi
Imada Mio
Blu-ray/DVD Release:
"Wotakoi: Love is Hard for Otaku" Blu-ray & DVD to release 19 August 2020
Musical PV:
Theatrical Trailer (1min 30s):
Teaser Trailer #2 (30s):
Teaser Trailer #1 (30s):
Posters:
Kento's comment:
It's my second project with the Fukuda group. To be honest I was afraid. Hirotaka is a game otaku and a cool character who doesn't smile, but I was battling the fear of not knowing what's gonna happen entering Fukuda group like that. My fellow cast were so funny yet I'm not supposed to laugh. It was hell (lol). This year is my 10th year as an actor. I once again realized the excitement and fun of challenging a new genre, with Fukuda group opening a new door for me in singing and dancing. It's almost my first time singing and dancing. At the start when Fukuda-san saw my practice video, he said that I have no dancer blood in me (lol). During the shoot, I was so nervous that I couldn't remember the moves, but after dancing so many times, there were moments when I felt the 'dancer's high'. It felt good when body and sound were in sync. That was a very fresh experience for me.
Notes:
First announced on 18 September 2018.
There will be musical elements in this movie i.e. there will be singing and dancing.
Filming took place in October and November 2018.
On 13 December 2018, Toho announced that the release date of the movie was postponed to 2020.
First visuals were released and release date announced on 29 July 2019.
Theatrical trailer released 18 November, 2019.
Musical PV released on 3 December, 2019.
Stills:
Character visuals: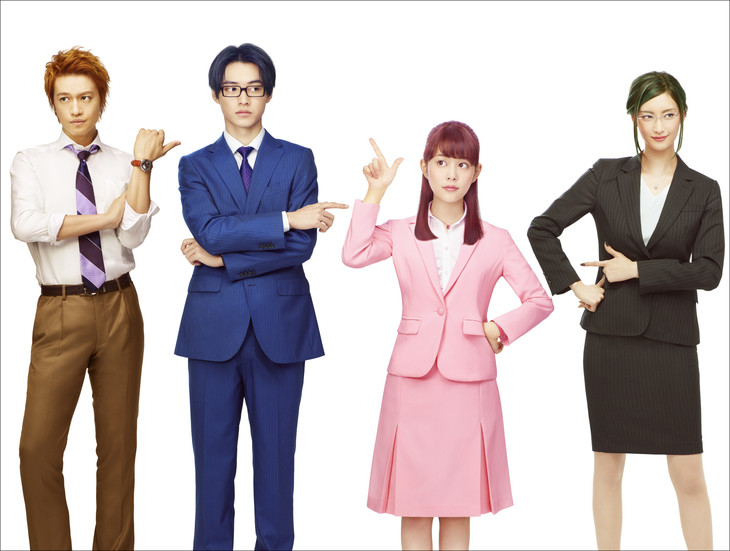 ⊛ Search posts tagged as: wotakoi