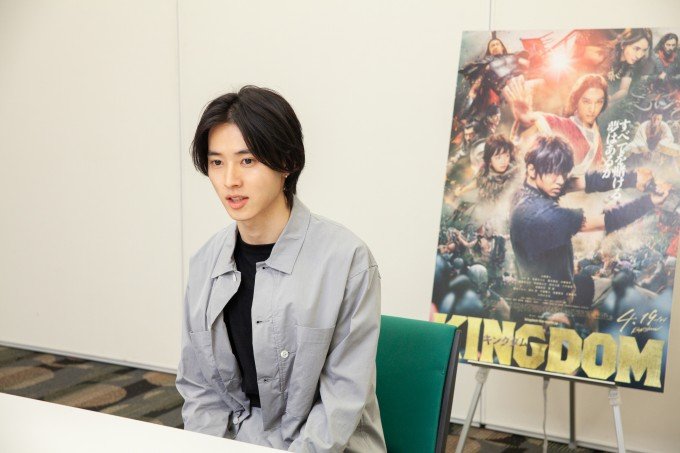 — This is a long-awaited movie adaptation.
People were recommending the manga to me, saying it was interesting. The chance came when I was offered the role of Shin in the Kingdom serialization 10th ann. short movie in 2016. Before filming for that began, I read all the volumes of the manga and became a big fan. When it was confirmed that I would play Shin in the movie too, I was all dazzling dizzy (lol). I was so happy… It's a great honour to be able to play Shin again. More than a year before the filming, I was already thinking about Kingdom and preparing myself for Shin. I was happy to be able to put my whole mind and body into it. It has become a really special project to me.
— It's your fourth time acting with Yoshizawa Ryo-san who played Eisei and Hyou. I heard that you are close in private too.
When our roles were confirmed, the two of us went to drink. "Yes! Let's do our best!" We were both very pumped up. We talked in depth about our passion towards the acting job, something that we would usually be too shy to talk about. Even during the filming, we were able to face each other straight on because there's a mutual trust that was built up over the years. I felt that I was able to execute the role exactly because it was Oryo who was playing Eisei and Hyou.
— The filming was in Zhejiang province of China. With the vast open-air set in front of you, how was the pressure like as the lead actor?
The size of the set and the number of staff present were overwhelming, but I was trembling with excitement. All I was thinking was "Alright! Let's do it!" They used so huge a set and that great a number of soldiers and horses, it was like seeing "the real thing" which made it easier for me to get into the role. I could also feel the rise in morale of the staff and cast.
— I feel that you really fit the role of Shin.
As Shin is a guy I admire myself too, it really felt great playing him. Shin lives in a straightforward and honest way. Even though he grew up in an underprivilleged environment as a slave, he has held a dream together with his friend and lived an honest life. He has endless potential and flies higher than anyone. There were many scenes filmed at very tough locations, but the tougher it got, the more power I felt… I'm sure people who watch it will also be able to feel that power.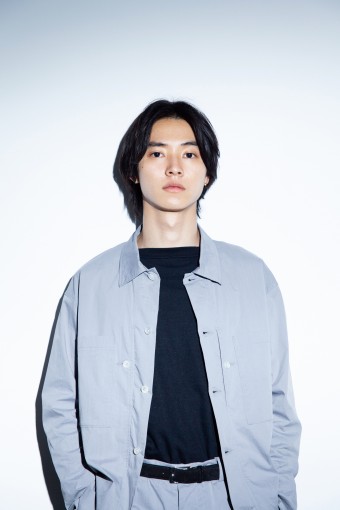 "Shin is a guy that I admire", says Yamazaki Kento-san.
— The vigorous action scenes left an impression.
Shin's action is unconventional and has a wild feel. His movements were self-taught and unique to Shin, so I created my own style after discussion with the director. Even if the enemy hits him, even if his facial expressions are destroyed, he bounces back. At the start, he let his feelings of vengence and anger dictate his actions, then the more he fights the calmer he gets, and he's able to react to his opponents. I'd like viewers to look forward to the growth of such a Shin. Because he's a slave boy, orphaned because of war, I was very thorough in my body-prep. I worked my body hard with action training and controlled my diet. As I ate only breast/fillet and red meat, I was always feeling hungry (lol).