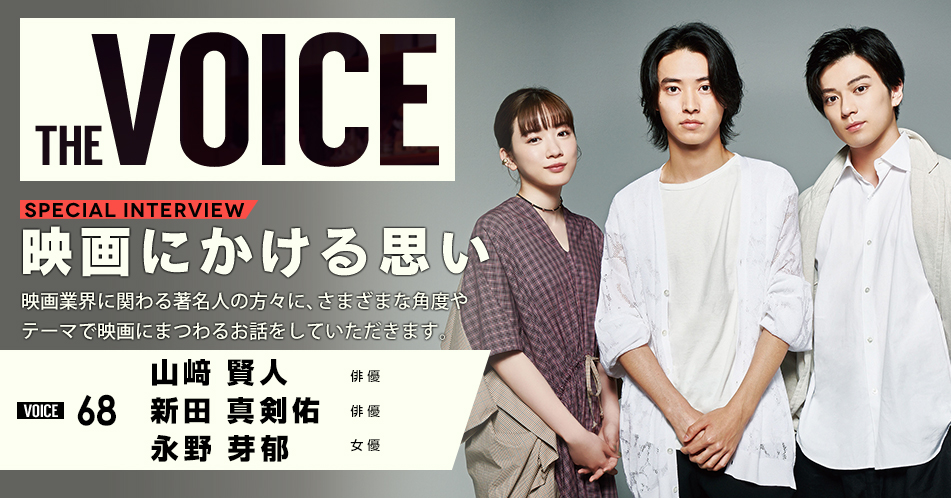 ― As voice actors for 'Ni no Kuni' (releasing 23 August), an animation movie based on the game of the same name and produced by Level 5 who produced 'Yo-kai Watch', please share your thoughts on the (after-record) voice recording process.
Yamazaki: I was told to do it like how I usually do, but it was difficult to express my emotions with just voice alone.
Arata: When I heard our voices in the completed movie, Kento was really like Kento, and Mei-chan was really like Mei-chan, I was also like myself.
Yamazaki: They were voices I totally knew, and it made me quite happy (lol). Although only for one day, I was able to record the main scenes together with Mackenyu. During that time, I was really able to relax.
Arata: It's totally different when he was beside me, compared to when he wasn't. Regarding this, I felt bad for Mei-chan.
Nagano: I recorded it alone, so I was always feeling lonely (lol). Usually I am able to act from reacting to another person's acting. (This time) it was indeed difficult to bring out my emotions when it was only me alone. It also gave me the opportunity to realize how I much rely on my body usually.
Yamazaki: I felt that although we use up more physical strength in our usual acting, the difficulty of voice acting is totally different.
― To save their childhood friend Kotona, high schoolers Yuu and Haru get lost in Ni no Kuni (second world). To portray your characters, what did you pay attention to that's different from your usual kind of acting?
Yamazaki: Yuu is wheelchair bound, so during the reality scenes at the beginning, I sat down to match the voice. I was trying my best to bring out the difference between my characters in both worlds, the reserved Yuu in Ichi no Kuni (first world) who had a complex, and the positive and cheerful Yuu in Ni no Kuni. But no matter what scenes I recorded, I was moving quite a lot (lol).
Arata: Indeed you were moving a lot, right (lol)! I almost didn't move much though.
Yamazaki: Macken didn't move at all. I was thinking, "He's amazing, he's so good~" I was always moving my hands and stuff, and when I watched the making after that I felt embarassed (lol).
Arata: That, was kinda adorable (lol). The character I play, Haru, is a cheerful and very pure and honest person. He was brainwashed in Ni no Kuni and started to change, but thanks to Yuu, he was able to find himself… I tried to pay attention to that huge change of emotions.
Nagano: I played both the high school student Kotona and the Ni no Kuni princess Asha, and I was thinking hard about the aspects where the two of them connect. Kotona is very cheerful and has the ability to get down to the bottom of the story, so I spoke her lines in a cheerful and excited way. I was more troubled over Asha. I was advised by people around that "If you speak normally, it'll become princess-like", so I could only believe them (lol).
Arata: Mei-chan is a natural princess.
Nagano: Oh! (lol) I'm happy. Thank you for the wonderful comment.
―Well then, to end this, if you are able to go to another world, what kind of place would you like to go to?
Yamazaki: Indeed it's Ni no kuni. I'd like to meet the 'dogfolks' (lol). They have dog faces but human bodies, so like when I first meet them, I wonder if I should treat them as humans or as dogs, stuff like that (lol).
Arata/Nagano: (LOL)!!
Arata: Ni no Kuni is such a colourful world, it would feel so good being there.
Nagano: I already feel like I've been to Ni no Kuni, so… I guess I'd like to go to the Doraemon world. I'd like to use the door to go to all kinds of places!