Just wanna do a quick post on Tateyama before moving on to the other pilgrimages from my most recent trip.
15 April, 2017
It was the opening day of Satomi Hakkenden stage play and we were going to watch the very first show. J has watched Kento in one of the Satomi Hakkenden shows in 2014 before but I've never seen him act live, so I was really excited!
However, getting to Tateyama was already quite nerve-racking. J took the highway bus while I took the Ltd Express train (as I was holding the JR pass). While J almost missed her bus, my train was late (at first, indefinitely) due to an accident on the Chuo Line. Despite all these 'happenings', we got to Tateyama station safely, some time past 10am. It was our first time in Chiba's Boso Peninsula so we explored a bit of the place around the station.
First, it doesn't look like Japan at all. It's a bit like…Hawaii? Although I've never been to Hawaii before lol. In any case, the station was really near the sea, so it was really windy~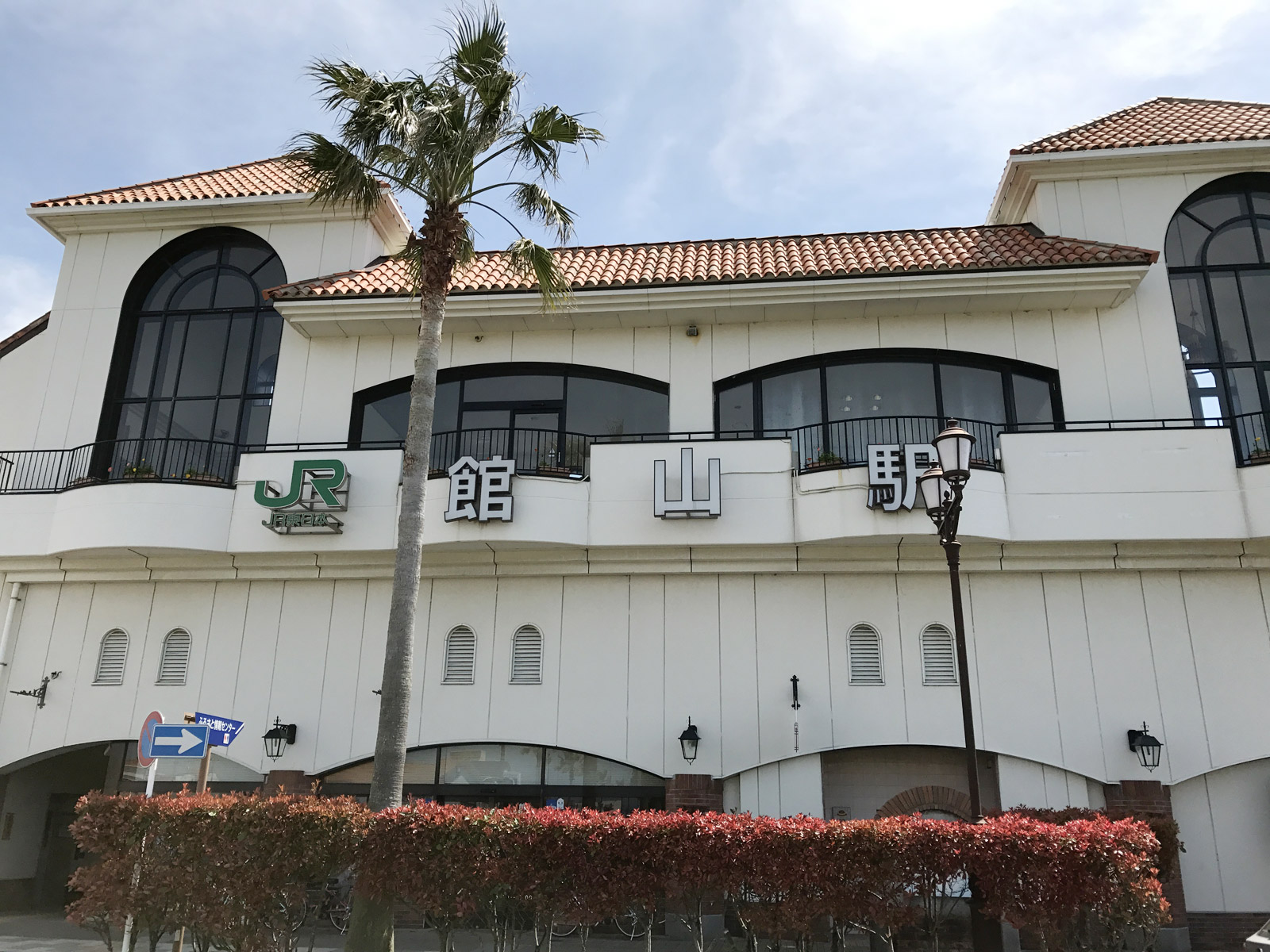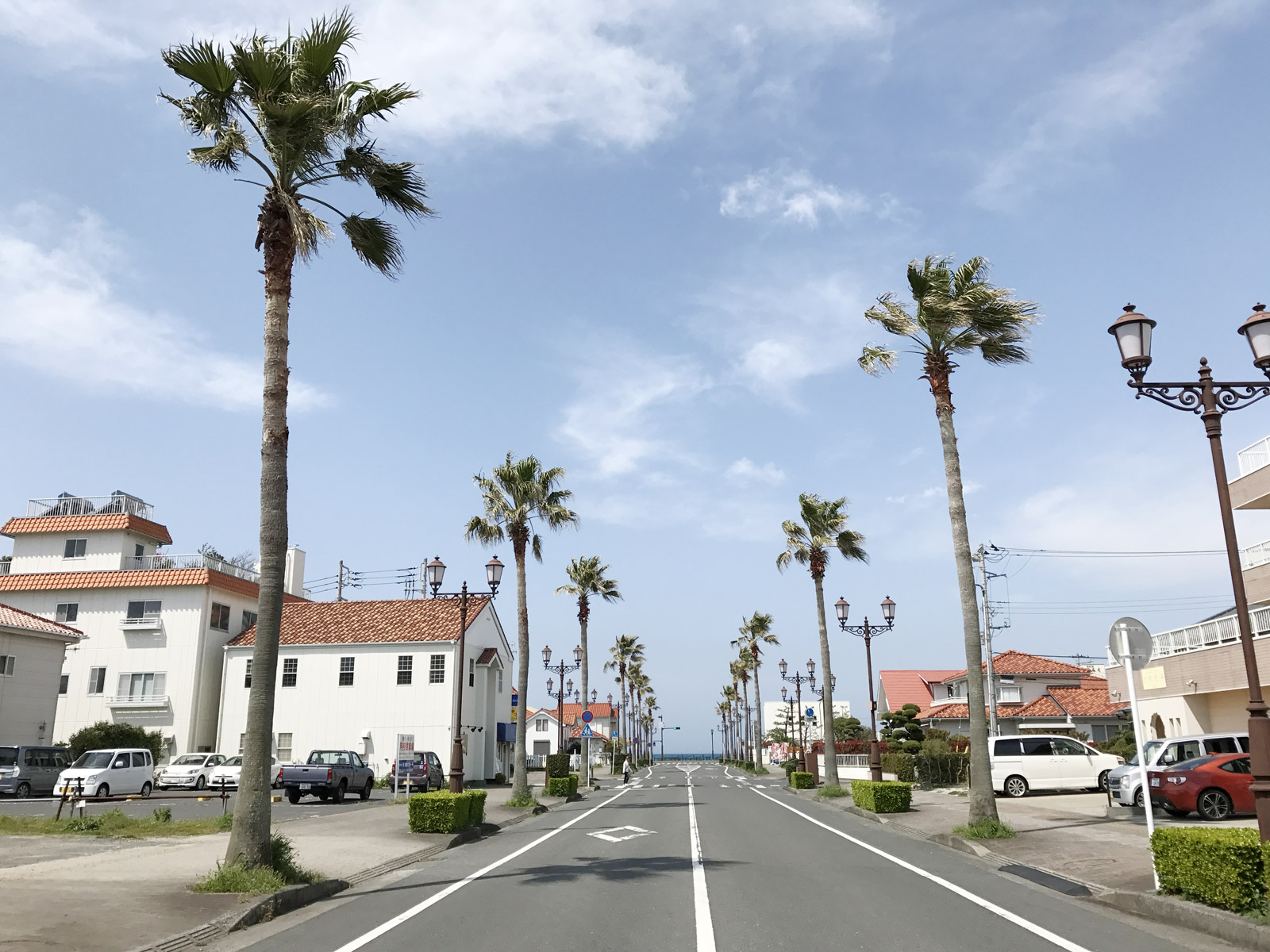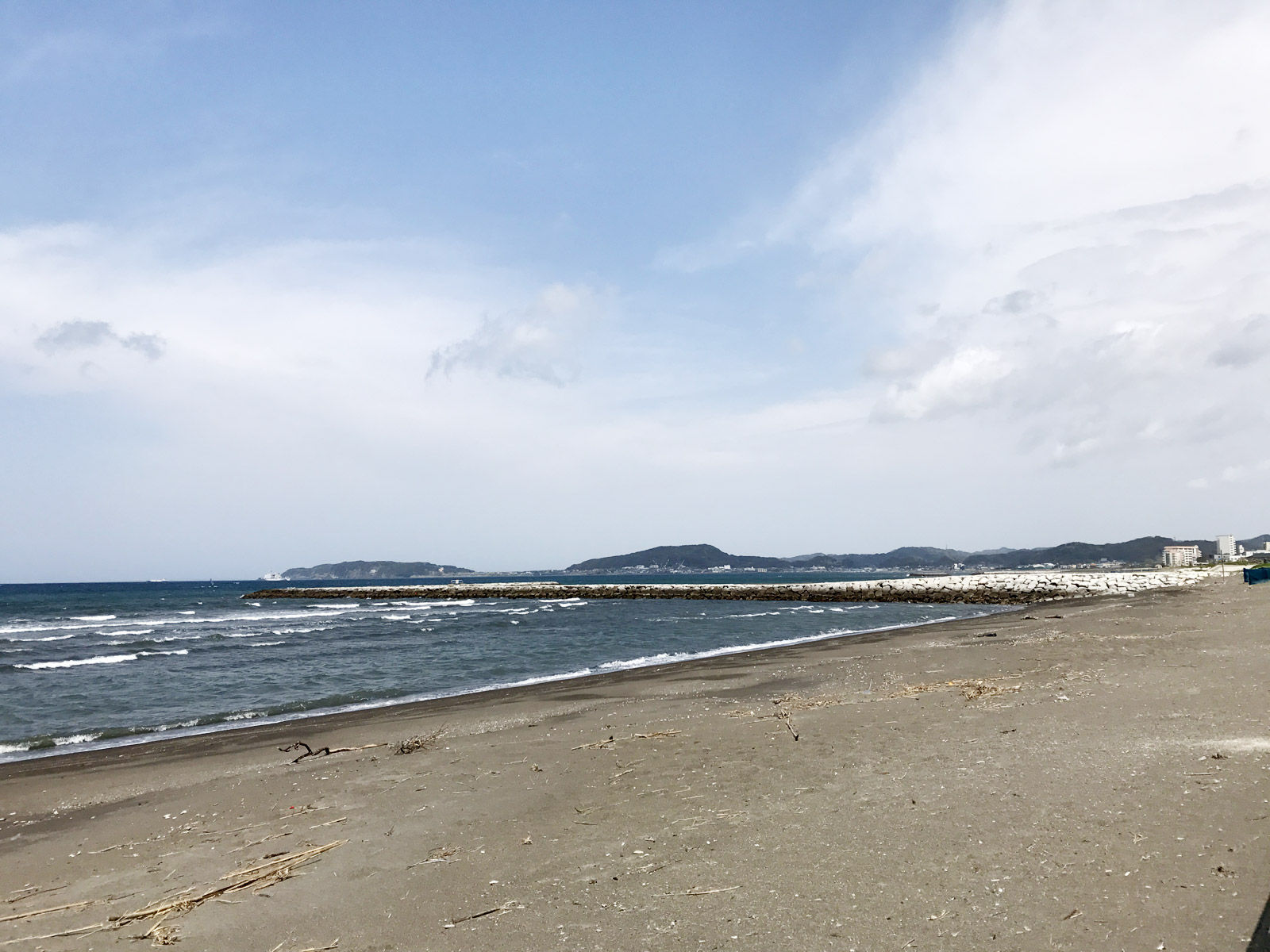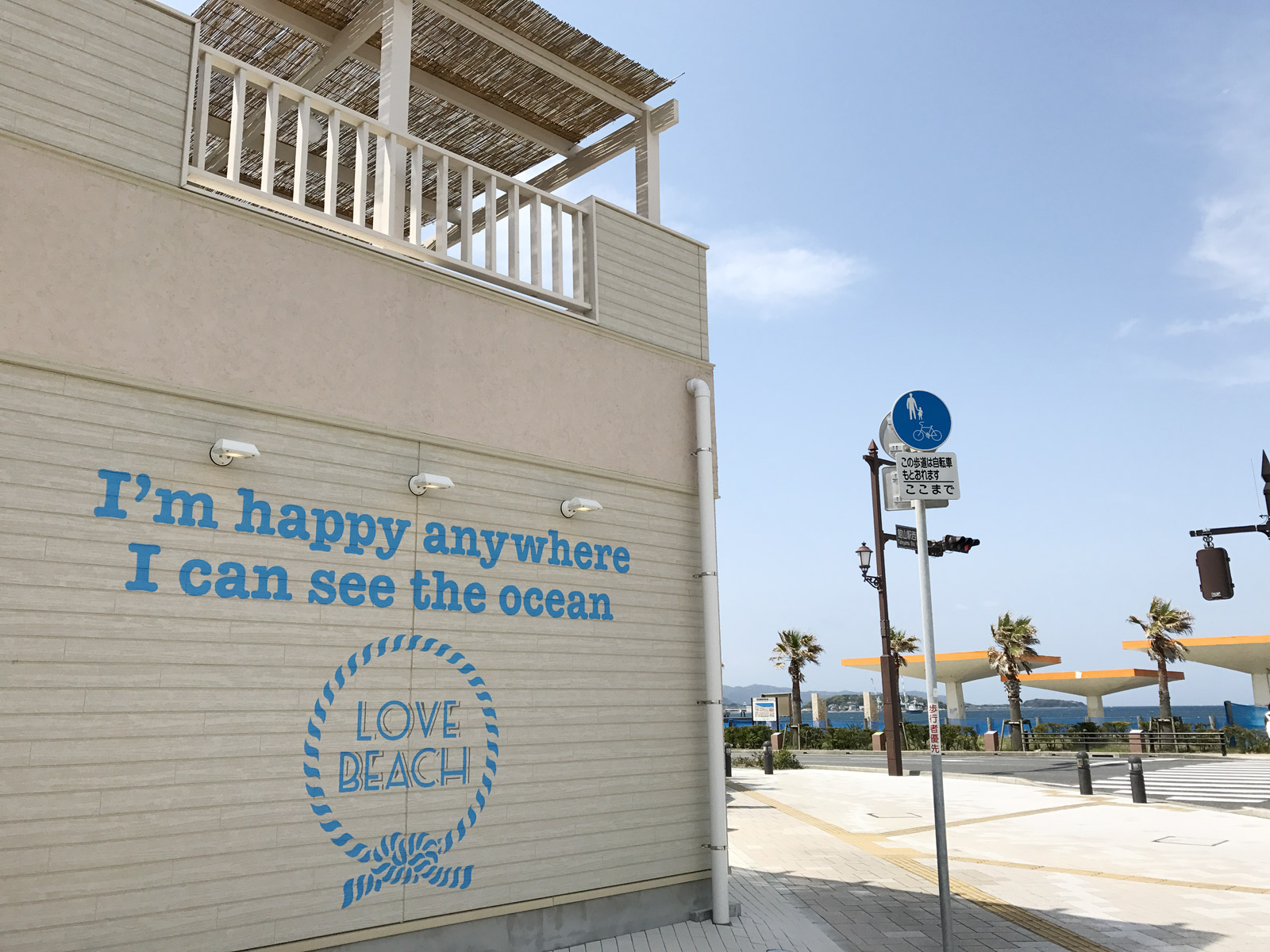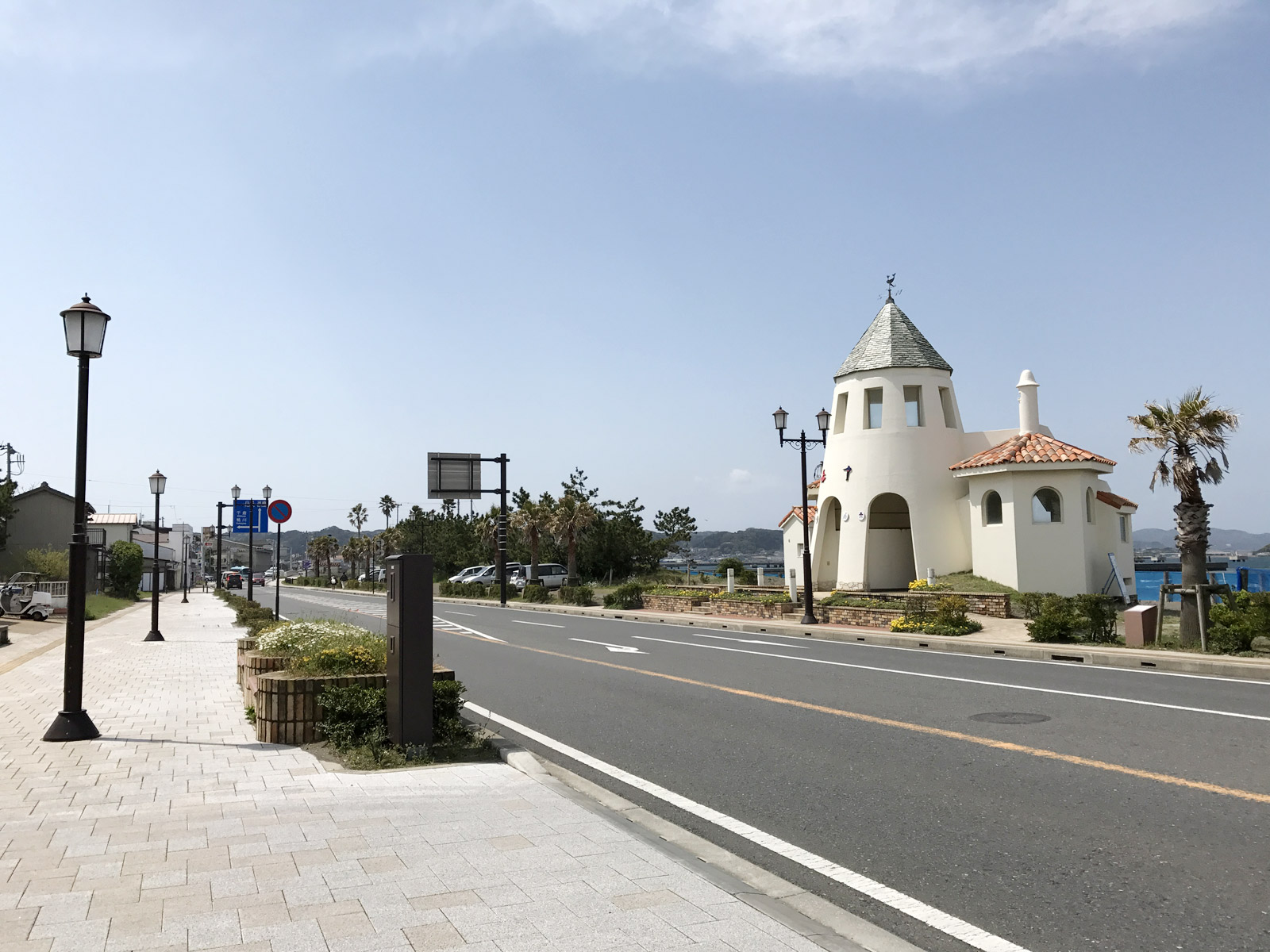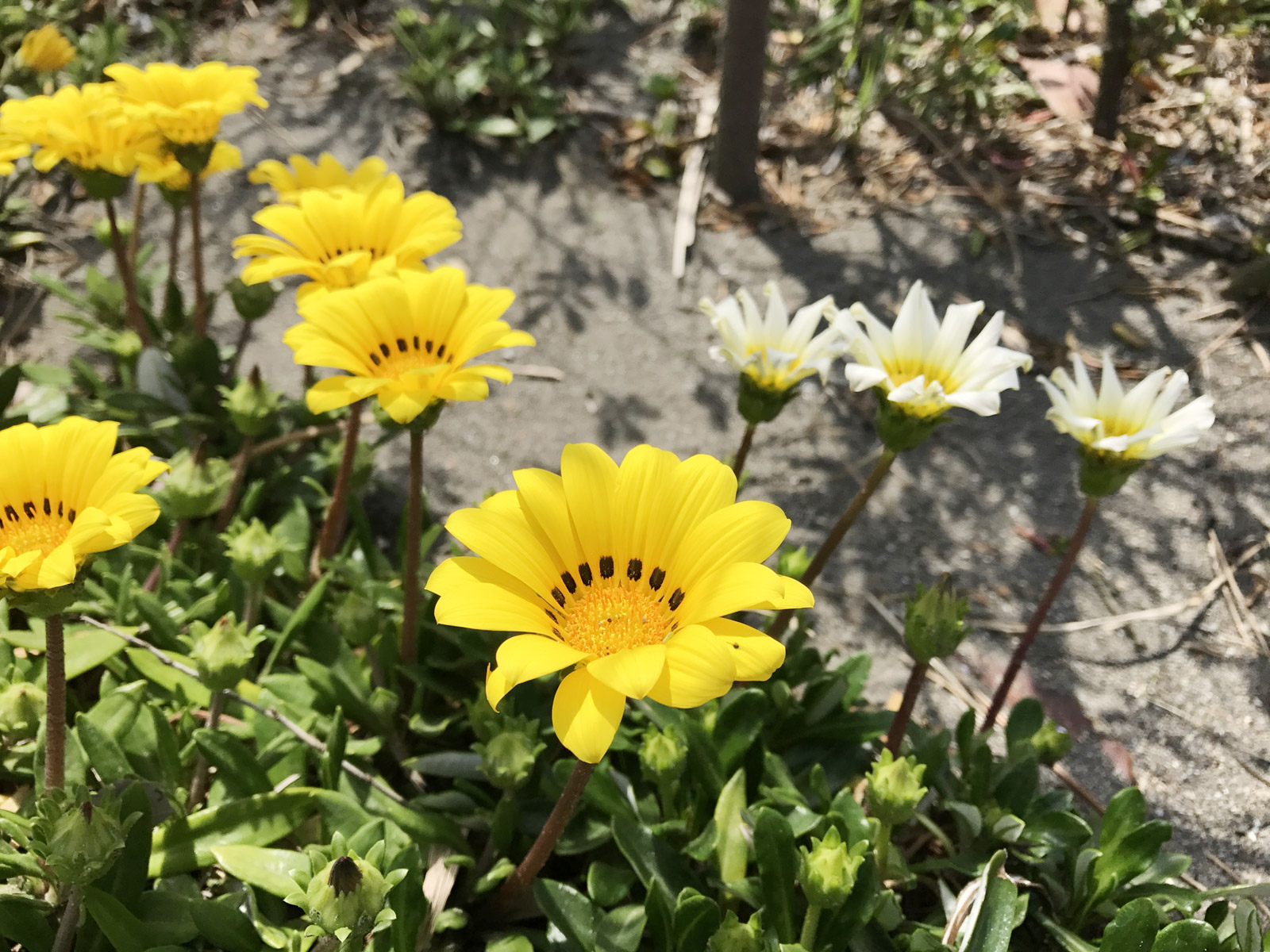 After a short walk, we had lunch at one of the restaurants that sold the famous dish of Tateyama – Aburi Kaisen (something that Wadango and Matsushima Shota ate in the Satomi Hakkenden SP that aired on TV). However it was sold out as we didn't make a reservation beforehand… so we ended up eating sushi and sashimi instead lol.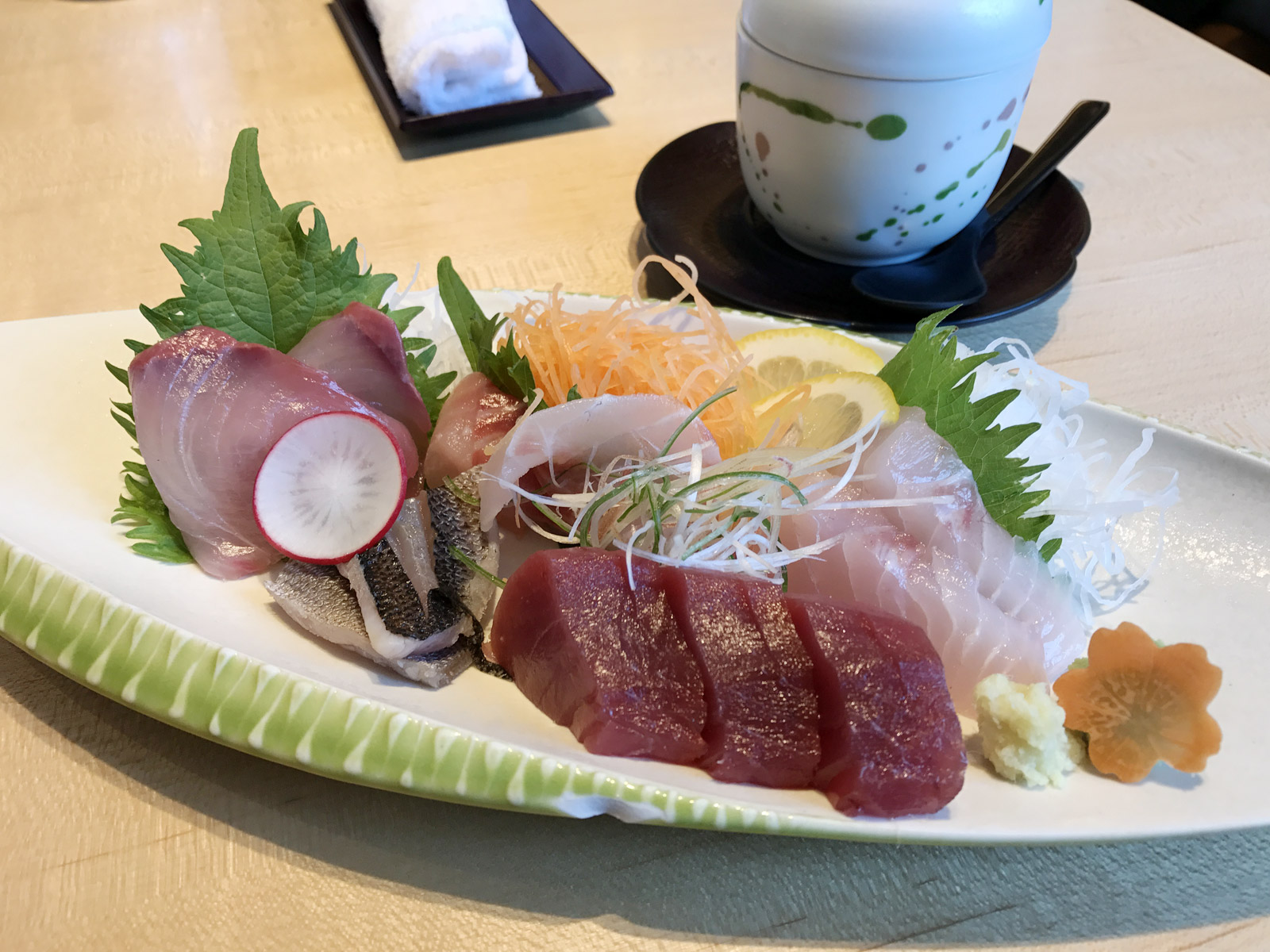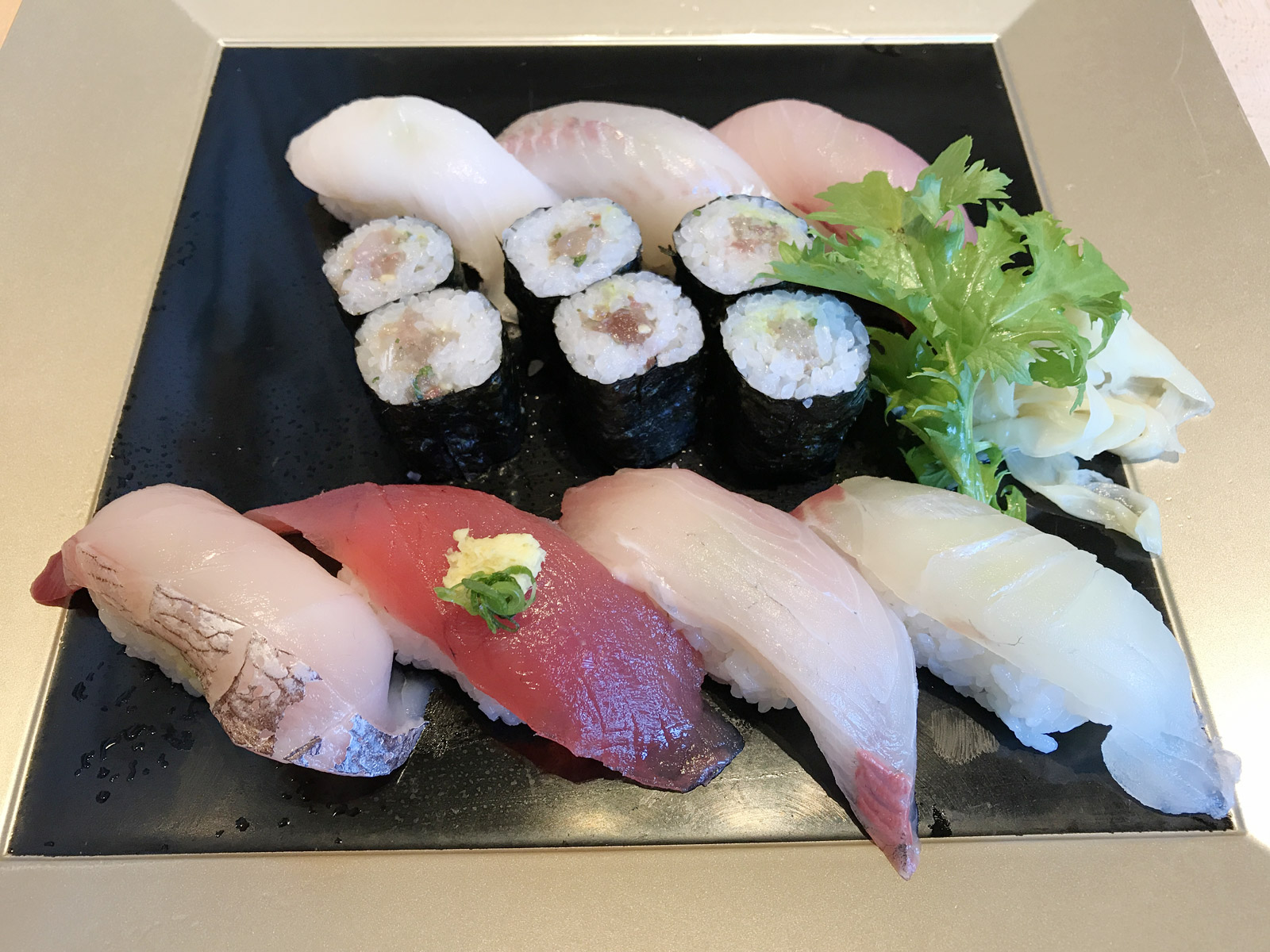 At the station, we spotted various Satomi Hakkenden related items, which I've also posted on twitter that day. There was a staircase which we walked past but failed to realise at first that there were Satomi Hakkenden A4 sized posters on it lol.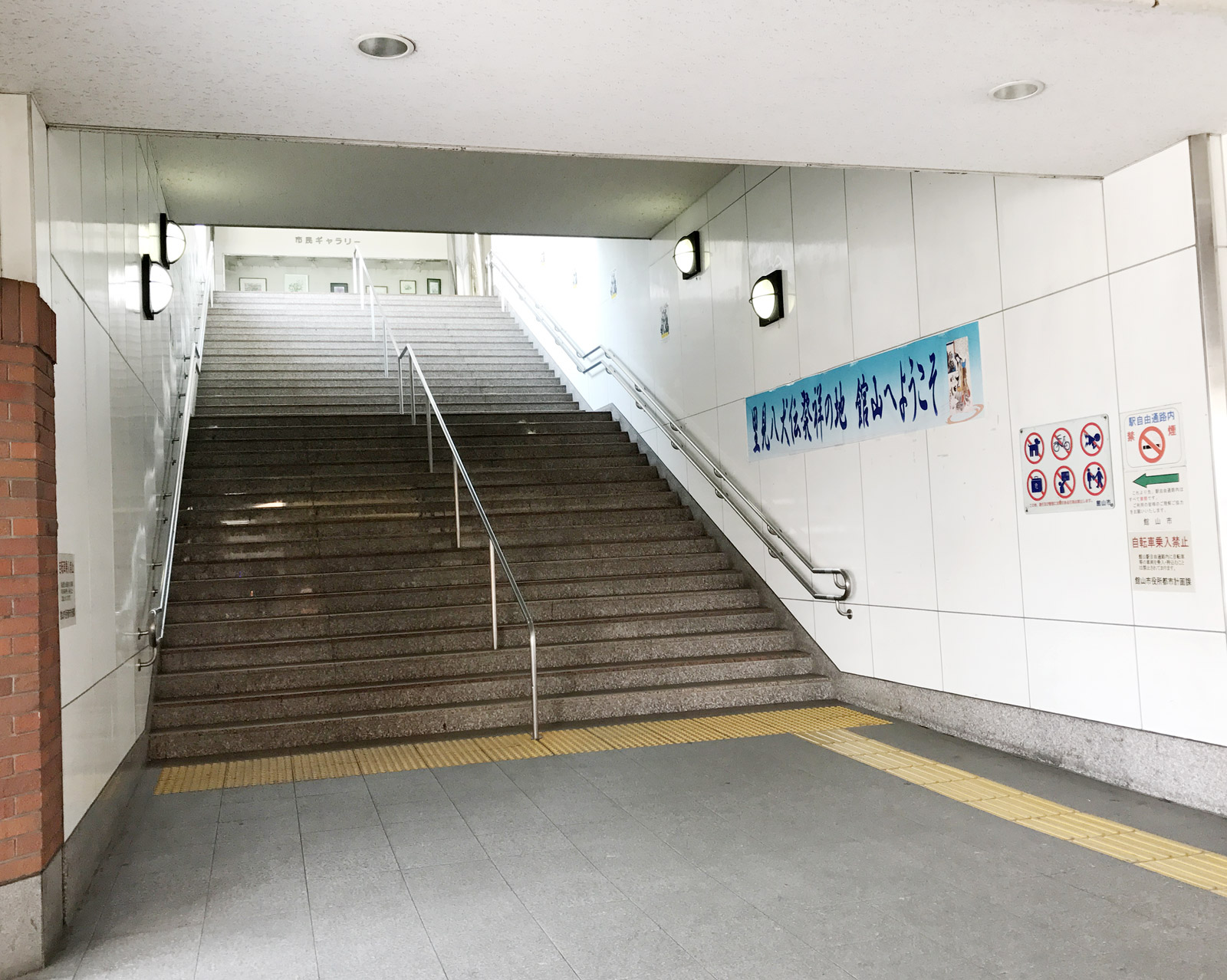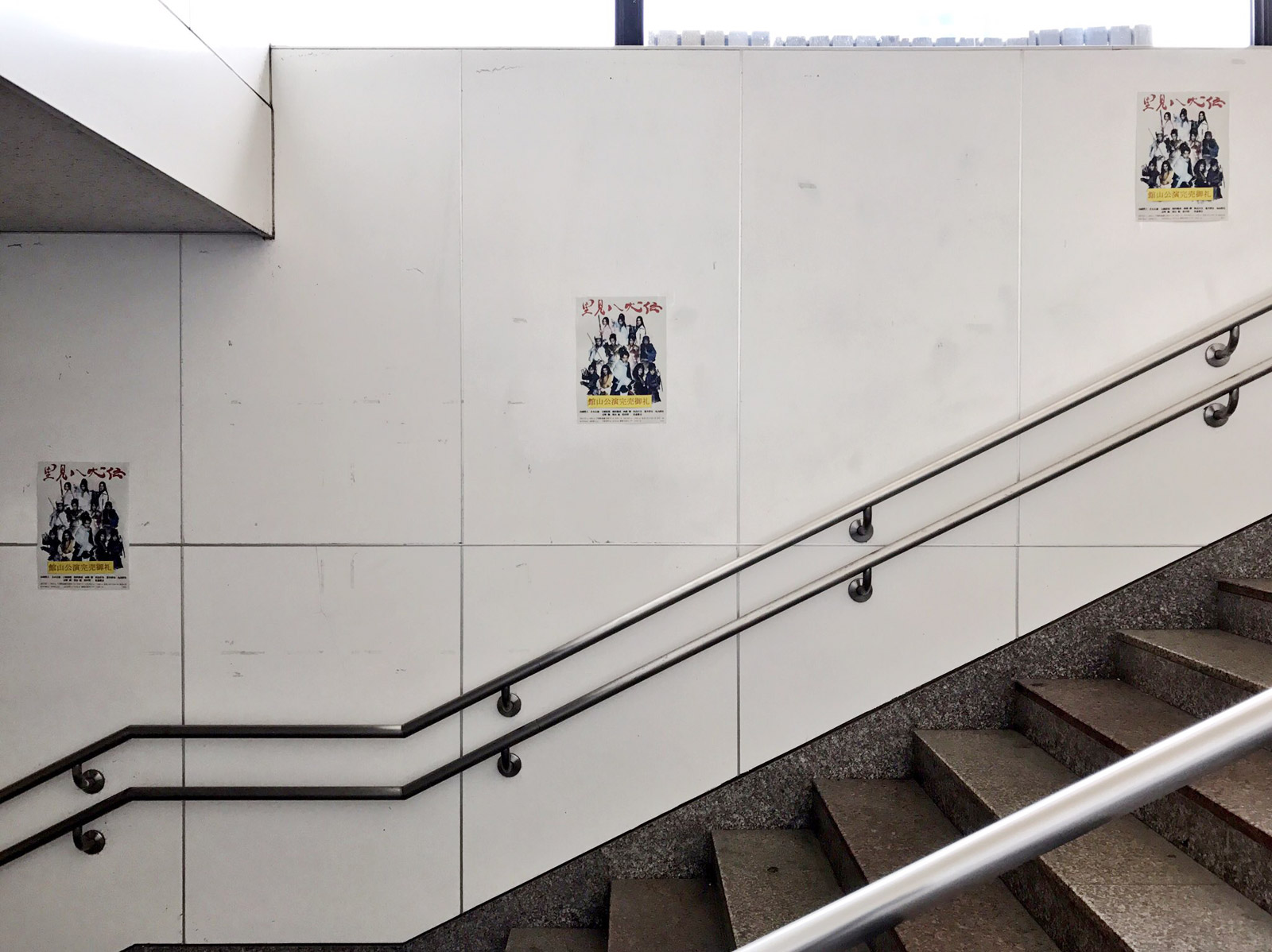 A close up on the poster and we see a "Full house for Tateyama shows" sign pasted on it. This was the birth place of the legend after all. And it's the opening location, so no surprises ne!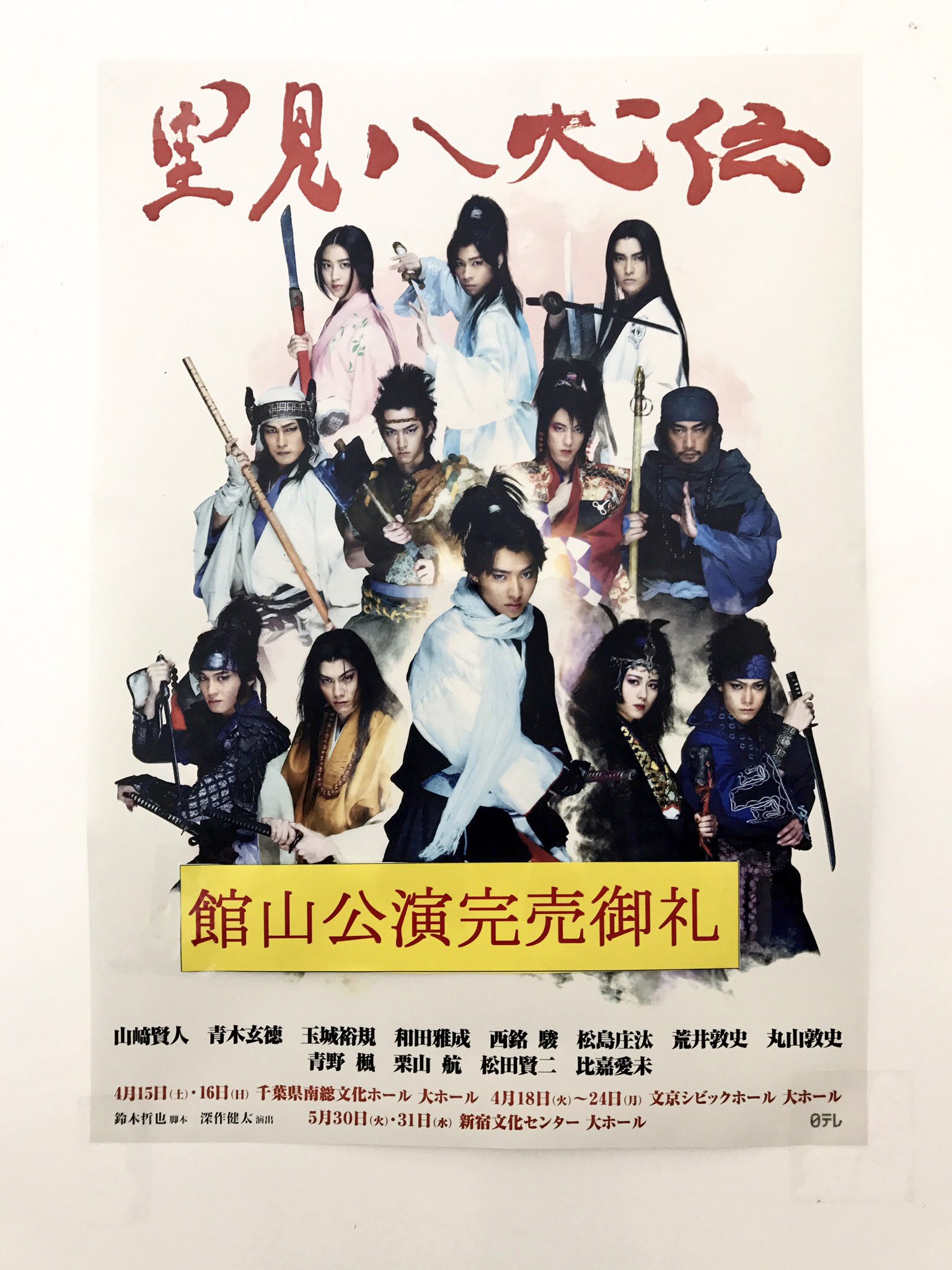 Then at a Tourist Information Center and waiting area, we found a flyer (old version as it was still showing the 2014 ver. Shino-sama), and some rubber stamps on the famous places of Tateyama, including the 8 crystal balls of the Satomi Hakkenden story.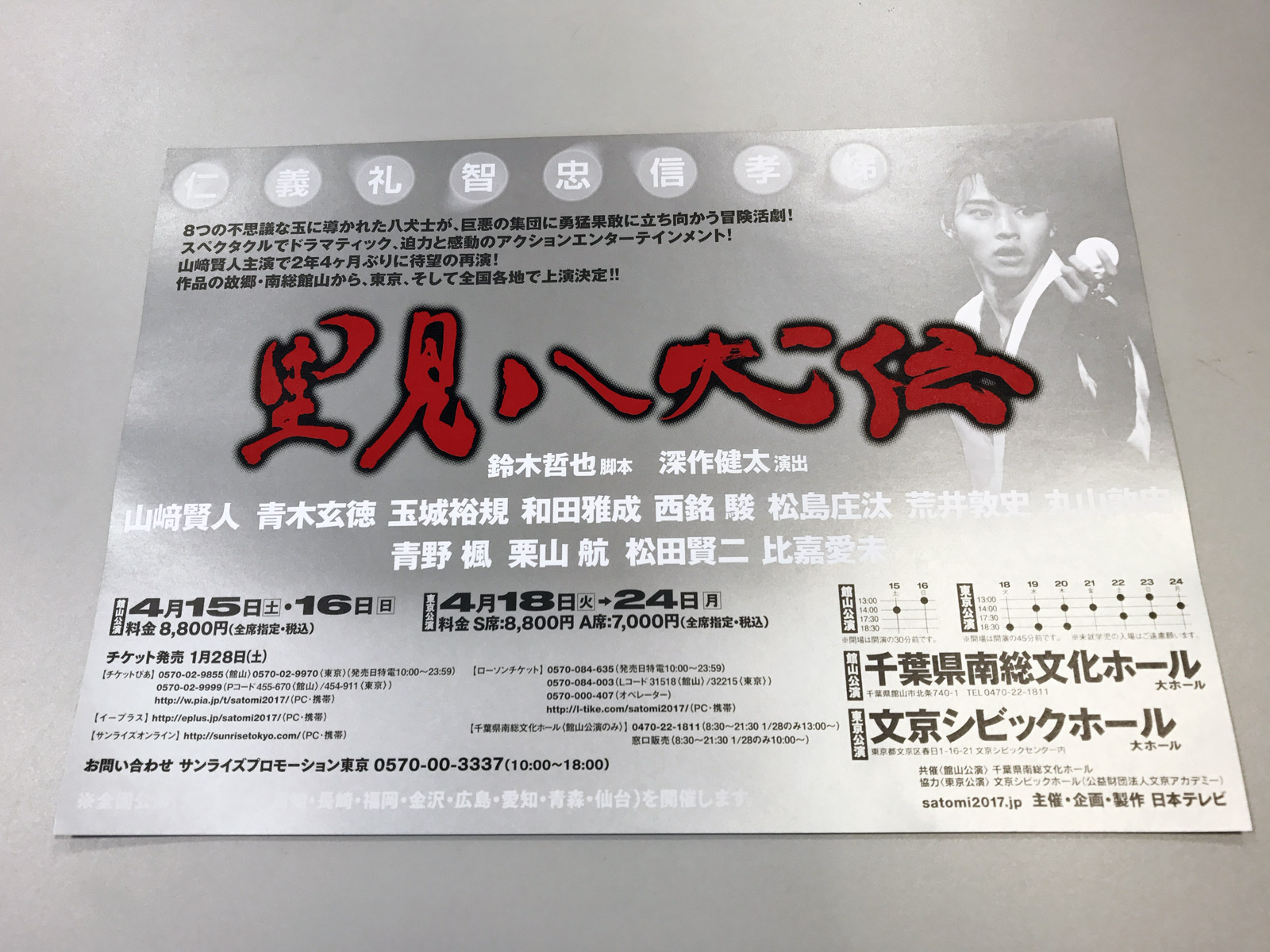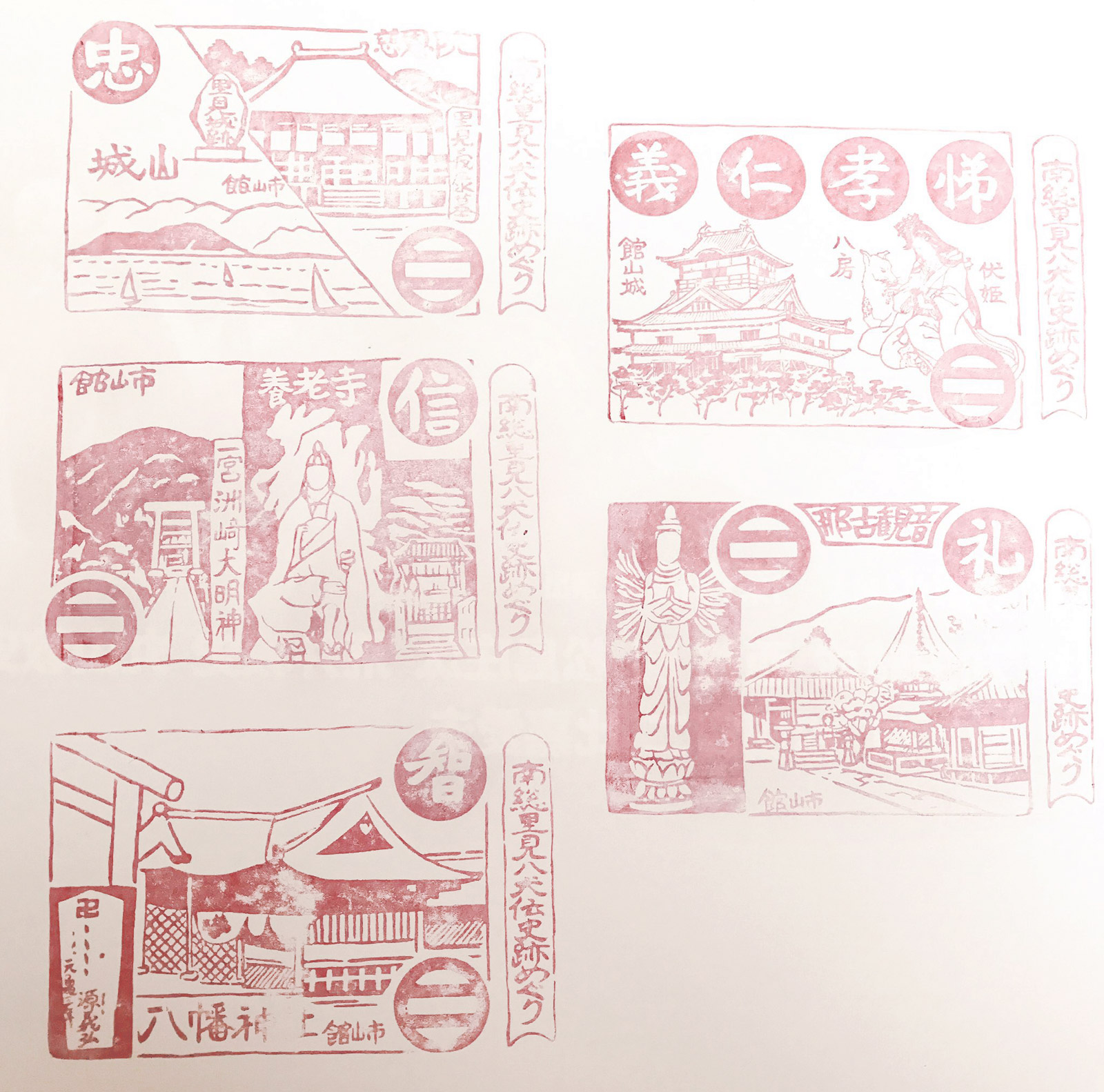 The venue was about 1.1km away and a 15-mins walk from the station. It was a simple route, and actually we just had to follow the crowd to get there. In no time we found ourselves at Chiba Nanso Bunka Hall and I was starting to feel a little excited.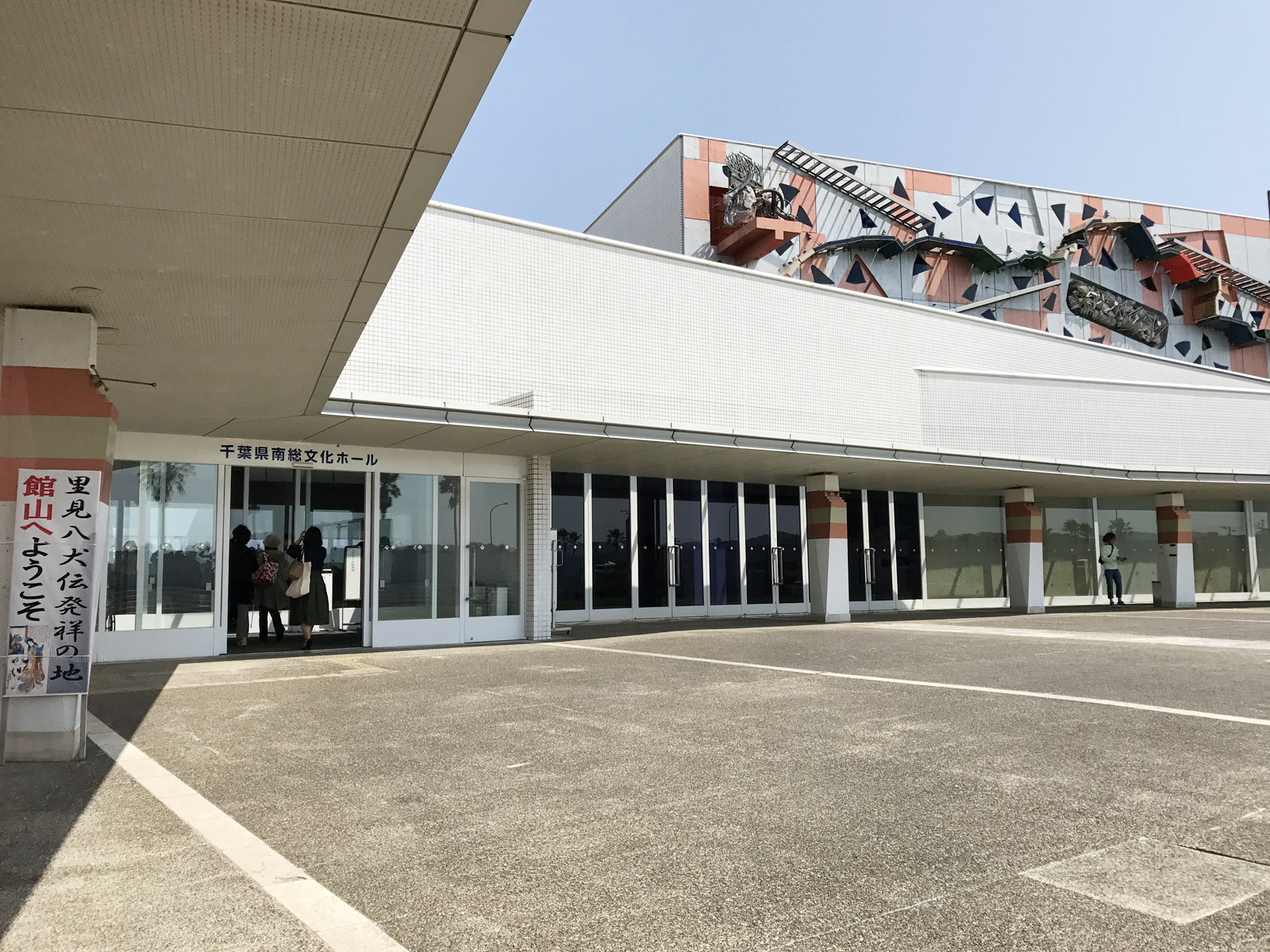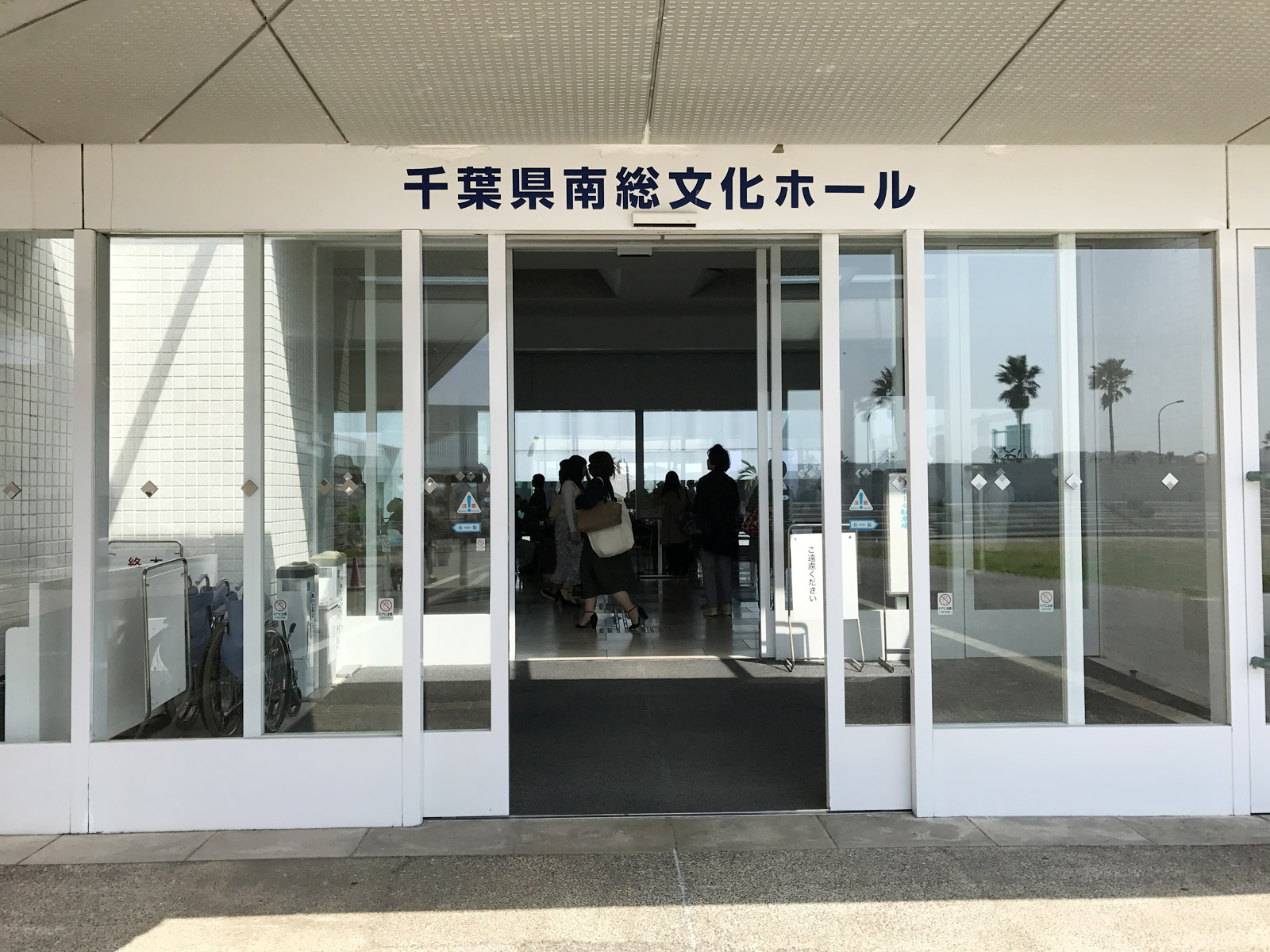 They allowed photography here (unlike at the Tokyo shows – which I might talk about later in a very short post). At the entrance, there was a digital signboard listing "today's events".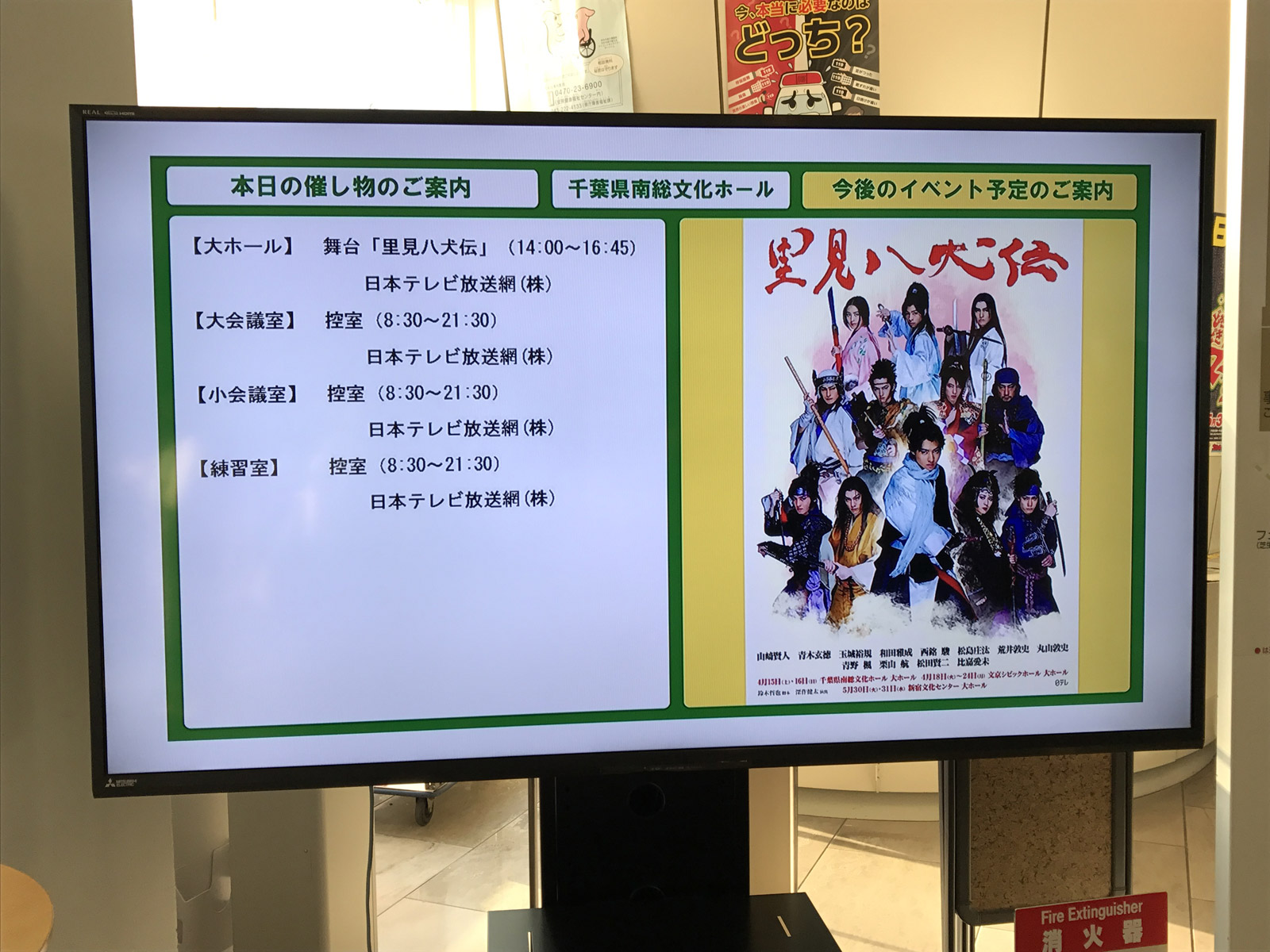 Then near the entrance to the theatre, there were flowers for the cast. Flowers to Kento were placed right in front of the area where they check your tickets.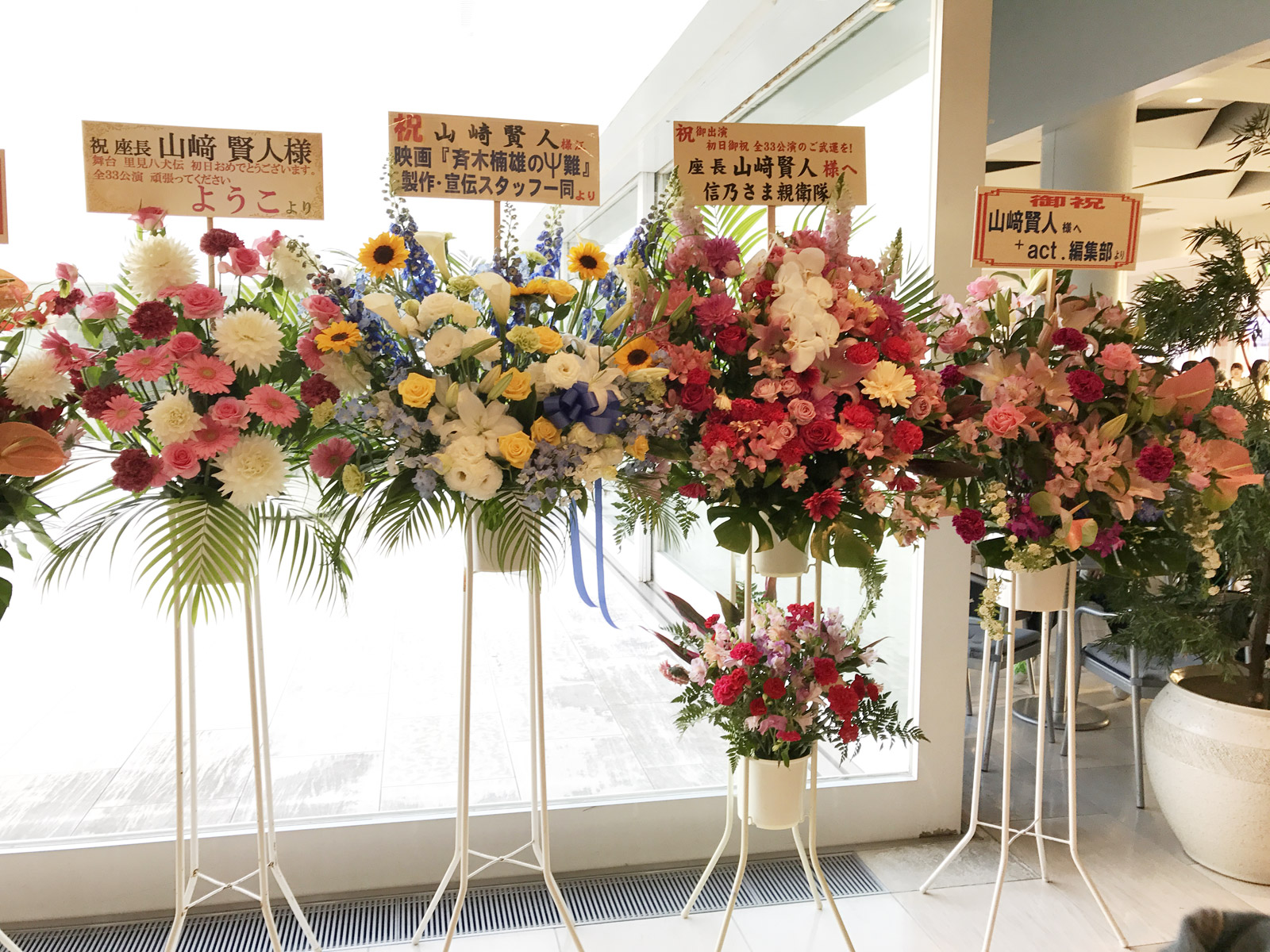 The flowers were from:
Youko
PR & production staff of "The Disastrous Life of Saiki Kusuo" movie
Shino-sama Protection Squadron
+act
The goods.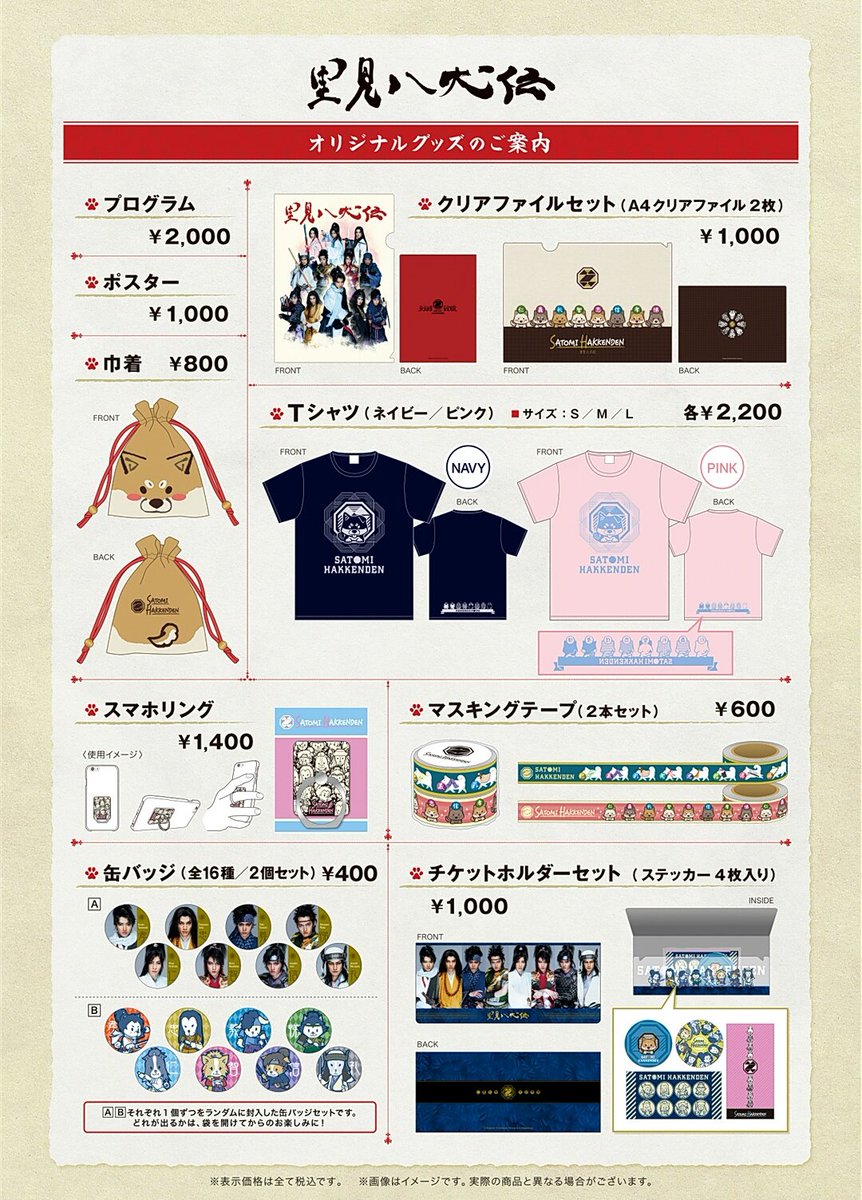 I bought everything except the poster and can badges. Didn't have the courage to try the can badges as it's random (and I usually have no luck with such stuff lol). After purchasing the goods, we still had quite some time on hand. The doors to the theatre weren't opened yet, so we found a little corner and started taking and posting pics on twitter.
Program (though I'm still used to calling it "pamphlet" lol) – 2,000yen
Very pretty cover, and many full-page pictures of Inuzuka Shino. I love the monochrome one.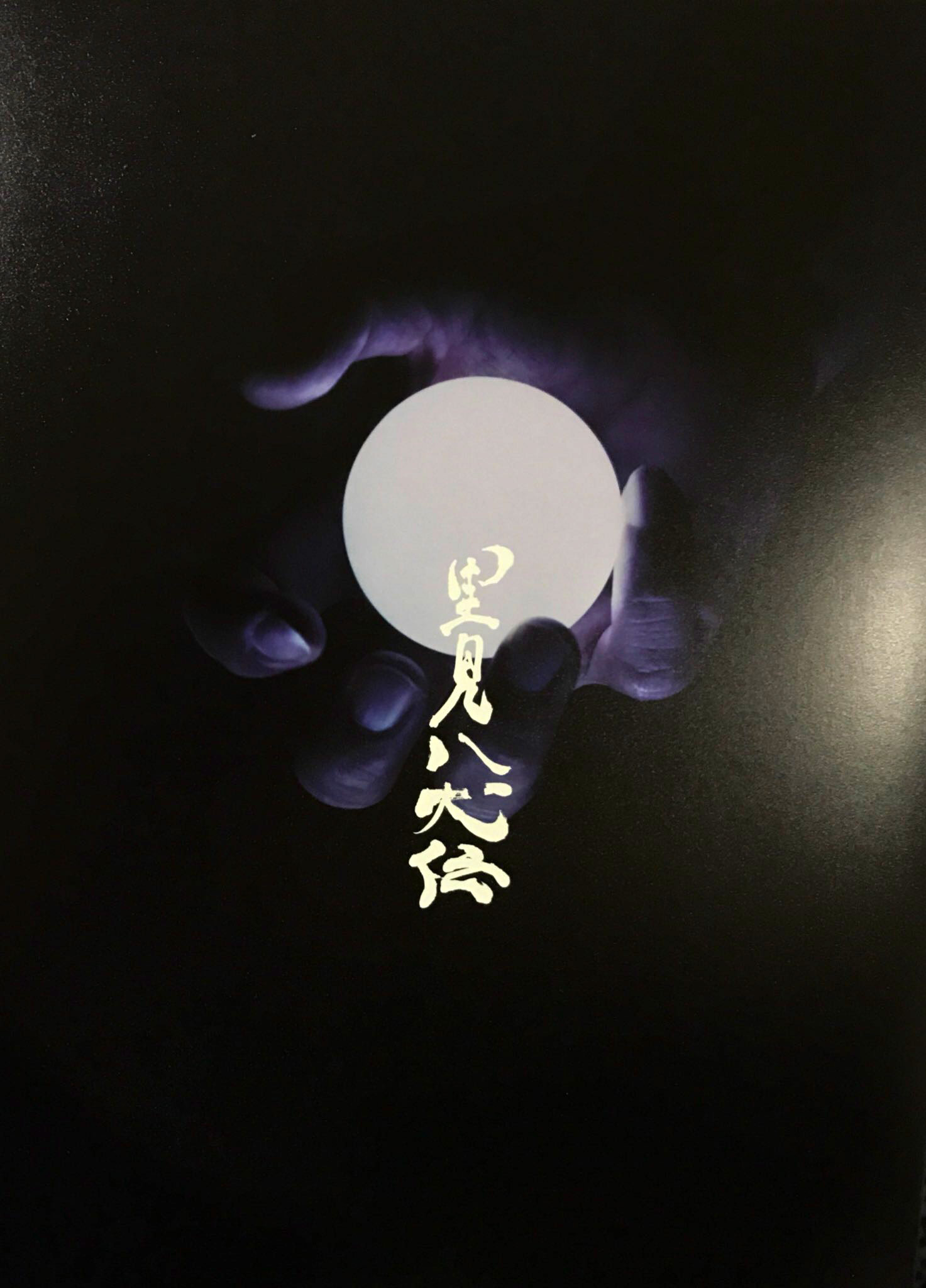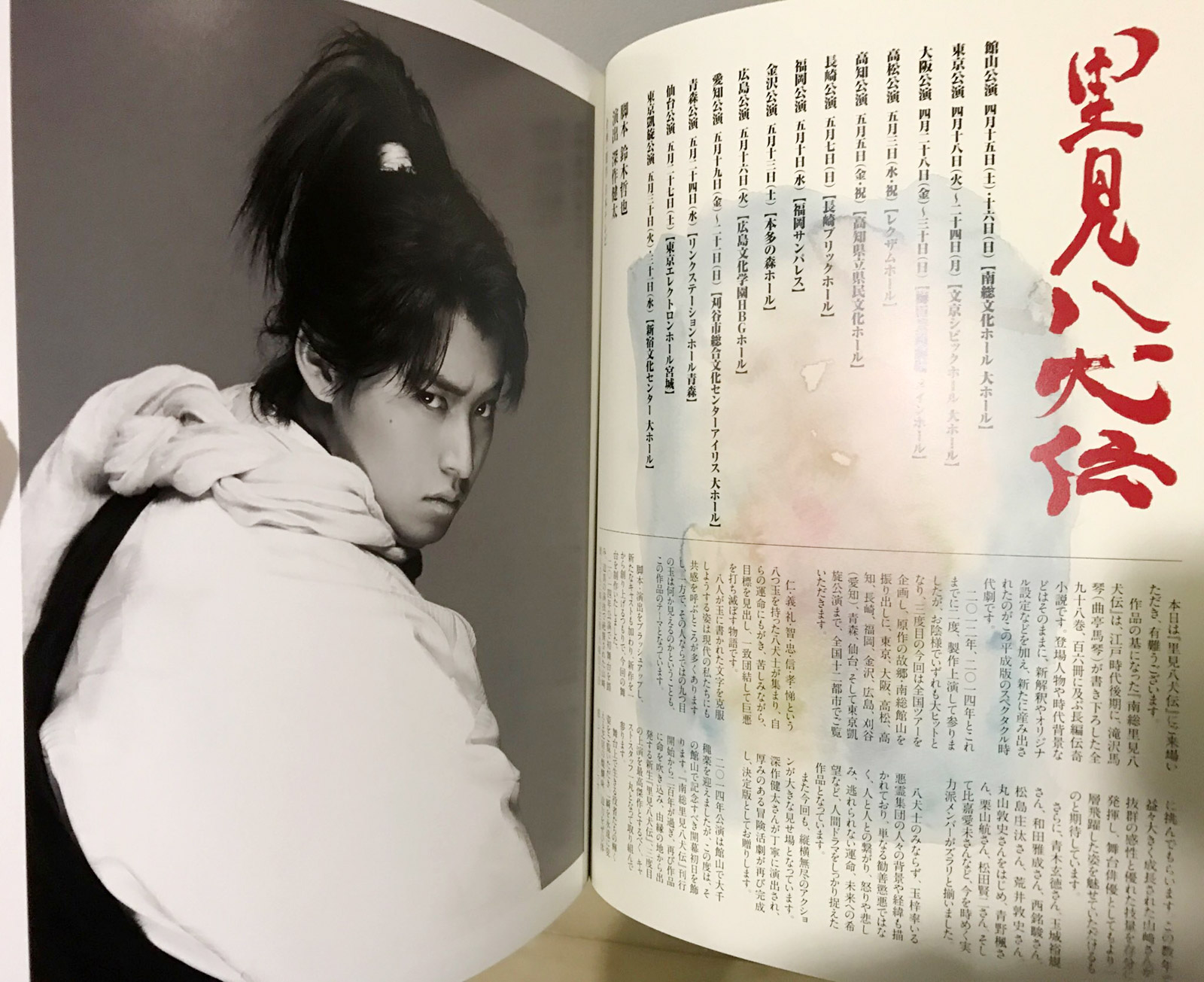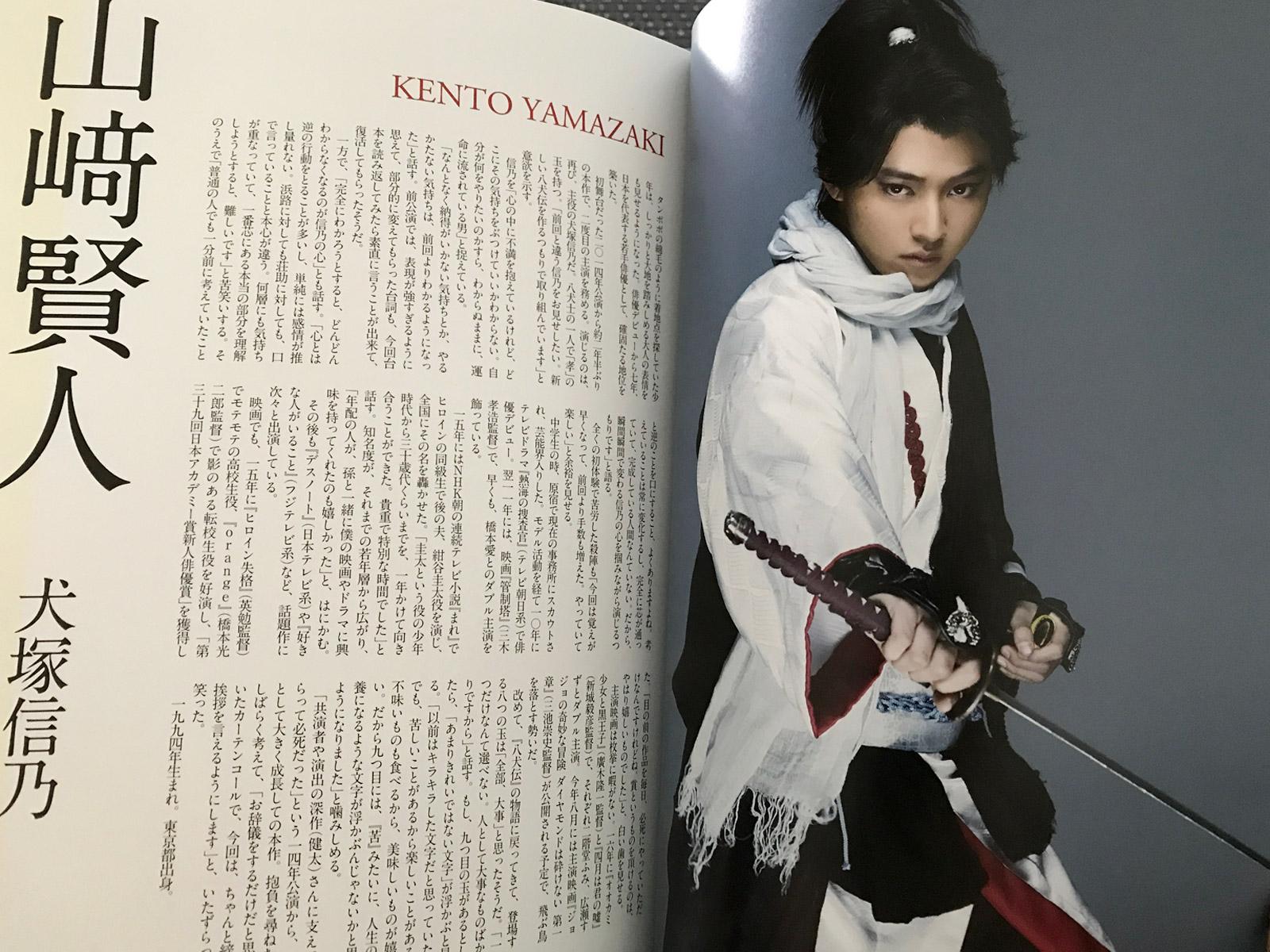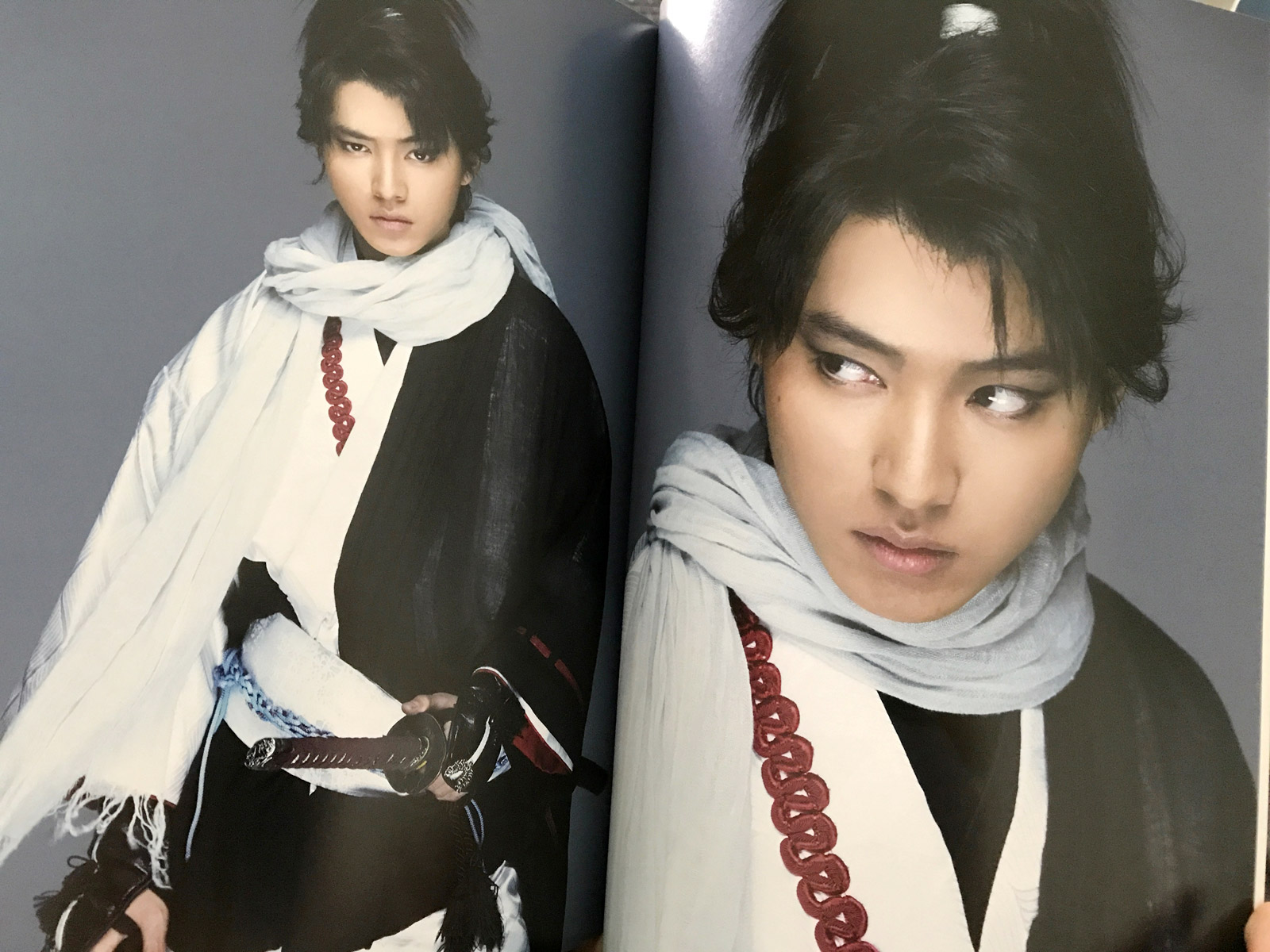 There was also a cross talk with the rest of the Hakkenshi actors.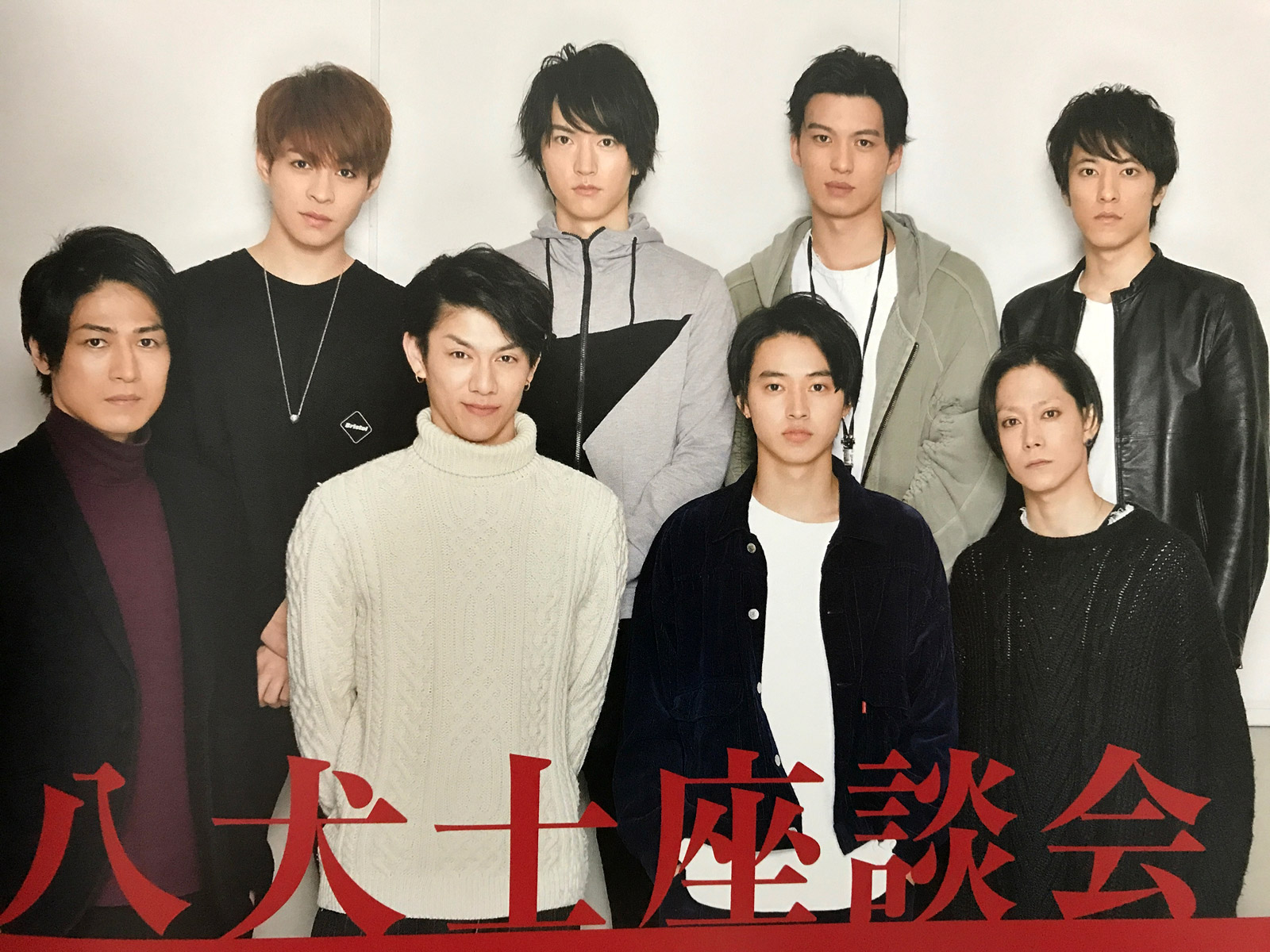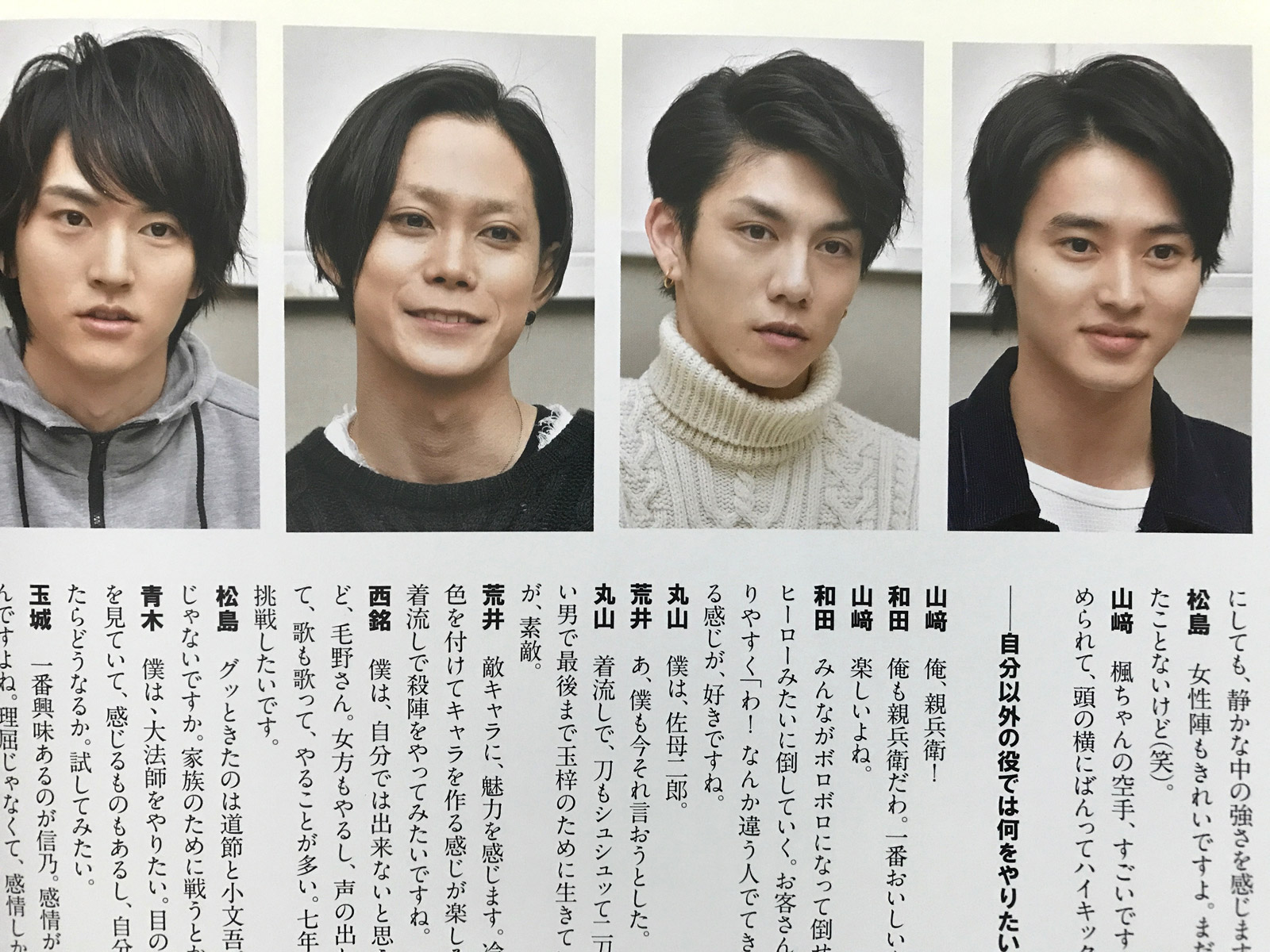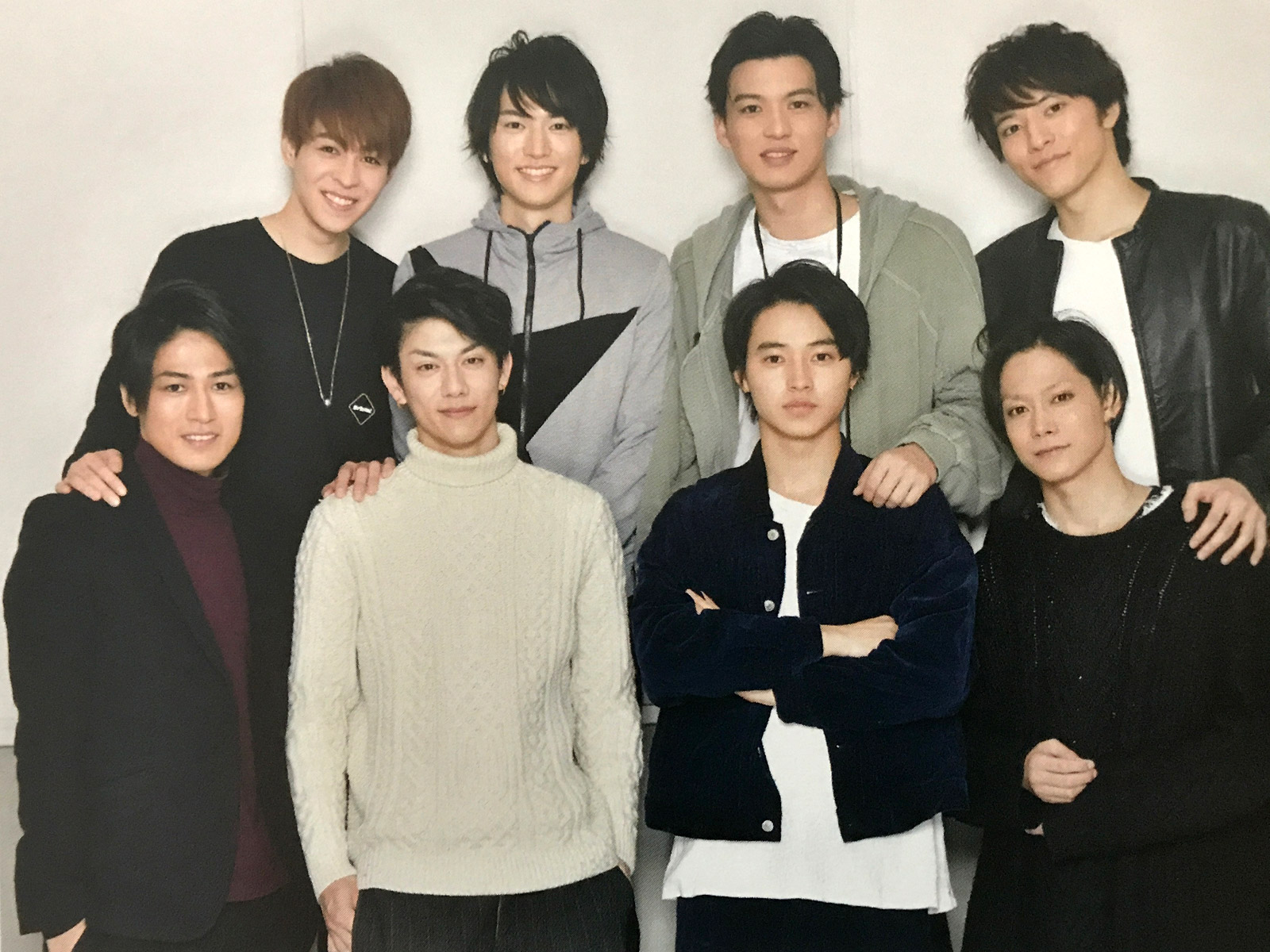 Clearfiles set – 1,000yen
Two clear files. One is the same picture as the flyer/poster, and the other is the dog graphics version. I really like the dogs one haha — they are so cute!!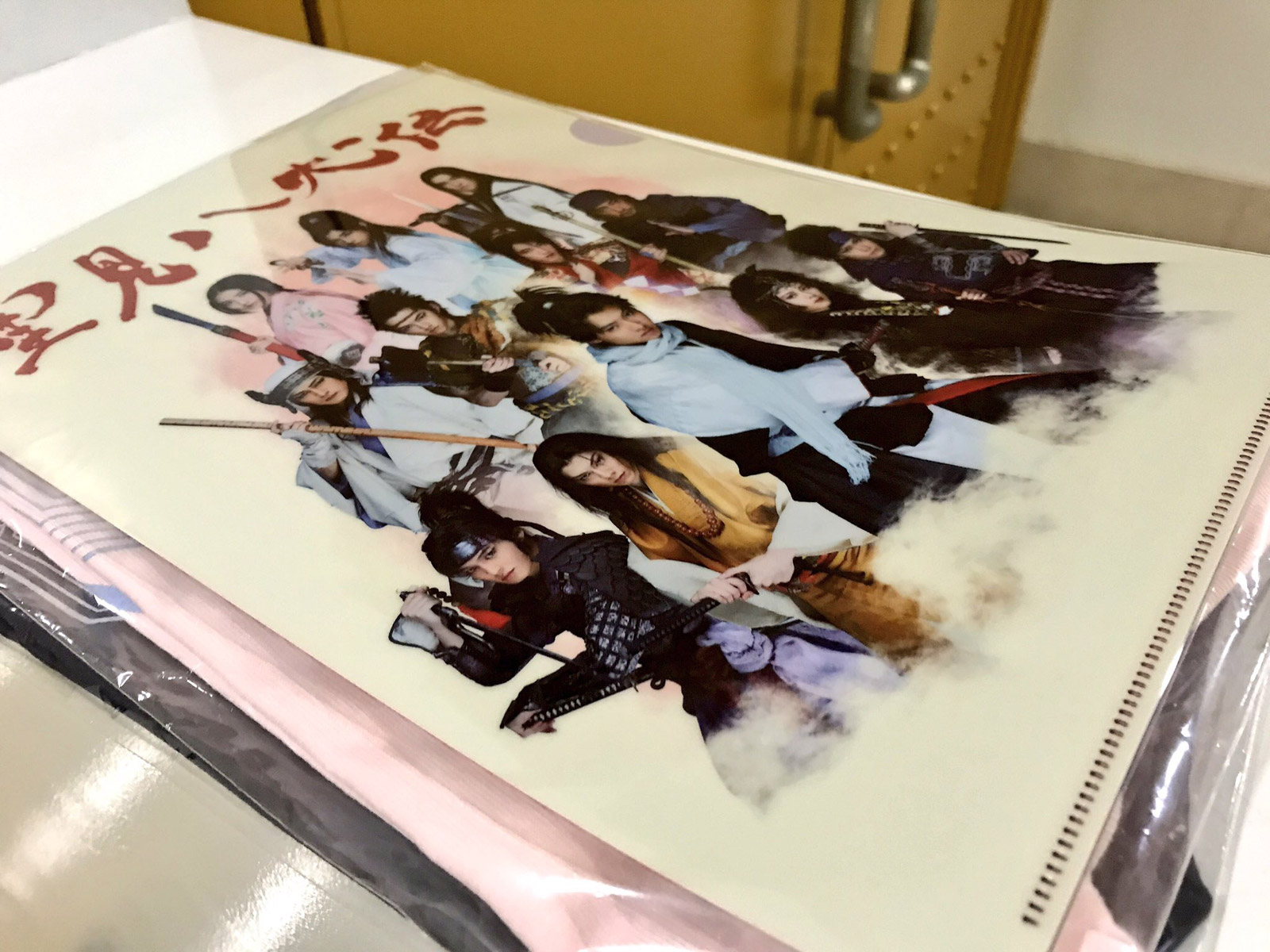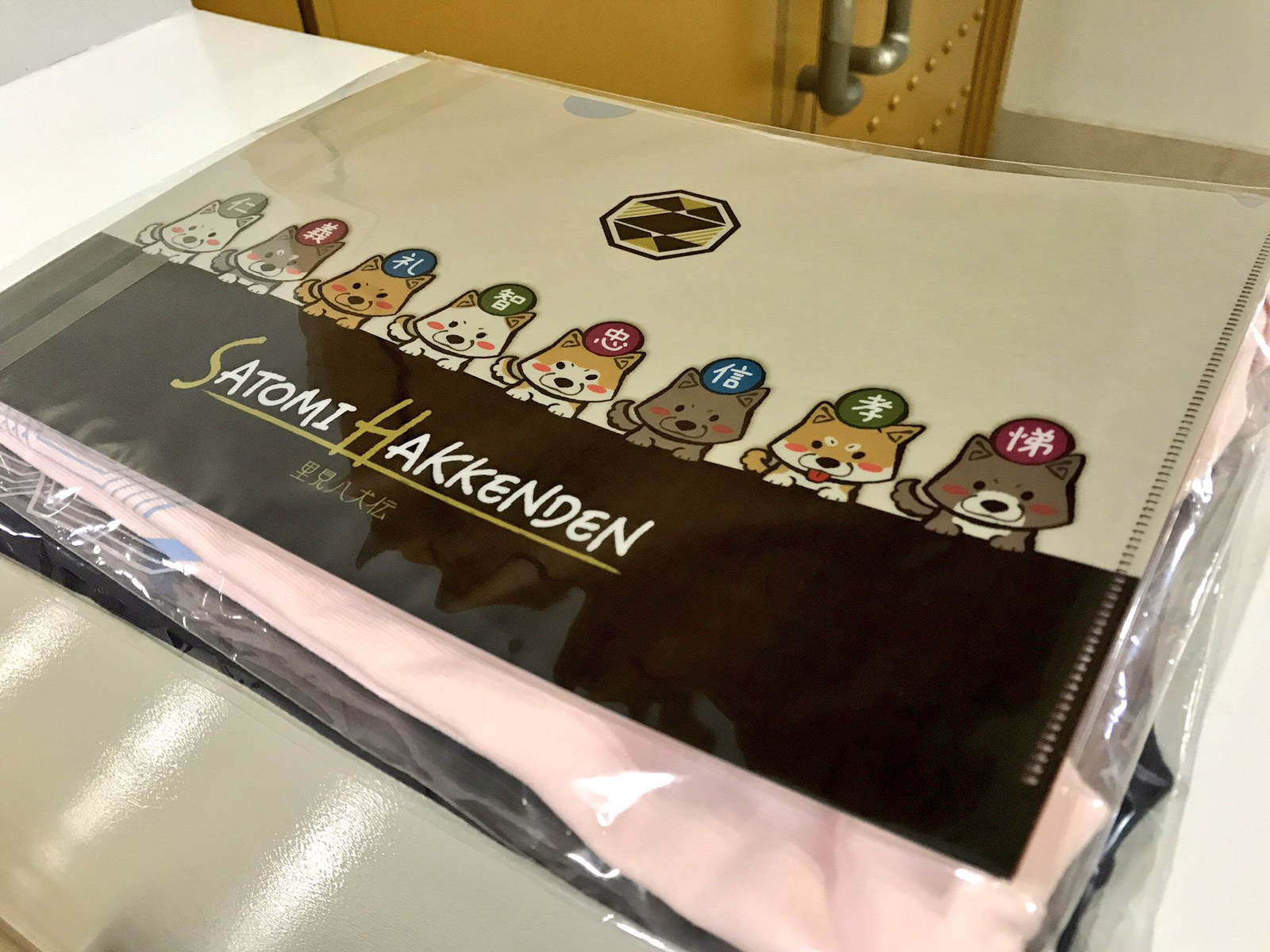 Money pouch – 800yen
Didn't wanna get it at first cos the material wasn't really what I wanted. But… when I reached the counter, somehow I ended up pointing to it *failz*
Masking tapes set – 600yen
So pretty and cute!
Smartphone ring – 1,400yen
One of my favourite goods! But I don't think I'll bear to use it cos it's too pretty…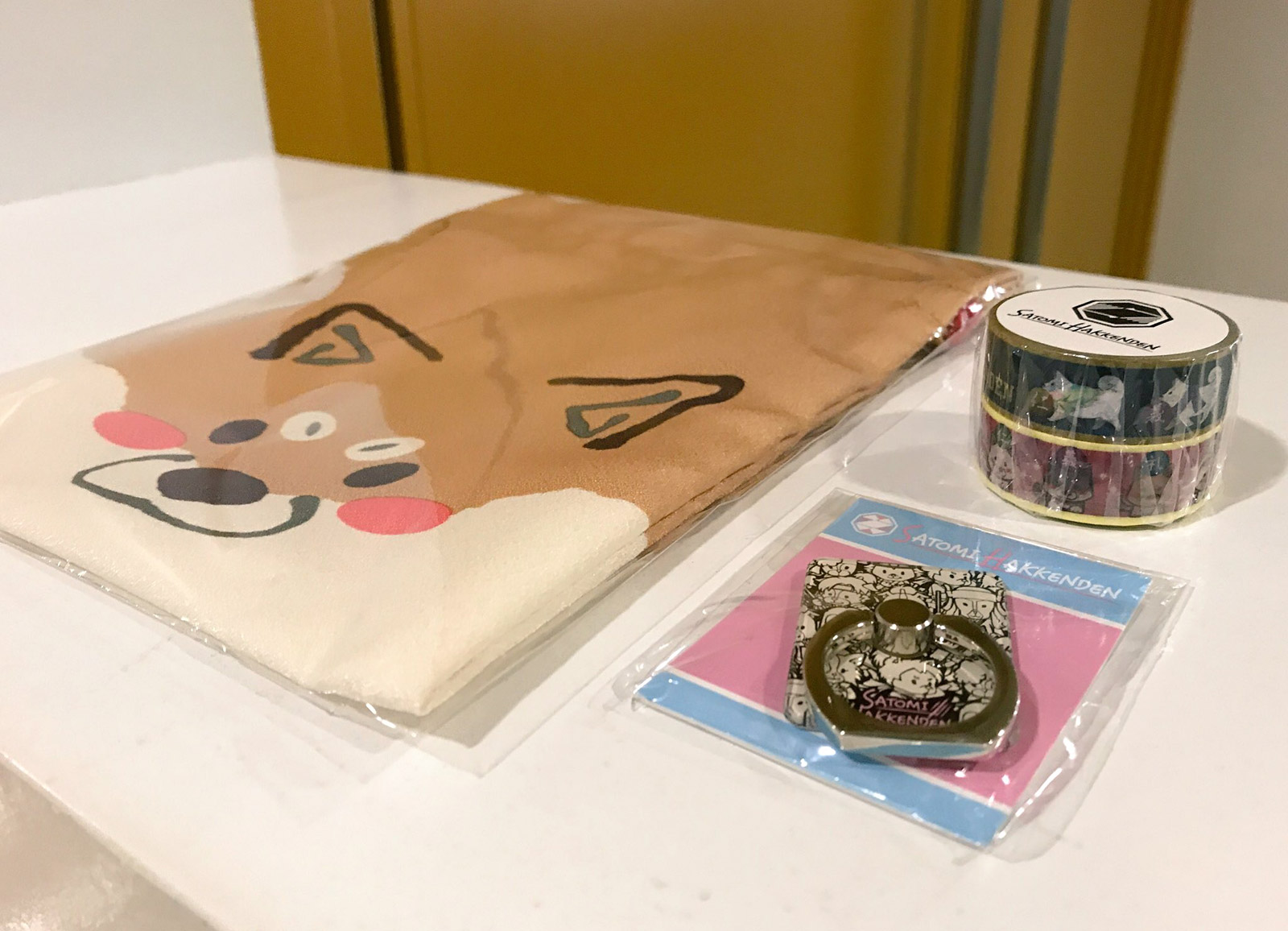 Ticket holder w/stickers set – 1,000yen
This is probably my favourite item this time. The stickers are so cute~~ and I really needed a Kento-related ticket holder for all my Kento-related tickets…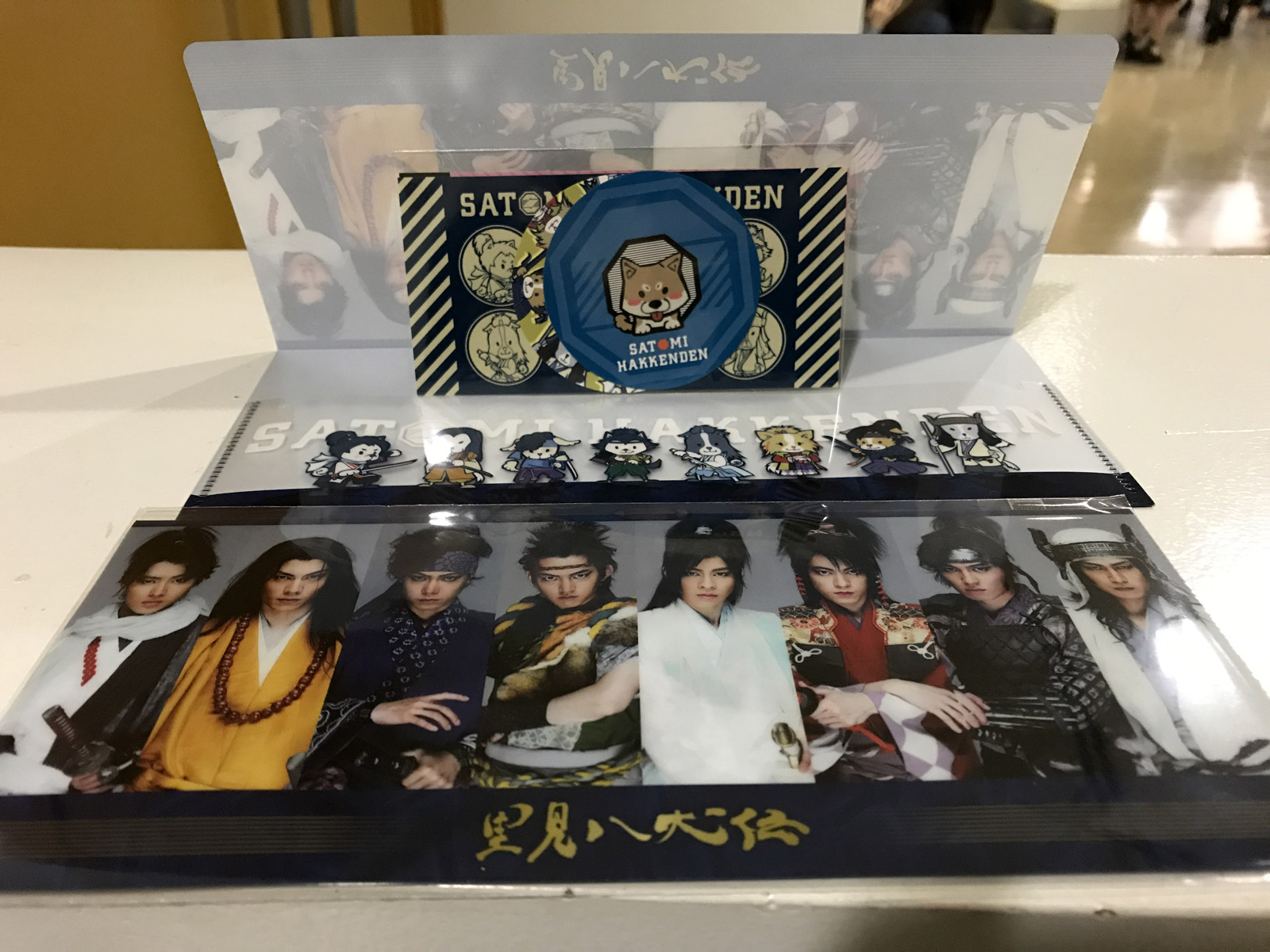 T-shirts (pink/navy) – 2,200yen each
There were 3 sizes to choose from – S, M & L. They are more like guys' sizes so most girls would go for S. I couldn't decide which colour to get, so I got both *failz*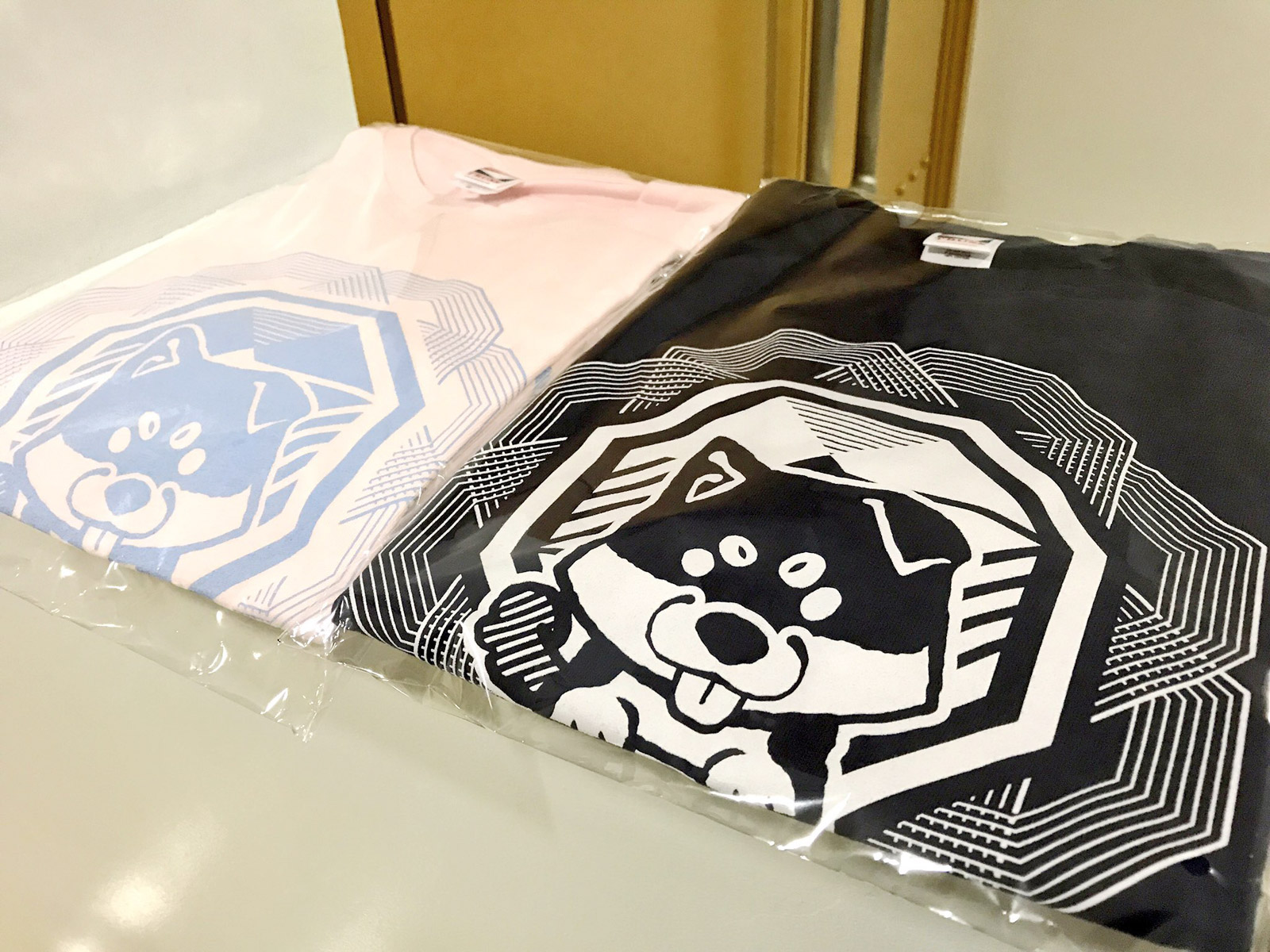 When the doors to the theatre finally opened, and when I saw the stage, my heart suddenly skipped a beat lol. In the background there were the sound of waves and dogs barking. They didn't stop us from taking pictures of the stage so I openly posted it on twitter and I'm going to post one more here haha.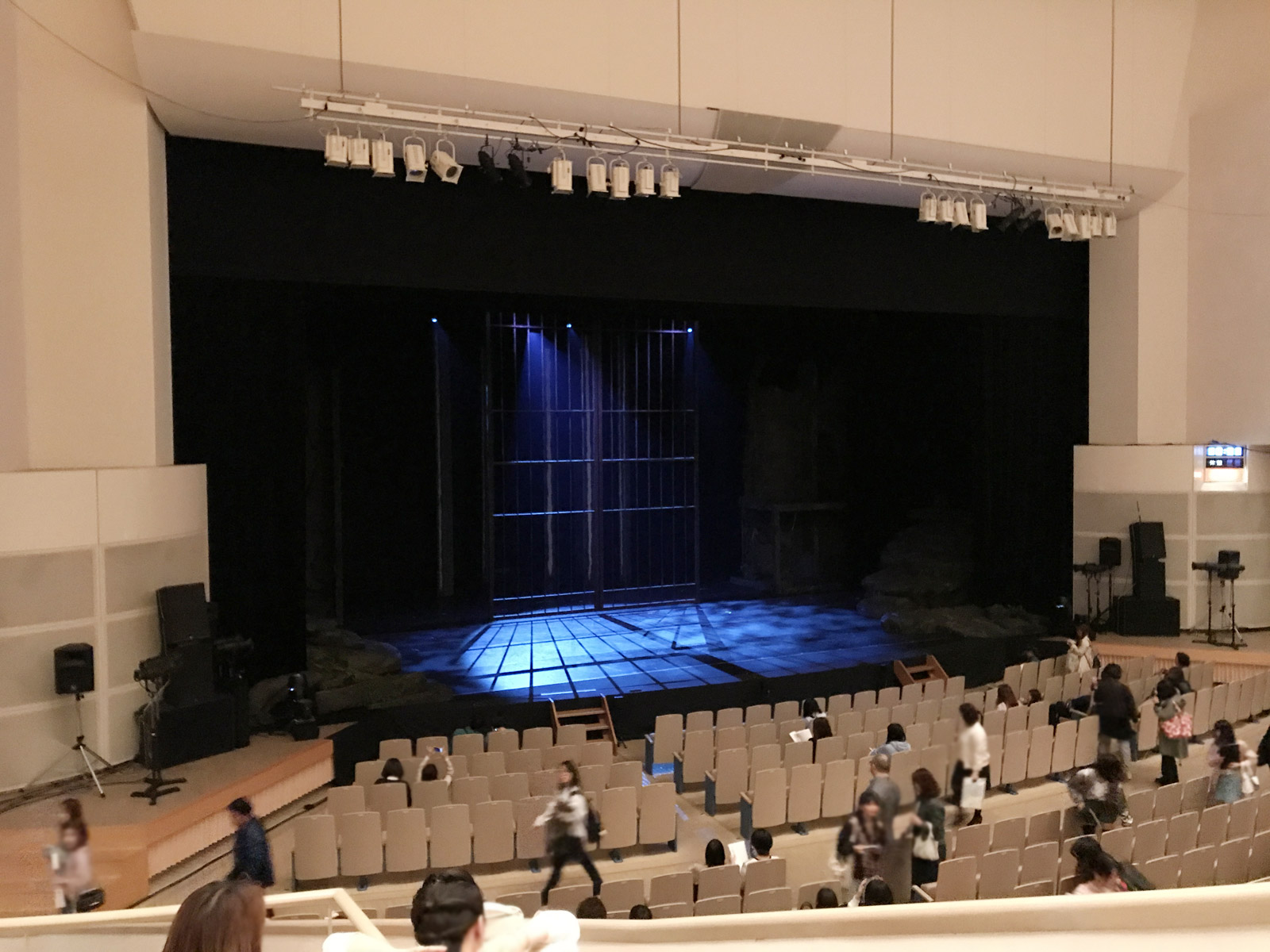 This is a more accurate view from our seats. We were on the left side and the seats here are slightly elevated so we could have a clear view of the stage with no heads blocking us. Our row was kinda in between the 1st and 2nd floors.
When it was nearing show time, the sound of the barking and waves became louder, and my heart started pounding faster too LOL. Maybe that was their intention!
We were equipped with our binocs, waiting for the show to start. And once the lights dimmed, I was sucked into the world of the eight dog warriors. And spent the next couple of hours staring at Shino-sama. I won't go into the story itself but I've got to say that it's a much more depressing story compared to the drama SP version that starred Takizawa Hideaki in 2006.
At first I was having trouble trying to identify each actor. They look so different with make up! But they are all decent actors including the little girl who plays young Hamaji. The older Hamaji was quite stiff at first, but I found out it was her very first butai…and she actually improved by the time we watched the Tokyo shows, so thumbs up. Apart from our dear angsty Shino-sama, Higa Manami's evil Tamazusa and Matsushima Shota's effeminate Keno also stood out for me. I personally liked Genpachi (Arai Atsushi) as well.
There are some scenes where Kento just sat on a stone staring at the 'air' above the audience, or standing at a corner watching other warriors fight… Even so, he was still Shino-sama through and through. I couldn't find a tiny bit of the usual Yamazaki Kento in that body lol. The character was full of rage and unhappiness. And the last scene was really depressing. His expression was awesome. I was looking at the entire scene through my binocs, and his eyes… they were filled with tears. At that moment, I felt like crying. Poor Shino-sama… He was more emotional in this opening show compared to the one I watched in Tokyo.
I've to salute Kento for having to act angsty right from the start. His first scene was already tragic lol. I wonder how long he took to get into character. In any case, he seemed to have unlimited stamina. Although he was fighting and running around a lot, he didn't seem to show any signs of being tired.
He stayed as Shino-sama for 2+ hours and only shed the character off during the curtain calls. Finally the good old air-head, the all-smiling and confused-looking Yamazaki Kento appears! lol~ we kept laughing at his every move. I can't really remember the sequence so these are like bits and pieces of my memory of the curtain calls:
Amidst the applause from the audience, the cast came to the front of the stage and stood in two rows. Kento who's standing in the middle of the front row, turned and asked one of the stuntmen behind him to switch places with him, but the guy and Higa Manami (on his right) reminded him that they should all bow to the audience first LOL. He went like oh ya! and led everyone to face their left side…and bowed. Then led everyone to face their right and bowed. And did the same to the audience in the center. He seemed to always be looking towards Higa-san or the other cast (can't remember who) on his left for some kind of affirmation. He was like a little lost sheep, but so adorable lol.
The cast in the front row switched places with the stuntmen in the second row (successfully this time lol). And we clapped for them once again. Then they switched back and Kento stood in the front again.
He said "(we stopped clapping to listen to him talk) For coming here today…" then together with the rest of the cast, they all bowed and said "thank you very much!". And we continued clapping and the audience gave them a standing ovation.
Higa-san and the rest exited the stage from the left side, leaving Kento alone on the stage (he looked confused again – looking left and right haha). Higa-san showed him like a "douzo" sign just before she left the stage, as though asking him to take center stage alone. And so he stood there and gave us a deep bow. Then ran towards the right side, turned towards us and gave a very deep bow again and waved goodbye with both hands before exiting the stage.
We continued clapping even though the music has stopped playing, and Kento came out on stage again from the right side, and called the cast out again (they came out from the left) and they all bowed and waved. He said "Thank you for coming today" again. He also added that he'd be glad if there's something positive we can take home from watching the play, and that they will do their best until senshuuraku. I think he also tripped on the words "Tateyama" when he mentioned that it's shonichi lol. Together with the rest of the cast, he bowed and said once again "Thank you very much!!"
The cast exited from the left again, and Kento was left alone on stage again. And he did the same thing as before, went to the right side, kept bowing (saying thank you) and waving with both hands just before exiting the stage.
It was a memorable and precious first experience for me watching him act live, seeing his tears live, then seeing the tennen and kawaii Yamazaki Kento return only a few minutes later.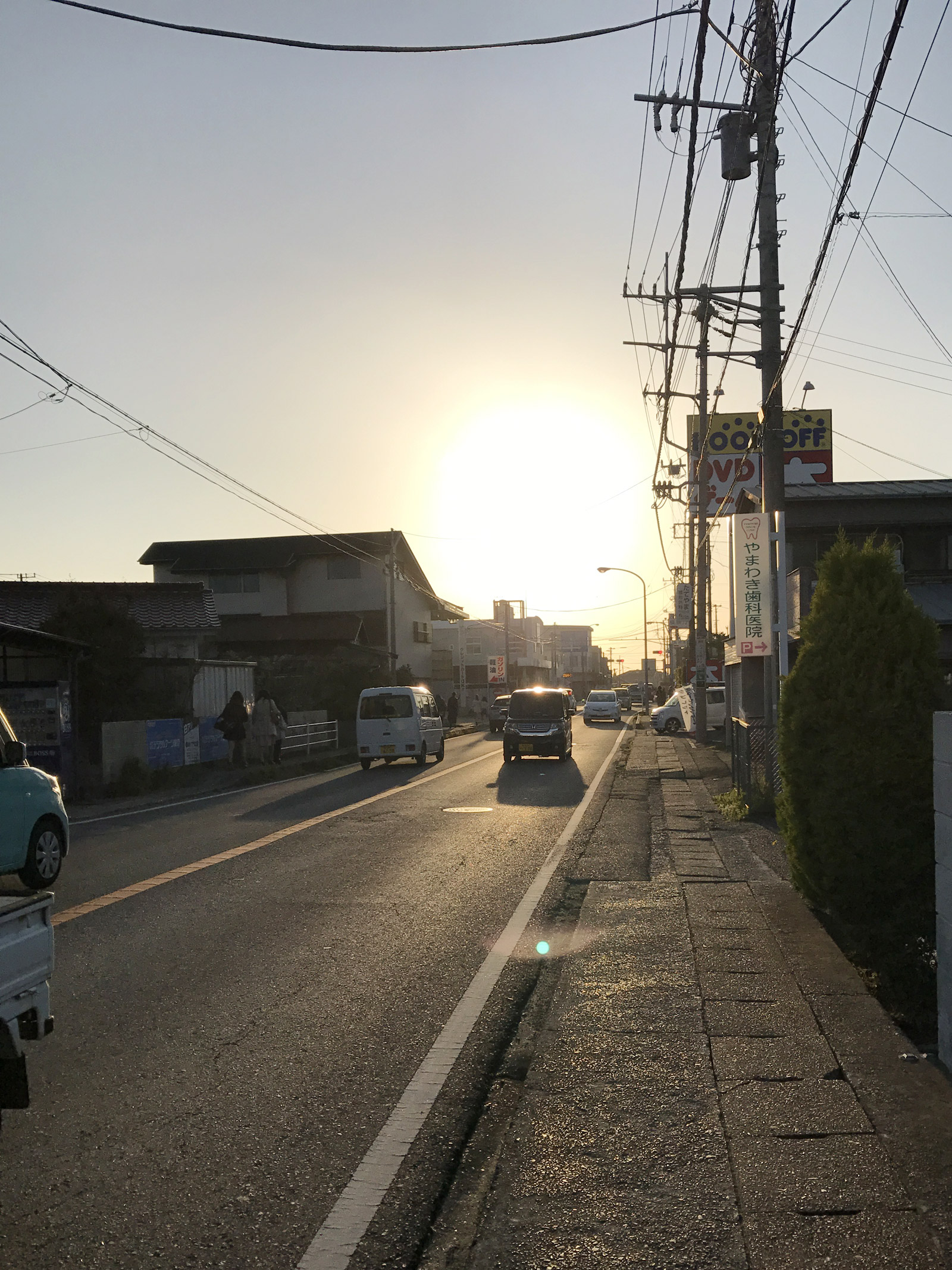 The walk back to the station after that was very calming. I think I was floating all the way back~~ my mind was in lalaland… All I was thinking of was Kenken's emotional last scene and his cuteness overload during the curtain calls.
The sunset that day was exceptionally beautiful hehe.