Yamazaki Kento was on the Special Edition cover of Popteen, October 2016 issue.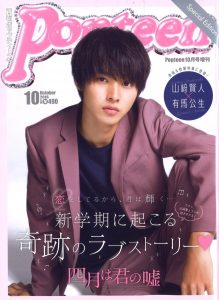 This was from almost a year back. But some of the questions were kinda interesting. I also like the shots here, my favourite being the bottom pic in the 3rd page heh heh~
Which do you like?
Q: If you were to keep a pet, a dog or a cat?
A: Dog.
Q: For a day of fun, in the mountains or by the sea?
A: Sea.
Q: In the mornings, do you prefer bread or rice?
A: Depends. Basically I eat Japanese food (i.e. rice), however on days where I don't feel hungry, I can go with sandwiches too. I like both.
Q: Which do you like, Summer or Winter?
A: Summer!
Q: In school, were you better in Japanese language or Mathematics?
A: Mathematics.
Q: Which is your type, Kaori-chan or Tsubaki-chan?
A: Kaori-chan, I guess. But Tsubaki-chan, although she hides her feelings, is cute when we're together… I can't choose after all.
Q: Like Kousei, if you like the person your friend also likes?
A: I would think… "I can't do it" (lol).
Q: How do you feel about girls like Miyazono Kaori-chan who are competitive and do as they please?
A: I like!
Q: What's something you can't live without?
A: Food, drinks, friends, work. I think I'm okay without a cell phone. My favourite food is yakiniku and sushi. Especially (gyu)tan and harami!
Q: What's the first thing you do when you wake up every morning?
A: Check the time! My goal is to look at "what's the time now!?". I'm weak in the mornings, so I'd keep snoozing my cell phone alarm which rings every 5 minutes, for about 5 times in a row.
Q: Indeed, your rival now is?
A: No one. I don't really think of anyone as my rival.
Q: What do you do to get rid of pressure or nervousness?
A: I can't get over it, so I just do it. But recently, I've been thinking, "nothing else matters as long as we're alive." Even if I fail in something, I won't die. Another chance will come!
Q: What would you like to challenge now?
A: Surfing and sky diving!
Q: Frankly, what are your strengths and shortcomings?
A: My strength is positivity. When I worry about things, as time passes, I'd go "Oh well, nevermind." My shortcoming is, I'm forgetful, I get tired of things easily, and I'm restless (cannot keep still).
Q: Who's closer to your real character, Arima Kousei or Watari Ryota?
A: I was a soccer shounen. With respect to that, it's Watari. But apart from that, I'm closer to Kousei.
Q: What's your goal as an actor?
A: That my shows will for sure make people feel something from watching it. I'd like to be such an actor. Who's able to take on any kind of roles. Recently I'd like to challenge comedy, action, period drama and detective.