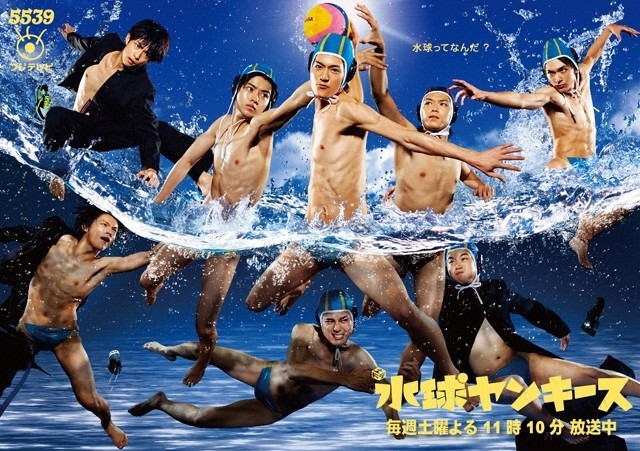 On-Air: 12 July to 20 September, 2014
Network: Fuji TV
Type: Renzoku
Runtime: Saturdays, 11.10pm (DoDora)
No. of Episodes: 10
Average rating: 6.6%
Theme song: "Asu e no YELL" by Hey! Say! JUMP
Synopsis:
In the town of Kasumi, young Inaba Naoya was saved from bullies by a delinquent called Kurosawa who studied in Kasu High. Kurosawa gave Naoya a Kasu High jacket and told him to return it when he becomes stronger. Ten years later, after traveling with his cameraman father overseas, Naoya returns to Kasumi and moves in to stay with the family of his childhood friend Nagisa. He decides to enroll in Kasu High for his final year of high school, only to find out that the students there have already resigned to being the underdogs of the town, and the school is about to be closed. Naoya is determined to resurrect the old Kasu High spirit, and decides to form a water polo club to compete with Suiran High, the prestigious private high school in Kasumi whose water polo team has brought fame to the town.
Cast:
Nakajima Yuto as Inaba Naoya
Yamazaki Kento as Mifune Ryuuji
Ohara Sakurako as Iwasaki Nagisa
Takaki Yuya as Kitajima Torao
Chiba Yudai as Kimura Tomoki
Nakagawa Taishi as Shimura Kohei
Yoshizawa Ryo as Kato Shinsuke
Mamiya Shotaro as Chiaki Ryo
Yamoto Yuma as Miyaguchi Koki
Oomasa Aya as Aoyama Chiharu
Shinkawa Yua as Fujisaki Rei
Suzuki Nobuyuki as Goda Takeshi
Sano Hinako as Shibata Riko
Kakei Miwako as Maehata Ryoko
Kurashina Kana as Shoji Mayu
Morimoto Leo as Arakawa Shigenobu
Kitamura Yukiya as Kuwahara Hanzo
Yokoyama You as Kurosawa Yoshio
Minagawa Sarutoki as Iwasaki Toshio
Iketsu Shoko as Iwasaki Shizuka
Ukaji Takashi as Samejima Jin
Hashimoto Kanna as herself
DVD/BD release (4 February, 2015):
Complete Edition
DVD Box @ Amazon JP | CD Japan | HMV
Blu-ray Box @ Amazon JP | CD Japan | HMV
Episode ratings:

12 July, 2014 – Episode 1 @ 8.8%
19 July, 2014 – Episode 2 @ 7.2%
2 August, 2014 – Episode 3 @ 5.6%
9 August, 2014 – Episode 4 @ 6.7%
16 August, 2014 – Episode 5 @ 8.1%
23 August, 2014 – Episode 6 @ 5.6%
30 August, 2014 – Episode 7 @ 5.4%
6 September, 2014 – Episode 8 @ 5.7%
13 September, 2014 – Episode 9 @ 5.6%
20 September, 2014 – Episode 10 @ 7.5%
Notes:
Stills:
⊛ Search posts tagged as: suikyuu yankees