Before I forget, I'd better write about the show we attended at Bunkyo Civic Center on 22 April, 2017 @ 5.30pm. It was raining heavily and we entered and left by the underground link from the station, hence I didn't take any pics of the buidling haha.
Sorry, all I can show is a pic of my ticket lol.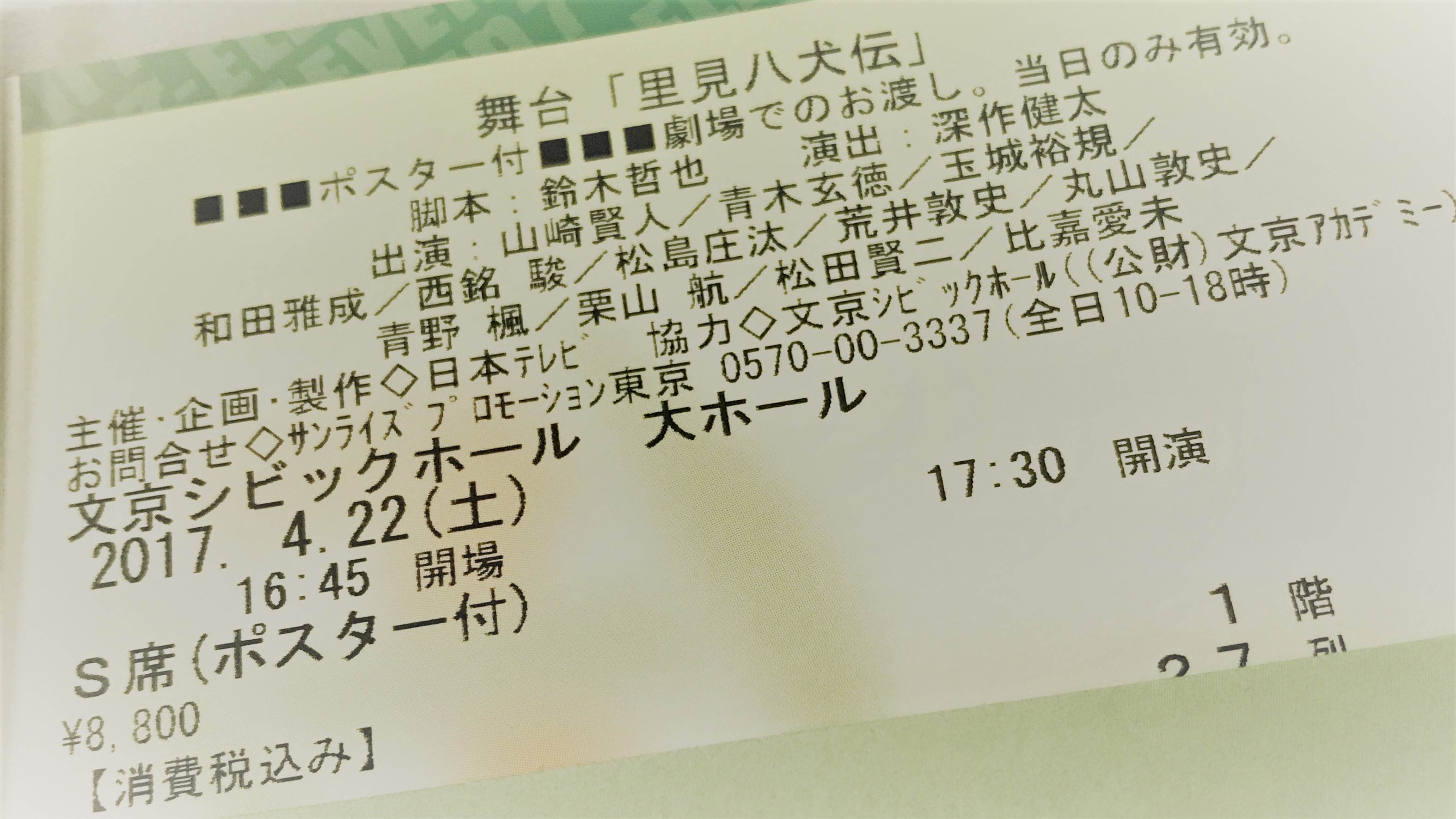 Somehow we assumed that we could take photos inside but upon entry, we saw "No photography" signs everywhere… Zannen desu ne. But I noted down as much as I could, and these were the more notable people and organisations who sent flowers to Kento:
Weekly The Television
Fuji TV
Dentsu Casting and Entertainment
Young Jump
Miura Tomokazu (co-star in Forest of Sheep and Steel)
Shueisha
Bessatsu Friend
Watanabe Ayu (author of L-DK)
Now onto the show itself.
Pretty much the same as the Chiba Tateyama one, except a few parts:
The scene where Shino ran down from the stage to the audience and leaves the theatre via a door: In Chiba, he ran down the left aisle (straight path) and exited by the door directly facing the stage. But for this show, he did run down the left aisle, but midway he made a turn…and exited by the door on the left side. Both J & I thought Kento would run past us, and we were already bracing ourselves for THAT MOMENT…but ALAS! When he made that turn, our hearts sank HAHA!
During the scene where Tamazusa held up Shino's chin and moved her mouth closer to his lips: During the Chiba show, it was as seen in the open rehearsal clip, just before their lips touched, he pushed her away and jumped to the side immediately. But during this Tokyo show, he pushed her away and said something to her first before jumping to the side. Adding a line to that scene made it more realistic.
[Warning: Spoilers ahead!!] After Shinbei died, Shino-sama was supposed to shout "SHINBEI!!!"… But he shouted "SOUSUKE!!!!" instead LOL. To add to the awkwardness, it was dead silence right after he shouted. There was also no music playing in the background. I'm not sure how many people actually noticed it, but at that point of time, there were like question marks running through my mind. Did I hear wrongly? Why isn't anyone reacting? Kento and the rest of the cast continued the play as though nothing went wrong. I was starting to doubt my ears. But after the show ended, J turned to me and said "just now he shouted 'Sousuke' wrongly right?" and I was like YESSS! So my ears weren't playing tricks on me haha! We spent some time laughing about it.
[Warning: Spoilers ahead!!] After everyone else died and Shino-sama was left alone at the center front of the stage: The crying scene here wasn't as emotional as the one he did during the opening show at Chiba.
That's about all I could remember. Sorry if this came late.