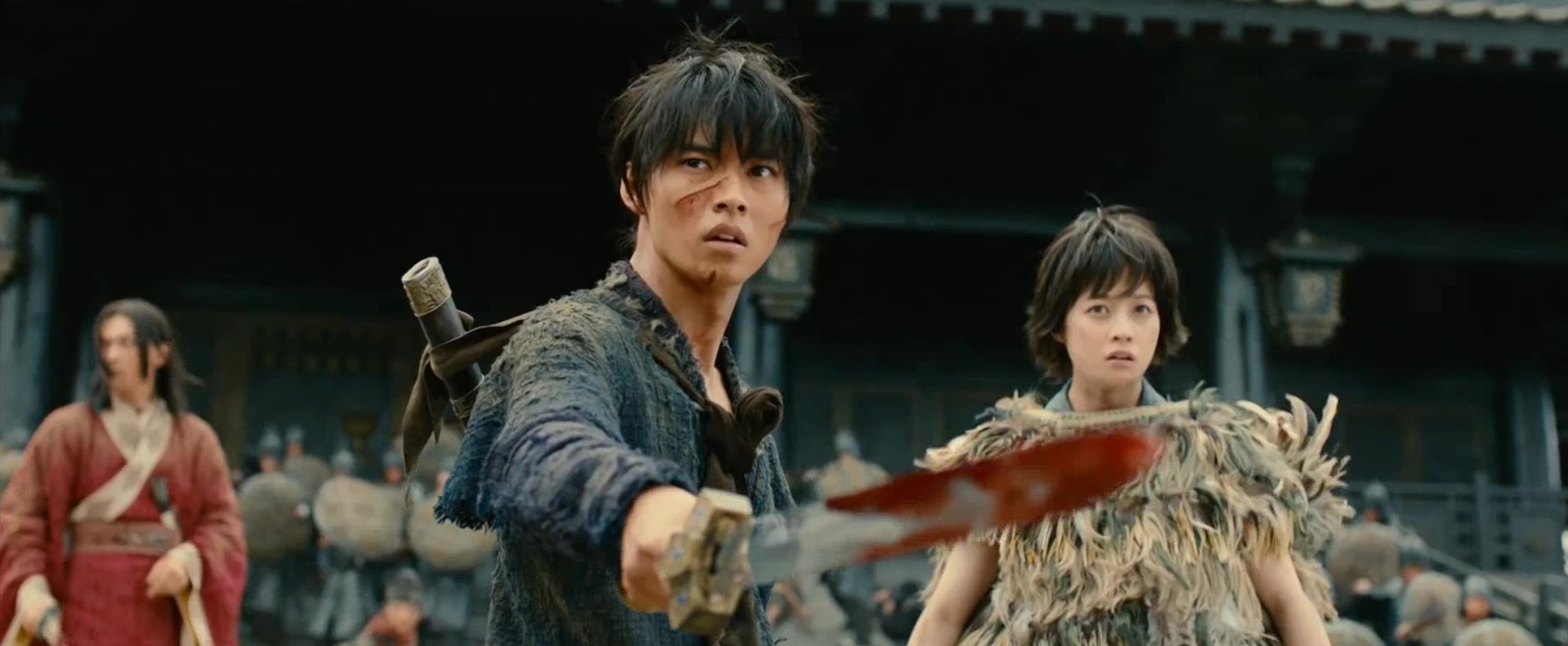 Yamazaki Kento in LA
When Yamazaki Kento visited the Sony Pictures headquarters in LA, he met Laine Kline, head of Sony Pictures International Productions, at the studio and he was speaking in English. "Hello, I am Kento Yamazaki. How did you enjoy our film KINGDOM?". Kline, who had finished watching the movie, replied [T/N: I'm translating from the Japanese article, so it's not the exact words he said in English.] "It's a wonderful movie that had exceeded all expectations. It was more interesting than I imagined, and it was like watching an Asian version of 'Game of Thrones'. The action scenes were especially fascinating. I was impressed when I heard that you shaped up your body before the filming."
Kento also said in English, "I'm honored to have been chosen to play Shin. I put my heart and soul into KINGDOM. I would love to continue playing Shin until he becomes a great general." When he said "I hope our movie KINGDOM is a blockbuster.", Kline said in response "I want to make it a hit too, I think this will be a success worldwide. I promise an American release." "In the future I hope we can work on more great projects together."
International Ver. trailer #SonyatSXSW
Yesterday in Texas, the audience at the Sony booth @SXSW (South by Southwest) were the first to watch this latest promotional video, which was shown during the talk "A new hero. A new story. How will technology create magic through storytelling?". You can watch the full talk here on their twitter account, but I'll summarise what was mentioned, Kingdom and Kento-related of course.
Hollywood producer Glenn Gainor has watched the full movie of Kingdom and he was so awed by it that he got his wife and kids to watch it together with him again. They all loved it. Producer Matsuhashi Shinzo flew in from Japan to attend the talk. He was producer of successful live-action movies like Rurouni Kenshin and Gintama, and his latest project is Kingdom. The Kingdom manga has sold over 50 million copies to date, 38 million copies in print and 12 million digitally.
Gainor revealed that he met Kento last week. "I was so lucky that Kento Yamazaki, the star who played Shin, visited us at Innovation Studios on Friday, Los Angeles. And I told him straight up that he's an amazing actor. He's an amazing fighter, swordsman. He's got great charisma." He also said that "the film lives with its own universe… there wasn't a moment that I wasn't in the film."
Since this is a technology talk after all, they talked about technology in filmmaking, Matsuhashi said that although they used a lot of incredible technology in Kingdom, this movie was all about using all of that but making it look like it wasn't being used. He wants everyone watching the movie to be immersed in it.
They also talked about how music plays an important part in story-telling. Apart from One OK Rock writing the theme song for Kingdom, I also found out recently that the Original Soundtrack (OST) is written by Yamada Yutaka. He was brilliant with One Week Friends OST back then so I'm really looking forward to Kingdom's!