Translating snippets from both articles!
*Warning: contains spoilers until part of the final episode*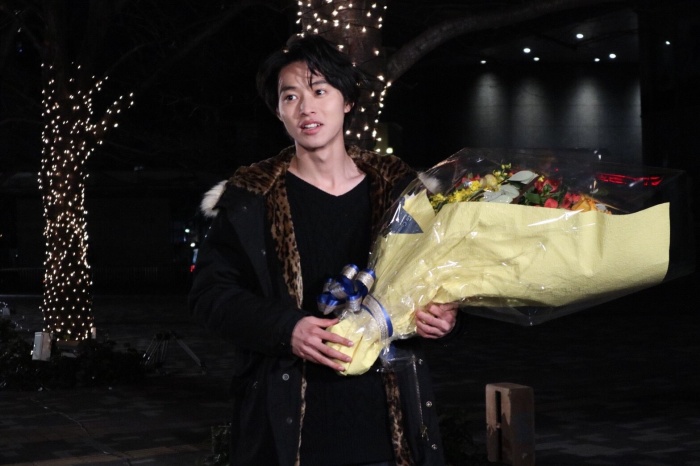 It was the wee hours of 7 March, 2018. The final scene Kento filmed was one where Outarou runs through the streets in search of Harumi after making a certain decision. It was a scene that links to the climax of the story.
Earlier that day was Suda Masaki's crank up. After that, Kento filmed cuts here and there in various places in Tokyo, so by the time they started on the final scene, it was already late at night. Even so, Kento never showed signs of tiredness, and ran with all his might. It was a battle of physical strength as he dashed 30-40m towards the camera, again and again. In between takes, he would be smiling/laughing as staff fixed his hair and make up.
After the director's "OK!", a staff shouted "Yamazaki Kento-san, all up!". Kento received flowers from the staff, and said "Thank you very much. I'm finally dealt the 'finishing blow' (todome) (lol). Really, one by one projects will end like this, it's really… that's right… well~ really, everyone thank you for the good work. Please have a good rest. I'm really glad that you made me look so cool in this wonderful and interesting drama. I'll also do my best to be able to work with everyone again. I want to see everyone again! Thank you very much! At the after-party too, please take care of me!" he said, looking emotional at times, but raising his voice at the end with a big smile.
After the crank up ceremony, he told the reporter, "It doesn't feel like it's ended yet, but being such a project, it feels like I'll time leap again (lol). Out of all my works so far, this is the one where I get the most  "I'm watching it yo" and "It's interesting yo" response from people around, so I'm really glad to have participated in it."
He was filming from morning until past midnight. Looking back on the day, he said "One day passes really fast ne. I feel sad, but crank up is a happy thing after all. That satisfaction that something created by everyone has finally ended." "Also, I want to give the real finishing blow at the after-party… hmm I was trying to say something good (lol)", he said jokingly.
He's executed his first "zachou role" successfully, this being the first time he leads a drama. A 'time leap calender' is attached to the script of each episode, as the story is that much complicated. But Kento remembered the staff's names and faces, and in between takes, he proactively communicated with his co-stars and staff, and paid attention to the atmosphere that was being created on set.
"I really did all kinds of things…. Everything was very enriching. This isn't like any of the roles that I've ever done before, it's truly a new role, so everyday was very refreshing. When I thought that it's fresh, I go back (in time)… something like that." Every week, there are kiss scenes that were done with varying emotions. "In this project alone, I wonder how many times I have kissed… We filmed multiple times at the same place, the first time, second time, third time, and the little changes made in each timeline… that was also enjoyable."
His co-stars Kadowaki Mugi, Suda Masaki and Arata Mackenyu, among others are of the same generation, and their harmonious relationships were also conveyed all around on SNS. "I was really happy to be able to act with Suda-kun for the first time in 5-6 years. I really love all of them. I also really love Mugi-chan. And Macken too, if I count from 『JoJo』 onwards, we've been together for over half a year. I was truly supported by all of them."
In the last episode tonight, Outarou who finally realizes his feelings for Saiko, will be in despair after her death. The mysterious street musician Harumi will appear and reveal his true identity. Then Outarou will make a certain decision. An invigorating final episode where the scum Outarou seeks a conclusion to this 'true love' that he's come to know of. "I also didn't think that it would be such an emotional finale. I really feel it's amazing. Please do not miss that last, the shocking development. Will he be able to get his happy end… I'd like you to watch."