This JoJo rush is for real ne, even I'm starting to feel the pressure lol. I'm translating faster than usual so that I can move on to whatever-comes-up-next, so please pardon me if there are any mistakes. Yoroshiku onegaishimasu~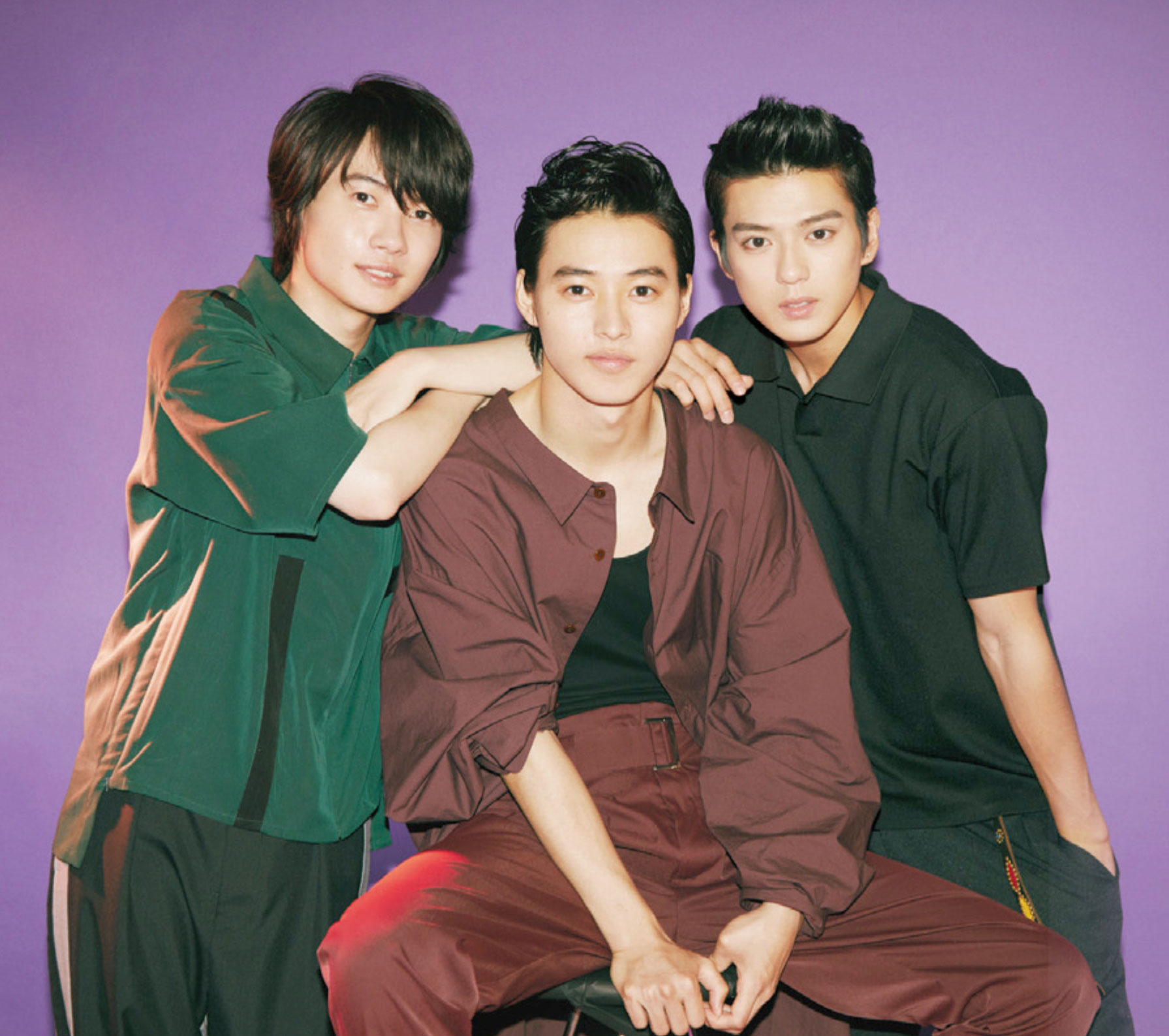 Q: What is Yamazaki Kento's special ability!?
Kamiki: The ability to wrench open people's hearts.
Arata: That sexiness that flows out when he's working.
Kamiki: He's able to connect with people immediately. I feel that there is nobody who dislikes Kento. Everyone will definitely say "He is a nice guy".
Arata: That was exactly what Shinjo Takehiko said! (Director of "Your Lie in April" movie and "Bokutachi ga yarimashita" drama which Mackenyu is appearing in now)
Yamazaki: Is that so! I'm happy (lol).
Arata: And also, that sexual charm that comes out when he's working. Cos on normal days, he's like a puppy ♡
---
During the photoshoot, the 3 of them were all lovey-dovey and even hugged each other after the interview. They were so close that one wouldn't be able to tell that this was their first project together.
Arata: Because, we are dating!
Yamazaki: Three of us!? (lol)
Arata: Somehow we are compatible. When we are together, we do not hold back, and it's fun.
Kamiki: Macken and I went for karaoke with mutual friends before.
Yamazaki: Ryuu and I, we exchanged greetings just once before through a mail from Nikaido Fumi-chan.
Kamiki: Oh yes! Nikaido-san suddenly sent over a video of Kento fooling around. In the second video, it was Kento saying "Sorry about that earlier. This is Yamazaki Kento. Yoroshiku onegaishimasu." (lol)
Yamazaki: And Ryuu also sent back a video "This is Kamiki Ryunosuke. Yoroshiku onegaishimasu."
Kamiki: That was when the casting hasn't been decided yet. We didn't think that we would meet in JoJo ne.
Yamazaki: In Spain, we were together every day.
Kamiki: As our rooms were next to each other, Kento brought me out to many places. I brought so many DVDs over from Japan, but ended up not watching even one.
Yamazaki: We took the train all the way to Barcelona for shopping, and celebrated Macken's birthday with everyone too.
Arata: Yes, yes. My 20th birthday was celebrated in Spain. And what's more, with Yamazaki Kento and Kamiki Ryunosuke! I really enjoyed myself to the fullest.
---
Q: What is Kamiki Ryunosuke's special ability!?
Yamazaki: He's a pro at his work!
Arata: The ability to see and understand people.
Yamazaki: He's calm, having worked in this industry for so many years. In any case, I feel that the way he approaches his work is very professional. Also his love for railways. When we went to Barcelona for shopping, he was teaching the locals how to ride the train (lol).
Kamiki: Yeah. I was trying my best and saying (in English) "Next Train!".
Arata: Ahaha! But he's always watching over and is concerned about others. I feel that he's someone who has a discerning eye.
---
Q: What is Arata Mackenyu's special ability!?
Kamiki: The ability to concentrate and dash.
Yamazaki: In any case, he's honest and pure.
Kamiki: I think Macken is among us, the one who focuses the most on trying to be as close to his role as possible. To build up his body, he went to the gym, and was always eating chicken tenderloin. Which reminds me, before the shoot started, Kento got all panicky when he saw a photo of a muscular Macken.
Yamazaki: I panicked, I panicked (lol). Although he's very serious when it comes to work, on normal days he's honest, pure, and gets lonely easily. He's an adorable guy.
Kamiki: I think he still has some hidden powers, so I'd like to see Macken going on a rampage.
---
Yamazaki: When my role was decided, I read the manga, and it was really interesting. I got hooked on not only the fight scenes but on the friendship and bonds as well.
Arata: It depicts how people's hearts clash. But I was shocked when I heard that I'll be playing Okuyasu. He's very different from me, both on the inside and outside.
Kamiki: Me too, I felt the pressure of playing Koichi. Especially since JoJo is so huge. With regards to Koichi's looks, it's the first time I've a role that shows my forehead. Compared to other characters, Koichi looks normal, so my make up was completed in 15 minutes.
Yamazaki: Josuke has a strict policy about his hair and clothes, so it took quite some time to get mine done.
Arata: The silver-colored and regent hair was all my real hair! Even when I saw it myself, I got a shock. During the filming in Spain, I was stared at a lot by the local people (lol). But after the make up and clothes were done, I could really get into the role. As for how many hours it took to get the whole thing done, that's an industry secret…
Yamazaki: Ahaha!
---
Yamazaki: The battle scene between Macken and I especially, we filmed it without being able to see our Stands, so we were really desperately working our butts off. Also for the battle between Macken and Okada Masaki's Keicho, Macken needed to have special and detailed 'wound' make-up for his face. The filming ended in the wee hours of the night, and as he had to continue filming again the next morning, he slept over at my place with that make up on. The next morning when he woke up and said "Good morning~" I got the shock of my life! (lol)
Arata: It was tough on the make-up artist as well.
Kamiki: I think the CG is Hollywood level.
Arata: When I saw the finished movie, I was overly excited, so when the movie ended I was totally exhausted (lol). I've never seen such a movie before or since.
Yamazaki: It's a world that can only be created because it's JoJo so I hope you will look forward to it, and experience it in the theatres.
---
Original scans can be found here – and a yabai offshot here 😛